Steve Sampliner
---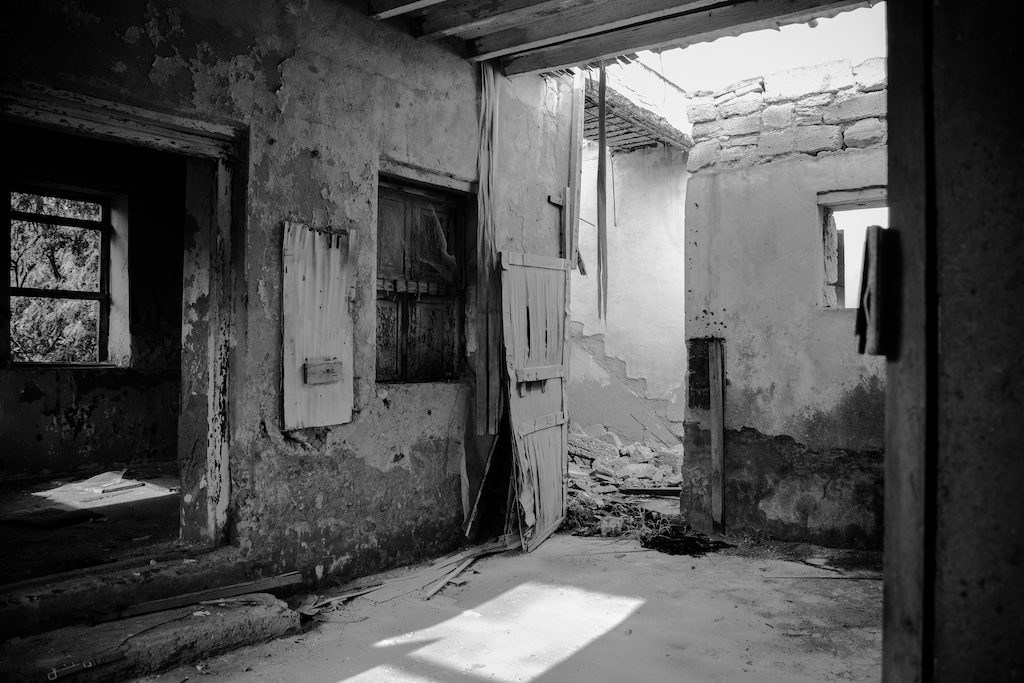 November 2020 - Al Hafa
Original
About the Image(s)
Pentax K-1. 28mm, f/4.5 @ 1/125. Manual settings, handheld. About the place. Al Hafa neighborhood Salalah, Oman. I'm not sure about why this neighborhood has been condemned, but I know that the land has been sold to a developer. This neighborhood is a treasure of traditional mud brick architecture. Best guess is a few powerful typhoons and coastal encroachment deemed the structures unsafe. It has been mostly fenced off and pretty much left alone since then. I decided to document the buildings, shops and homes before any more progress is made. I have completed about 1/3 of it so far. I chose this picture because I liked the intimacy of it and the haunting tragedy of it.
---
This round's discussion is now closed!
6 comments posted
---
---
---
Jim Horn
Steve, Thank you for showing us this. It shows the flood damage and the total abandon of what used to be a safe place. B&W photographers do well to capture as many textures as you can find in one photo. You did this very well.
In the last two months we have had conversations about post-processing - which you haven't decided on. I used photoshops to bring down white and reduce blacks, add texture and clarity in Camera Raw. There is so much more in your image that can come out in post-processing. I suggest you consider purchasing Photoshop Elements ($59-$99) or something similar. Jim &nbsp
Posted: 11/10/2020 09:22:09
---
---
---
Thorro Jones
Steve great job capturing the damage and decay of this place. The use of B&W enhances the feeling of the photo. I also like the sight lines of the bottom edge of the right-side wall to lead your eyes into the room's damage and decay. I do agree with Jim about bringing out the details and textures in the photo. I used Lightroom to adjust the exposure, contrast, clarity and sharpening to bring out some of the details in the shadows and bright spots. I also cropped out the right-side blurred wall as I feel it does not contribute to the story told by the photo. &nbsp
Posted: 11/10/2020 10:41:13
---
---
---
Sam Fernando
Steve I think you have very well captured the haunting tragedy of the building. The damaged parts clearly show this. I don't have any suggestions for improvement. I think it serves the objective well. &nbsp Posted: 11/13/2020 19:22:33
---
---
---
John Tabaczynski
Steve,

This is a thought provoking image. I like the approach Jim and Thorro have taken with the room on the left to bring up some detail in the shadow. I would consider putting some contrast into the scene through the doorway into the stairwell. Perhaps darken the sky light in the upper right hand corner leaving the sunspot on the floor as the single most bright spot in the image. I would think there is more texture in that bright spot as well. If you want to get into the post-process game there are a lot of options out there. The PS elements is a good one. If you want to dabble for free, consider Darktable. It is very powerful (more so than elements), but the user interface is not as nice as Photoshop. Others at the Elements price point are Luminar and ON1.

Tab &nbsp Posted: 11/25/2020 19:42:10
---
---
---
Laura Lee Bartholomew
This image was a good candidate for black and white. I do a lot of black and white conversions myself. One thing that I have learned from entering images into competition is that the judges usually want to see at least some pure white and some pure black in an image. You might consider playing with the contrast using a curves or levels adjustment layer in PS. &nbsp Posted: 11/28/2020 12:37:40
---
---
---