John Tabaczynski
---
June 2020 - ARTISAN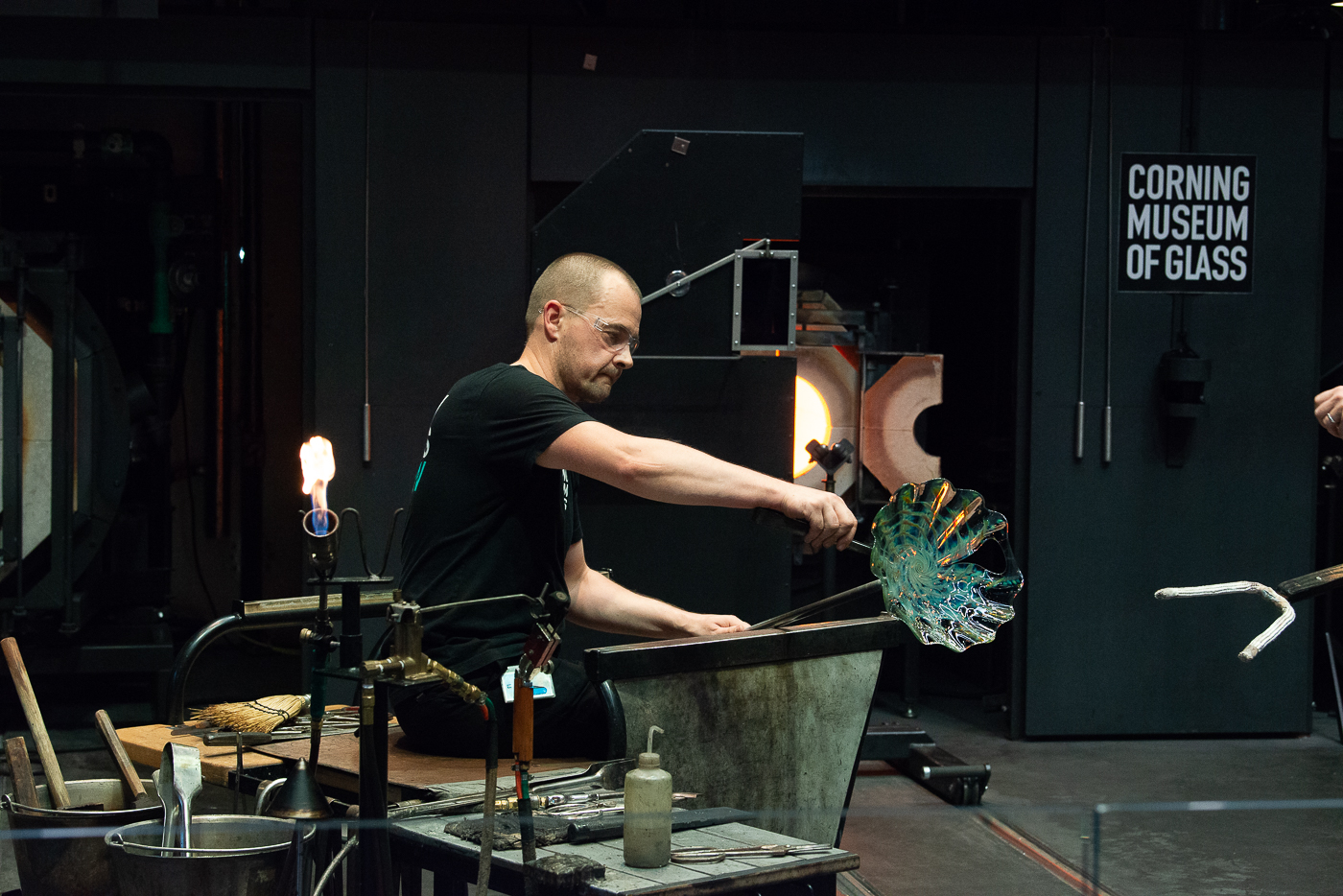 Original
About the Image(s)
This is what I like to call a slice of life. I worked it up into a 16x20 B&W print for our club's monthly salon.
This image was taken at the end of last summer after we along with our daughter's family, delivered our grand-daughter, Megan, to begin her college career at Alfred Univ in the southern tier of NY State. The Corning Glass Museum located in Corning, NY is one of the best museums of glass in the world, and only about 30 miles from Alfred so we spent the day there. There is an amphitheater within the museum where the glass blowers put on demonstrations of the art several times a day.
This is but one of the captures, however, I liked the artist's facial expression and his arm position better that some of the other captures even though the others were shot with longer focal lengths. The D800 has plenty of pixels so the severe crop left me with plenty of resolution for the final enlargement. I had to remove the metal rod sticking into his head using the PS patch tool. I then produced several layer masks, one that selected the background that enabled me to blur it and knock it out of focus so as to concentrate attention on the artist. His flesh tones were another layer mask so I could adjust them using curves separately from everything else. Another layer mask let me bring details out in his shirt. A fourth layer gave me curves adjustment to the glass piece and its holding rod. A final layer provided me control to the workbench and foreground. It also was a curves adjustment. All masks were created before moving into B&W because there were subtle color differences that made it easier to generate the selections for the masks. I used NIK Silver Efex Pro 2 to do the B&W conversion.

---
This round's discussion is now closed!
3 comments posted
Jim Horn
Tab, you accomplished so much in defining the depth by blurring the background. I went a little further and used the clone tool to take out the bracket and box. I also used the dodge tool to brighten the glass, bringing more detail to that marvelous swirl. Let me know what you think. Jim &nbsp
Posted: 06/02/2020 15:46:35
---
Sam Fernando
Well-balanced black and white photo, the eyes of the person nicely connecting with the glass object. The position of the hand of the person also helps directing the attention from the person's face to the glass object.

My only concerns are:
1. the two white half circles close to the glass object (one is more brighter)
2. Two white streaks on the person's T-shirt

I think it is a good idea to reduce their brightness. &nbsp Posted: 06/07/2020 05:33:10
---
Laura Lee Bartholomew
I agree with Sam. The bright streaks on the edges of the man's T shirt are pretty distracting as is the bright semi-circle. Reducing the brightness seems called for. I also notice a small bright spot to the lower right. You might want to clone that out. &nbsp Posted: 06/16/2020 09:01:26
---