Giuseppe Ciaccio
---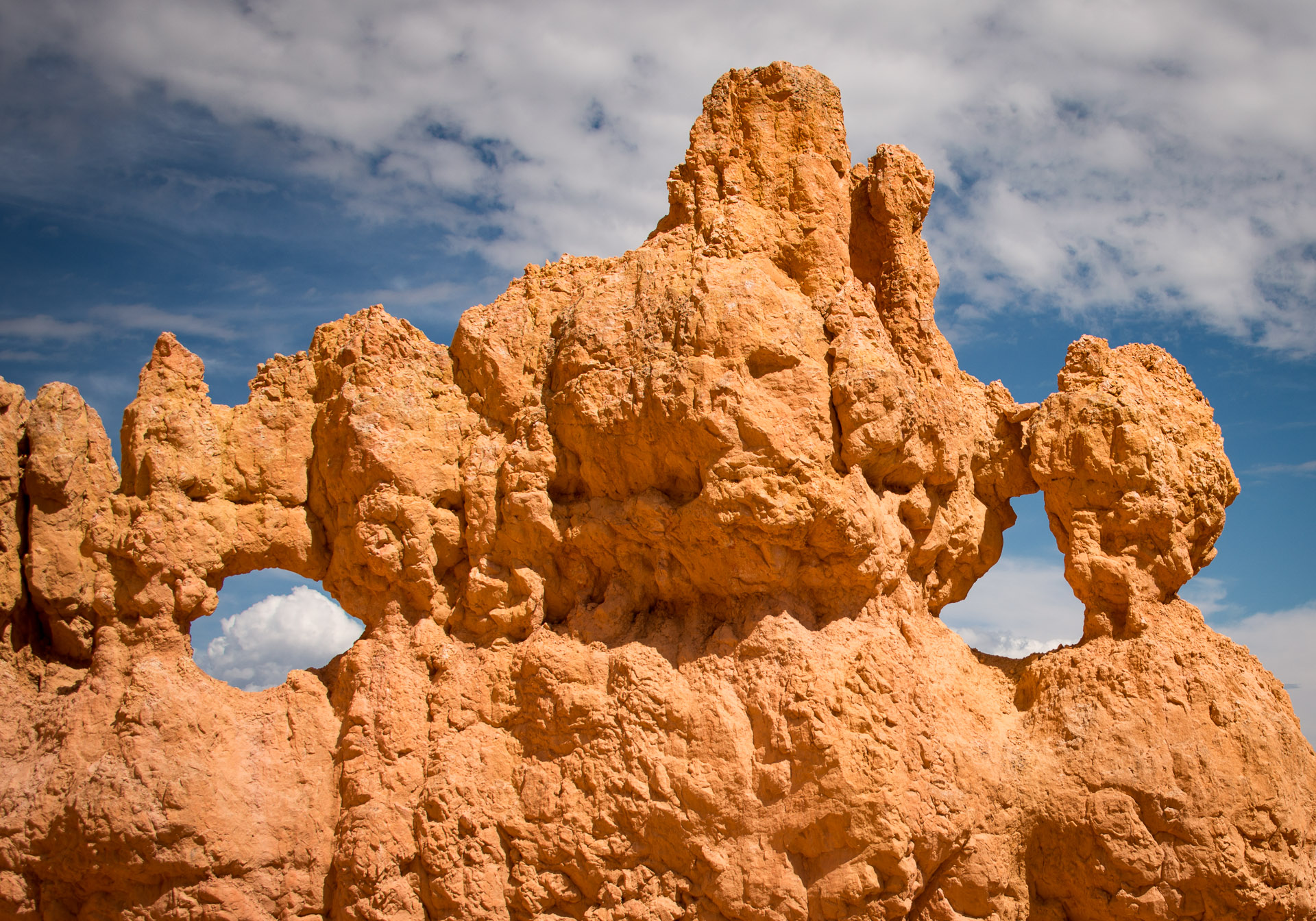 June 2020 - Eyecloud
About the Image(s)
This is a picture I shot at Bryce Canyon, Utah, last September. I went down the canyon and on my way up I saw this wall with two holes and some clouds in the sky. I positioned myself so I could see the clouds through the hole, pretending to look at them through the eyes of the cliff. I named it iCloud and then changed it to EyeCloud.

---
This round's discussion is now closed!
6 comments posted
Dave Edwards
Bryce is a neat place. Good catch, showing good creativity by placing clouds in the holes. Did you have to wait long for the clouds to move into the correct location?
Bright sunny days can make for harsh lighting. I reduced the brightness just slightly. Does this help? I know it depends on individual monitors, etc. Overall, nicely done. &nbsp
Posted: 06/07/2020 12:18:37
Giuseppe Ciaccio
Thank you Dave, I actually had to run about 20 Ft ahead to be in position. I like the darker version. Thank you. &nbsp Posted: 06/07/2020 18:01:49
---
Shirley Ward
When one takes a subject at "high noon" it lacks a feeling of depth. when the subject is so flat ..However, one has to do what one has to do...Getting the clouds in the scene saved the day for you... &nbsp Posted: 06/09/2020 17:50:38
---
Marilyn Ross
Great capture. I like what Dave did to reduce the brightness. Great name for it. Well seen. &nbsp Posted: 06/12/2020 19:38:59
---
Adelet Kegley
Absolutely like the darker image. The new name EyeCloud works nicely. Have not had the opportunity to visit Bryce Canyon. &nbsp Posted: 06/13/2020 23:07:47
---
Brian Magor
Sorry for being late. Did a comment but somehow it escaped!

The image is better for some reduction of brightness. If you were feeling adventurous you could clone the sky/cloud from the left hand "eye" into the right hand "eye" to make a matching pair. Also, try removing all the clouds in the rest of the sky, and make that sky more dramatic!
&nbsp Posted: 06/27/2020 12:49:14
---