Al Swanson
---
May 2020 - Fountain
About the Image(s)
I shot this image at an outside patio restaurant in Castroville, Texas. We were visiting there for a RV rally and had lunch here. The patio had several of these fountains made from decorative jugs and I thought this scene was kind of interesting. I crop the image and added some saturation and a bit of sharpening. Then I added a vignette to mute some of the background. I am in the traveling mode now so I do not have the original frame with me. Technical: Canon 7D, F5, one 1/80 of a second at ISO 400.
---
This round's discussion is now closed!
8 comments posted
Joseph J Zaia
This is a lovely composition Al and one I would have taken as well. I realize you did not have the time nor the possibility of being more creative, but I think that if you had taken this from a little lower angle, a bit more to the left, showing a longer neck of the jar and a slower shutter, to show more motion in the water, the image would have had more impact. I also think that this image is suitable for one of the Topaz Texture Effects with a white silhouetted border. I selected "A Landscape Watercolor". In PS, I also pumped up the exposure and sharpened a bit. Not sure if you like this look, but you can try other settings; or not. Just a suggestion.
&nbsp
Posted: 05/03/2020 17:46:46
Al Swanson
Thanks. The texture does add a different perspective and moving lower and to the left might help. However, this was a really tight area and I did not want to complicate the background. I also wanted to keep the foliage surround. &nbsp Posted: 05/03/2020 21:08:45
Joseph J Zaia
Yes Al, I have been there many times. &nbsp Posted: 05/04/2020 17:31:08
---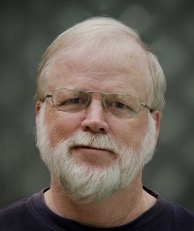 Jerry Biddlecom
Great composition, Al. The eye follows a circular path from the jug, down along the water flow, then the pot, then back up the "steps" formed by the bricks. Maybe the lower left has a bit of clutter that could be removed. To me this has a 'water'color feel to it, which makes it doubly appropriate for this month's theme! &nbsp Posted: 05/09/2020 15:00:26
---
Kaylyn Franks
The composition is nice. I like Joe's rendition, but if you keep with the original, I will suggest toning down the highlights in the background and cropping the lower left. It definitely has a watercolor feel to it, so playing with some filters may be fun as well. &nbsp Posted: 05/12/2020 10:52:23
---
Marti Buckely
Nicely done, Al. You are doing some really good work lately. I rather like the original because I like the saturation. In Joe's re-work, it seems to lose some of the details in the rocks and plants for me. Perhaps your version with a lighter white vignette? Both are good though. &nbsp Posted: 05/12/2020 15:51:30
---
Peggy Reeder
Lovely picture Al. I would crop up a little from the bottom and remove or blur the electrical outlet in the background. Colors and composition are all good. I think it would make a great framed print. &nbsp Posted: 05/16/2020 16:30:38
---
Jamie Federick

(Group 48)
Love this photograph, the color, composition and total feel of it. I would also like more of the bottom cropped in and taken out that electrical outlet. Love the vignette in white too. &nbsp Posted: 05/20/2020 18:56:29
---