Phillipa Frederiksen, EFIAP MAPS SSAPS
---
February 2021 - View o fTelc, Czech Republic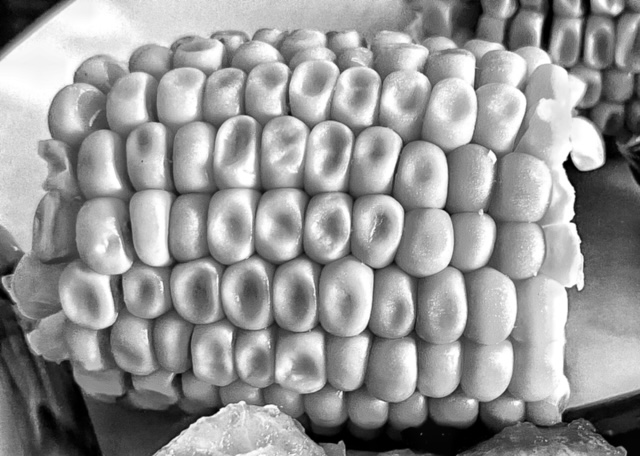 Original
About the Image(s)
This image, view of Telc, Czech Republic, was taken on my iPhone.
I have edited the image in the App. iColorama.
There are 2 images, the scene and a closeup mono of corn.
The process is a little complicated but briefly, I was able to "cut" the Telc image into squares and circles (you are making a brush).
Also I used the corn as a brush on a different layer.
Placement of the brushes on the white paper tends to be a bit haphazard so it's not perfect!
I then took the image into SuperimposeX, made some layers of the background, reducing the opacity of the one underneath.
I then added the image of Telc. I experimented with blurring it's edges but it was too messy.
---
4 comments posted
---
---
---
Janice Rosner
I really like the compostion and POV in your image of Telc and I think your cutouts of the different areas of the image is an interesting idea. What is the relationship between corn and the city of Telc? &nbsp Posted: 02/04/2021 17:24:13
Phillipa Frederiksen
HI Janice....just looking at Textures in general! &nbsp Posted: 02/07/2021 23:28:28
---
---
---
Brian Swinyard
Phillipa, You have grasped the nettle here and stretched the digital imaging boundaries to create a composite which stretches the imagination. The end result has the feeling of a book cover and it is only when you look closely that you realise that the patterns are various combinations of the coloured image of Telc and the monochrome picture of the corn. I love your view of Telc which is truly beautiful but I find my attention being drawn away by the white shapes in the background. Perhaps they need to be toned down a little. &nbsp Posted: 02/19/2021 10:20:10
Phillipa Frederiksen
Yes! It is MUCH too busy, now that I look at it a month later! &nbsp Posted: 02/20/2021 22:25:26
---
---
---
Please log in to post a comment