Brian Swinyard, PPSA
---
November 2020 - Hallucination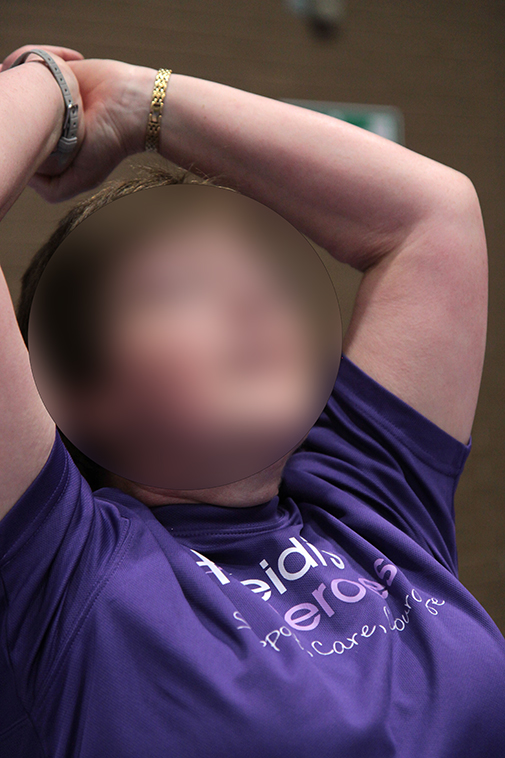 Original
About the Image(s)
I thought for this month's submission, I would have another go at the technique I used for my image in July. In one of my local camera clubs, we have a Panels Competition coming up later this month which has a Mono and Colour Section, requiring five images on a theme. This is one of the images I intend to enter in my Colour Panel. The original was a photo I took of a friend at our Oncology Exercise Class in Cheltenham. I have blurred the face to protect the subject's identity. In Photoshop, the basic procedure I used was as follows: Filter > Pixellate > Mezzotint > Medium Lines; Filter > Blur > Radial > 100 > Zoom > Best (Repeat three times); Ctl +J; Work on Background; Filter > Distort > Twirl > 120; Layer 1 active; Filter > Distort > Twirl > –120; Merge two Layers Blending Mode Difference.

---
18 comments posted
---
---
---
Freddie Kelvin

(Group 5)
Brian, this is amazing and really beautiful. You may be horrified to learn that I don't use Photoshop, so your post-processing leaves me totally in awe! Not only are the colors stunning, but also the patterns that you created during the transformation. Congratulations on a fantastic image! &nbsp Posted: 11/04/2020 20:57:06
Brian Swinyard
Freddie, Thank you for your kind words which are very much appreciated. As a former radiologist, I expect you are glad to be out of all the techie stuff and now able to relax more in the artistic side of photography. Who needs Photoshop when you can create the arty stuff simply through Intentional Camera Movement? &nbsp Posted: 11/05/2020 03:12:20
Mark Laussade

(Group 5)
This image must be attracting all of us radiologists. I am fascinated by your results and have copied your instructions to try out. What kind of source image works best? &nbsp Posted: 11/09/2020 16:04:21
Brian Swinyard
Mark, Thank you for your kind words which are very much appreciated. As far as choice of subjects is concerned, I tend to avoid those with high tonal contrast and those containing bright areas of sky. I quite like subjects with hues from the red and blue parts of the spectrum. Bottom line is suck it and see. You might discover a range of subjects that is unique to your good self. Let me know when you upload your first offering to Study Group 5 and I will make some comments, all positive of course. &nbsp Posted: 11/10/2020 05:29:29
---
---
---
Peter Newman
Brian,
I am in awe. There is little I can say, except that you have created one magnificent abstraction. Based on your description of post, I strongly suspect that you knew exactly what look you wanted, before you put a finger on the keyboard. My preplanning ability in PS is significantly more limited, and you have encouraged me to learn even more about how the filters interact with each other. Thank you for sharing this image, and your inspiration. &nbsp Posted: 11/05/2020 21:49:44
Brian Swinyard
Peter, Thank you for your kind words which are very much appreciated. As an aside, I recently rediscovered the process of creating 'Actions' in Photoshop. In this case, there were 32 different steps in its production. Imagine my joy to know that I can replicate the process by clicking just one button. Why don't you try this process on one of your images and see where it takes you? &nbsp Posted: 11/06/2020 02:19:19
---
---
---
Phillipa Frederiksen
WOW! This is a fabulous abstract image! THe colours are wonderful. Have you thought of moving the centre to the side a little?....not saying that you should.....just might be interesting to check it out! &nbsp Posted: 11/06/2020 00:12:01
Brian Swinyard
---
---
---
Charles Ayars
Brian, I agree with the others that this is a beautiful piece of abstract art. I too like the primary focal point to the side. It is hard to imagine that this came from the casual picture of your friend. I look forward to experimenting using some of your Photoshop techniques. Thanks for including them in such detail. &nbsp Posted: 11/06/2020 13:52:49
Brian Swinyard
Charles, Thank you for your kind words which are much appreciated. Glad you liked it. Like you, I find it difficult to get my head round the fact that the original image morphed itself into the final version. Indeed, the wonders of Photoshop. &nbsp Posted: 11/06/2020 14:11:39
---
---
---
Joan Field
Brian, I love what you did to produce and extraordinary abstract from a living being.
You colors work well together and the final composition is perfect. I do prefer it in the middle instead of moving it to the right or left. I will also copy your technique. Maybe you could put it into Shared or Helpful links.
I particularly like the brightness in the middle with the wonderful lines radiating out. You can just sit and look at this image for quite some time, appreciating the nuances you have created. &nbsp Posted: 11/13/2020 14:48:13
Brian Swinyard
Joan, Thank you for your kind words which are much appreciated. This is one of those images that you can daydream into and get lost in your thoughts. It is not unlike a Giles cartoon in that the more you look the more you see. The viewer is certainly drawn to the starburst in the centre of the picture. &nbsp Posted: 11/14/2020 04:21:29
---
---
---
Joan Field
Brian, I tried your technique on one of my pictures. Then I did the same thing but changed the blending mode. I can see countless possibilities. The first image is the original. The second was following your description as closely as possible. The third was using Lighten as the blending mode. A lot of fun.
&nbsp
Posted: 11/13/2020 16:03:00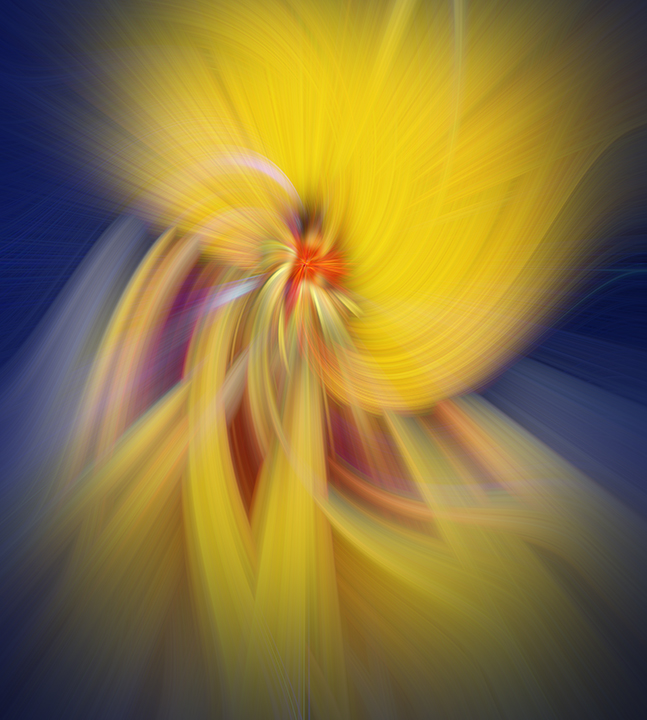 Brian Swinyard
Joan, As you rightly say, the permutations are endless. I found that by creating an Action for the 32 individual steps, I could replicate the process simply by one key stroke. I also found by repeating the whole process three times that this produced some interesting results. Some subjects work better than others and indeed sometimes monochrome works better than colour. Looking at your version, I can see a young girl with dark hair in a red dress trying to break free or enjoying the excitement of a roller-coaster ride. &nbsp Posted: 11/14/2020 04:25:57
---
---
---
Joan Field
Brian Swinyard
Joan, Not sure whether any effect has been added to this picture which looks like a straight image. For a bit of fun I have applied my Action to the image, switched off some of the Layers, rotated it 90 degrees clockwise and then flipped it vertically and horizontally. &nbsp
Posted: 11/14/2020 04:44:09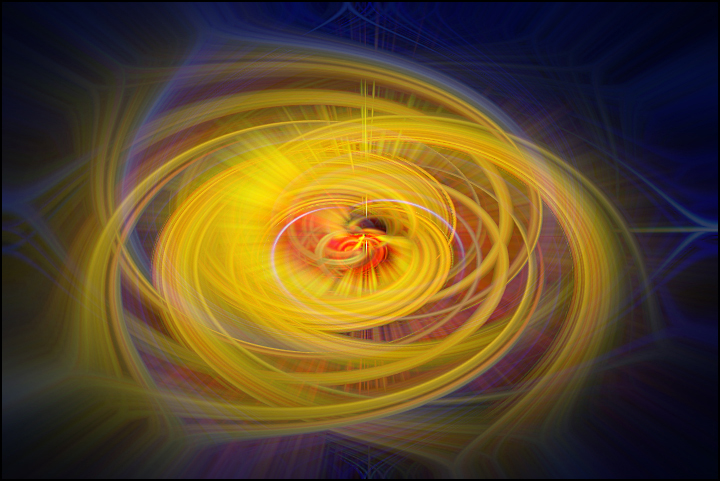 ---
---
---
Brian Swinyard
Joan, I love this technique because there is an infinite number of variations to whet the appetite. In this version, I see a hand of green and yellow bananas. Perhaps next month I will submit another image from my colour panel. &nbsp Posted: 11/14/2020 05:14:58
---
---
---
Please log in to post a comment