Stan Bormann, FPSA, MPSA
---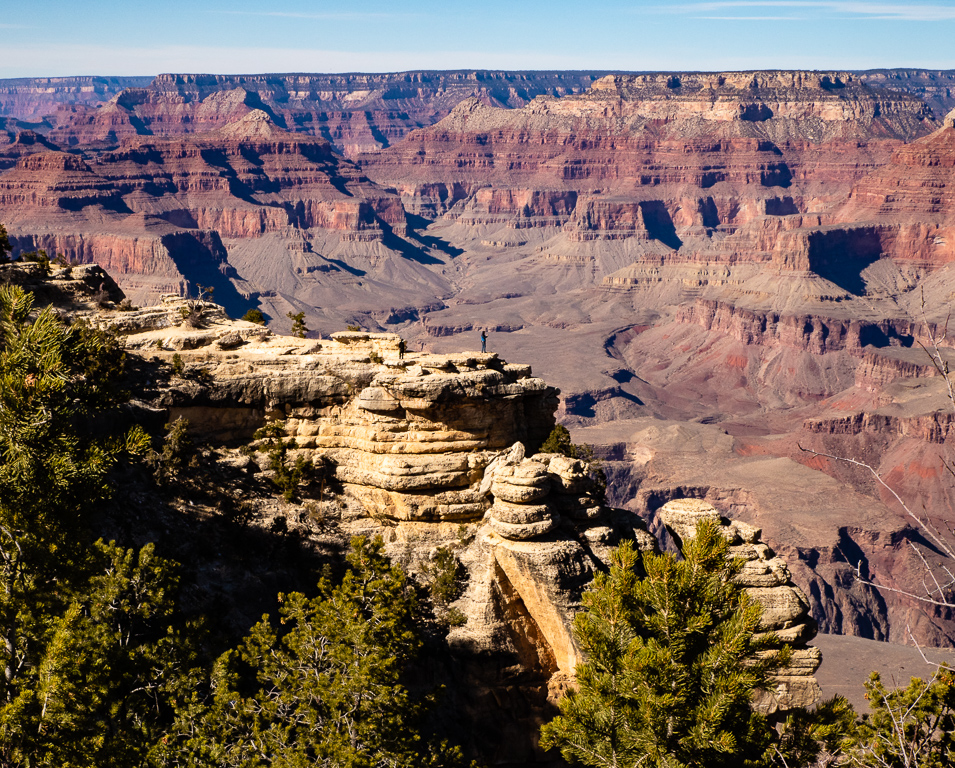 April 2021 - Mather Point Overlook
About the Image(s)
Shot with an Olympus M1 Mark II with a Panasonic 12-60 lens at 25 mm. On the way to Mathers Point, we saw a trail to the right that brought us to the rim with a view of the overlook which we could use as a foreground for a view of the canyon. We liked it better than the shots from the overlook. Shot at ISO 400, f/16, 1/300 sec.
---
8 comments posted
---
---
---
Barbara Asacker
Hi Stan,
You have captured a breathtaking view. It's well composed, sharp, and has good depth of field. Nature has provided you with a perfect color palette. Your composition draws my eye to the two brave souls out on a ledge. &nbsp Posted: 04/05/2021 11:41:29
---
---
---
Norm Solomon
Stan, This is a beautiful
image.It
is sharp, well composed & has wonderful color. The hikers add even more interest. One suggestion might be to crop out or clone out the branches at the right of the image. I also wonder if `dodging' the figures of the hikers might make them pop even more.
Norm &nbsp
Posted: 04/08/2021 14:58:31
Stan Bormann
Yes, cleaning up the twigs is well worth it. I usually start out keeping images so I can enter them in the "reality" divisions. I could maybe even crop them for that, but it gets a little close. If not used in reality, they should go. &nbsp Posted: 04/08/2021 21:21:35
---
---
---
Marcela Stegemueller
Hi Stan,

I would suggest cropping the twigs on the right of your beautiful picture. You were so lucky to notice the two brave souls. I hope they were safe.

Beautiful picture, one I would hang on my wall.

&nbsp Posted: 04/08/2021 18:34:34
Stan Bormann
Not sure I noticed them when I took it, but I am glad they are there. &nbsp Posted: 04/08/2021 21:22:54
---
---
---
John Hackett
A fabulous location with spectacular scenery. I like the way you have the foreground with a bit of vegetation and then the plantless background. the two figures give scale to the scene while not being a distraction. &nbsp Posted: 04/17/2021 04:33:31
---
---
---
Carroll Reynolds
Great shot of the Canyon with lots of contrast in the colors making it up. It looks like an afternoon image. The red colors might pop even more with a photo taken a bit later in the day. Really nice work as usual &nbsp Posted: 04/18/2021 08:53:33
---
---
---
Harriet Ciccone
A very arresting image and the repeating horizontal steps make for drama. I would agree that the branches on the right do not add to the image. If it were my image, I would also open up the pines in the foreground and up the saturation a bit. The hikers are a bonus and add scale. &nbsp Posted: 04/18/2021 14:43:58
---
---
---
Please log in to post a comment