Harriet Ciccone
---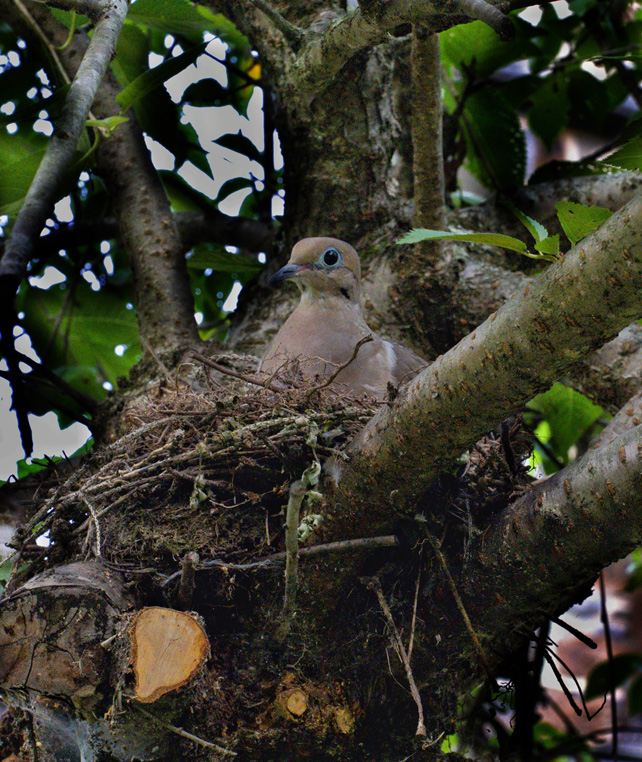 October 2020 - Mrs Dove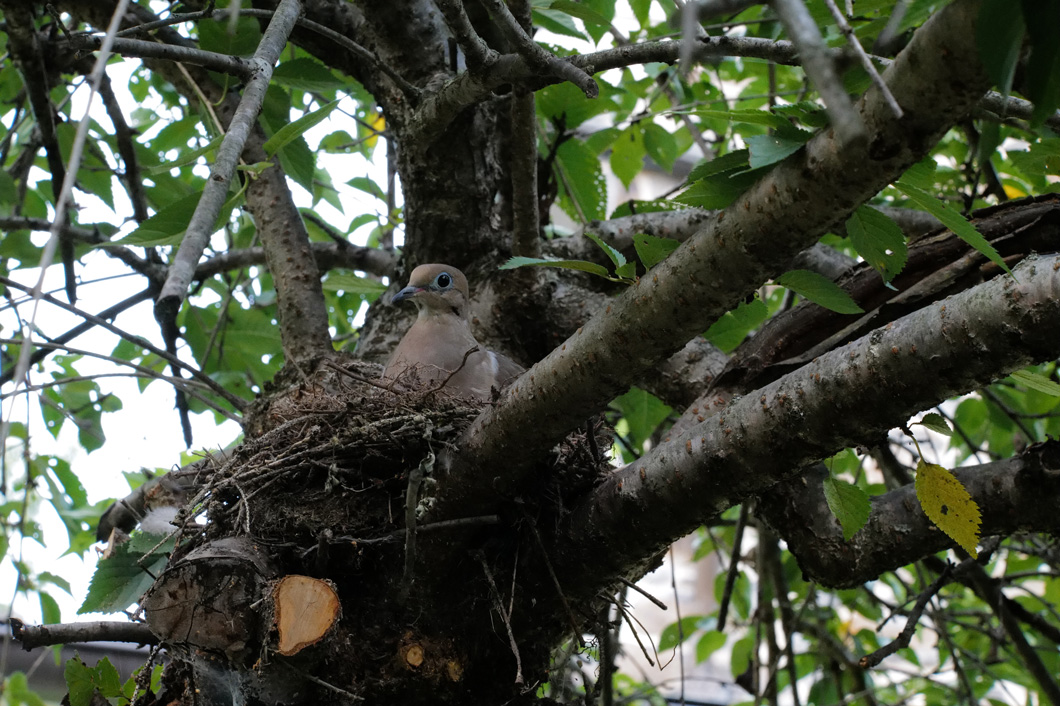 Original
About the Image(s)
I was about to remove a diseased weeping cherry tree from my landscape, when I encountered Mrs. Dove resolutely sitting on her one egg. This is very late in the season (Middle Atlantic states in the US) for a fledging to be born, but I backed off and she is still sitting and the father is also in attendance.

I cropped the image, then tuned in SnapSeed. I also lowered the highlights by using the brush tool in SnapSeed.

ISO 5000, 60m, F/9.0, 1/160.

---
5 comments posted
---
---
---
Marcela Stegemueller
I did a double take. This dove looks fake. She does look very resolute!

I would work just a little more to darken the highlight at the lower right of the picture. Great find! &nbsp Posted: 10/08/2020 12:51:19
---
---
---
Norm Solomon
Hi Harriet,
Great capture...these are difficult shots to get! Did you consider further cropping up from the bottom and in from the right? This would eliminate the bright end of the branch in the lower left & also bright spot on the right. It could also bring more attention to the Dove's eye.
Norm &nbsp Posted: 10/11/2020 10:41:03
---
---
---
Stan Bormann
I think I would crop the bootom to eliminate the sawing from removing a branch, that also can get rid of the hot spot in the lower right. I think I would also crop in from the right to put the bird about 1/3 in from the right. That gets rid of most of the hot spots on the upper right. There seems to be a blue or purple fringe in some of the light areas of the sky. This does not show in the original. I suspect it came from processing to improve the bird. If this is the case, perhaps some of the processing should of been done on just a selected area instead of globally. &nbsp Posted: 10/11/2020 15:18:22
---
---
---
Carroll Reynolds
Really nice image of a nesting bird. Perhaps cropping a little higher to take attention away from the cut branches & cropping in to minimize over exposed areas would likely benefit focus on the bird in the image. &nbsp Posted: 10/17/2020 08:27:41
---
---
---
John Hackett
A great little portrait of the dove at the nest. I appreciate that you have had to crop the original and that a bit of work has been done to show the bird a lot clearer. As others have said a crop to remove the bright area bottom right and the evidence of previous pruning creating an almost square image might help. &nbsp Posted: 10/18/2020 07:17:19
---
---
---
Please log in to post a comment