Carroll Reynolds
---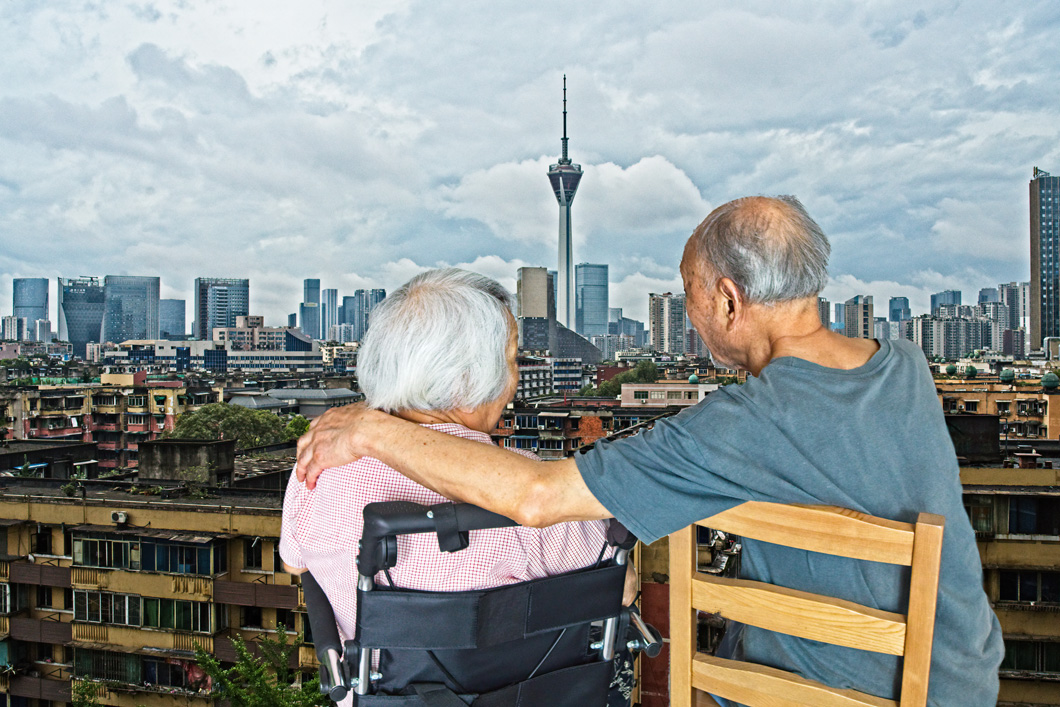 June 2020 - Untitled
About the Image(s)

Celebrating 65 years of marriage. The image is my wife's parents on their 65th anniversary of marriage. It is a composite photo of them looking out at Chengdu China from their home. The view is from their Condo but rails removed and their photo was taken inside their home then cut and pasted to show their view of the City. Both are retired University Professors; he a Physics Professor and she a Mandarin Chinese Professor. During the Communist Revolution they were sent to the country to work on farms, a traumatic time for my wife. The wheel chair is because of osteoporosis which, to my surprise, she has greatly improved her bone strength through exercise.

I suspect the gemstone is Diamond but in China such expensive gifts are seldom given. He celebrated the anniversary with a poem expressing his 65 years of love and caring. My lousy Chinese made it impossible for me to understand his reading but it was a very sweet and caring gift.

Both images were taken in manual mode at ISO 1250, F/5.6, exposure 1/80 sec & 35 mm.

---
This round's discussion is now closed!
8 comments posted
Stan Bormann
You have created a treasure with them looking at the city they have lived in and I assume love. The chairs document their current life despite the background being replaced. This reminds me a bit of a 70th anniversary gift I gave my parents. It was a book of photos of the town and farm they owned and had not seen for maybe 40 or more years. I recall my father taking that book out when I visited many times after that. They lived to 99 and 8 months and 98 and 6. &nbsp Posted: 06/09/2020 22:18:19
Carroll Reynolds
Carroll Reynolds
---
Norm Solomon
A wonderful image...it expresses all the feelings you describe in your explanation.
My only comment is that I wonder if you could have `gotten away with' a lower ISO and lower shutter speed given that the lens was at 35mm (?) &nbsp Posted: 06/12/2020 14:13:40
Carroll Reynolds
Thanks Norm, You are correct. I was trying to keep the exposure the same between the darker interior of the apartment and the bright city scene but in reality I don't think it matters when doing an overlay. &nbsp Posted: 06/14/2020 07:25:44
---
John Hackett
A very well created image with a wonderful story. I like it just the way it is. &nbsp Posted: 06/14/2020 04:49:31
---
Carroll Reynolds
&nbsp Posted: 06/14/2020 07:11:22
---
Marcela Stegemueller
I was moved by the story and the thought that went into making this image. Thank you for sharing. &nbsp Posted: 06/15/2020 13:55:35
---