Ann McDermott
---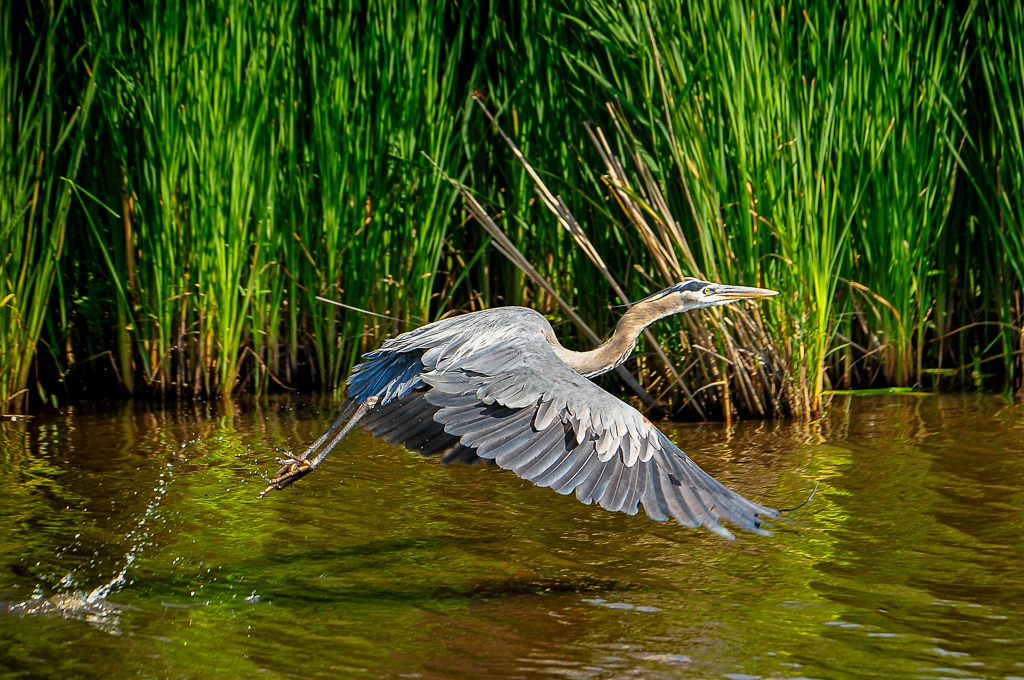 January 2020 - Great Blue Heron Taking Off
Original
About the Image(s)
Settings: f/5.6 1/640 sec. DSLR with a 70-200mm lens (at 200mm). No tripod. Maybe a polarizer?

Location: Blackwater Wildlife Refuge, Dorchester County, Maryland, USA

Deion: When I saw this Great Blue Heron, it was standing in shallow water looking for dinner. When it took off, I had a few exciting moments to take this picture. My goal when taking it was just to take a picture before it flew away. This is one of my favorite local birds and I was glad to see it when I had a camera and decent lense in my hand.

Details: It was late afternoon in June and the lighting was very bright and glaring. Out of the camera, the exposure of the water and grass was decent, but the bird was blown out (see original). When I processed it, I knocked down the highlights as much as possible, darkened the edges, sharpened the feathers and cropped a bit.
---
This round's discussion is now closed!
5 comments posted
Stan Bormann
Very nicely done. You were prepared with a reasonably high shutter speed to catch the action when it occurred. With your processing, the exposure looks perfect. I like that the splash behind the bird it crisp and you provide plenty of space for the bird to fly into. Background is good and so are the reflections. Well done. &nbsp Posted: 01/06/2020 14:25:09
---
John Hackett
A well caught picture of the Heron during take off. I like the location, the colours and the framing. The water drops are a bonus as is the sharpness. &nbsp Posted: 01/12/2020 07:03:22
---
Norm Solomon
Ann,
Wow! A great image! The bird is perfectly positioned in the frame & the splashing water really gives a sense of movement. The improvements made to the original image in post processing are terrific enhancements.
norm &nbsp Posted: 01/12/2020 08:15:41
---
Marcela Stegemueller
Great capture. We have these Great Blue Herons in our area, but I have never had the right lens and settings to photographs them. Your post processing corrected the blown out highlight of the bird and brought out the sharpness of the bird and the water drops as he took off. Great job. &nbsp Posted: 01/12/2020 17:56:27
---
Harriet Ciccone
A very nice capture and the post processing is right on.
&nbsp Posted: 01/18/2020 10:32:47
---