Harriet Ciccone
---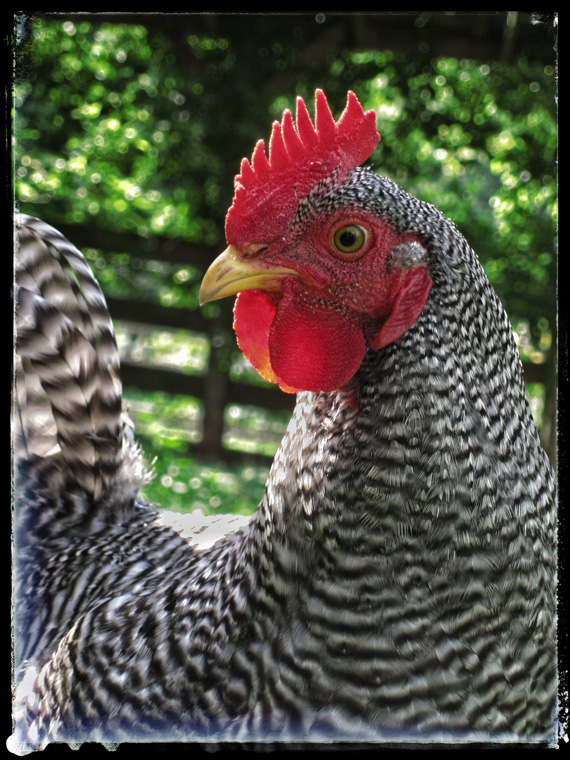 August 2019 - Rocky
Original
About the Image(s)
Rocky my Barred Rock rooster struts around the barnyard and nothing escapes his gaze. I adjusted tonality in Snap Seed and added a frame.

Shot with Canon Powershot on auto - ISO 200, f/5, 1/100.

---
This round's discussion is now closed!
9 comments posted
Stan Bormann
A very nice creation. I like the background to provide a sense of place, which I feel the image needs. The close crop into Rocky makes an interesting composition. I might suggest that you lighten his face and eye a bit to make it more important in the image. Well done. &nbsp Posted: 08/08/2019 21:17:03
---
Marcela Stegemueller
Harriet, I love roosters. They remind me of my childhood.
I like the position Rocky stands capturing the curve of his body. The sloping fence was distracting to me so I straightened it in Photoshop. I don't know if Snap Seed lets you do it. If it does, do it before adding a frame. &nbsp
Posted: 08/09/2019 15:49:26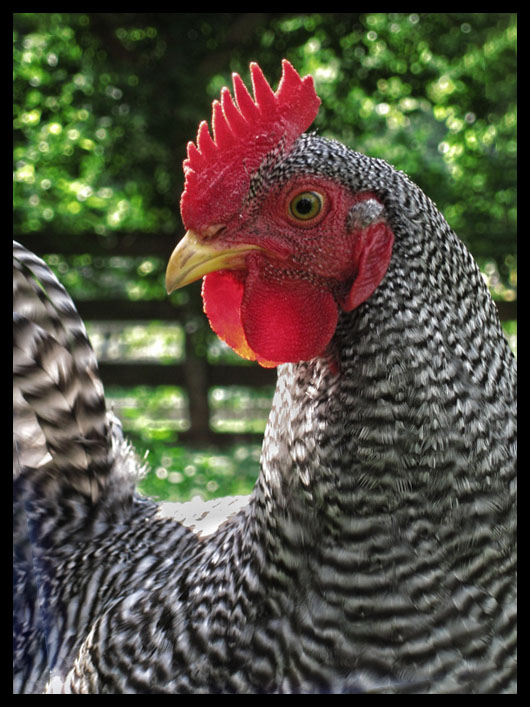 Harriet Ciccone
Thank you Marcela - I like the straightened fence, although it alters reality a bit, since the barnyard slopes to promote drainage. &nbsp Posted: 08/10/2019 09:45:18
Stan Bormann
I think it is always best to keep the posts vertical regardless. The fence boards might slope with the slope of the ground, but the posts should be vertical. &nbsp Posted: 08/12/2019 15:00:15
---
Marcela Stegemueller
I realized that could be as I was trying to take a pic myself and couldn't get my fence straight at the same time as my subject. I could not help trying to straighten up lines. It comes from my accounting background. &nbsp Posted: 08/10/2019 09:50:40
---
Beautiful image of Rocky! I especially like the backlighting of the crown at the top of his head, and the red things that hang down below his beak (no idea what those are called!). The lighting on his body shows him off very well. I agree that maybe lightening his face a bit would help make it a focal point. &nbsp Posted: 08/10/2019 15:59:17
---
Norm Solomon
I like this I Image & think the roosters face is sharp...a bit of fill flash or even having a 'voice activated reflector ' that is a person😀 could help with lightening the face...But I don't particularly like the fence-to me it competes with the main subject- & think that shooting at f5 with just a green farmyard background would have been more effective.
Overall nice job on what can be a challenging subject! &nbsp Posted: 08/12/2019 12:28:06
---
Carroll Reynolds
A nice backlit image. Leveling the image is probably a good addition, as Harriet & Stan suggested. Working the midtone and shadows slider combination may help the image pop a little more. &nbsp Posted: 08/13/2019 06:11:07
---
John Hackett
A lovely portrait of a magnificent bird. I like the anglr you have taken it from and the close crop, with just enough background to set the scene. &nbsp Posted: 08/14/2019 03:34:21
---