Jim Hagan
---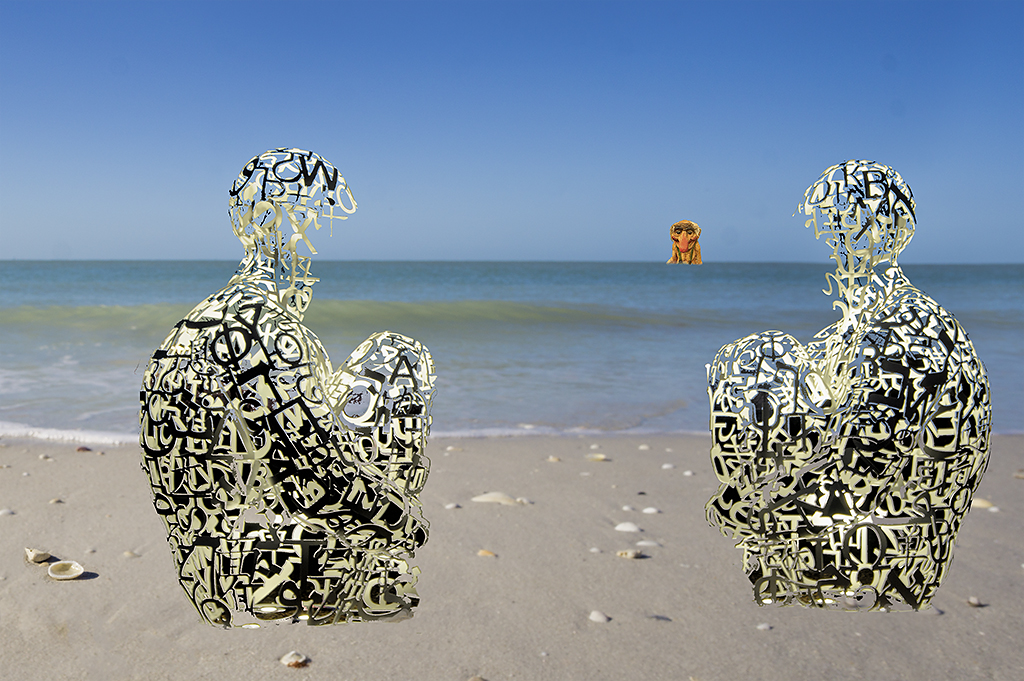 May 2020 - Sea watchers
About the Image(s)
In this image I combined three photos. The main scene is that of the ocean
probably of the Pacific Ocean taken sometime while in Florida. The two
figures are large modernistic outdoor sculptures in front of Toledo's Art
Museum. And the troll was photographed in a store while in Norway.

---
This round's discussion is now closed!
5 comments posted
Mark Southard
You sure get an A + for creativity ! In a perfect world, I would have like to see a bit more blending rather that seemingly pasting the images on top of the background. &nbsp Posted: 05/10/2020 11:23:26
---
John Kain
Very creative imagery. It looks like a spaceship off in the distance and these are the spacemen headed out to it. Did you ever think to make the white lines in the image different shades of the same color as the thing in the water. Maybe even a gradient to make it blend better. &nbsp Posted: 05/10/2020 11:58:30
---
Ian Ledgard
I wish my brain could visualise this sort of concept and then execute it so well. But do I see sensor spots in the sky? &nbsp Posted: 05/11/2020 06:06:11
---
Mike Cowdrey
I didn't realise that they were sculptures initially, and I wondered what filter had created such crazy images. I do like the final effect very much. Perhaps the Troll could be a little larger? This would compensate for a sky with very little else in it. Or a stylised bird maybe? &nbsp Posted: 05/11/2020 08:25:47
---
Andrew Hersom
I love the figures and the troll - it's a really neat idea. Happy with the size of everything but think it would be good to have a beach with a bit more depth of filed, the softness of the beach near the waterline detracts IMHO. Plus I think the foreground figures need just a touch of shadow as the sun it on the left. But overall a great image just needs a tweak. &nbsp Posted: 05/13/2020 12:32:41
---