Mike Cowdrey, MPSA
---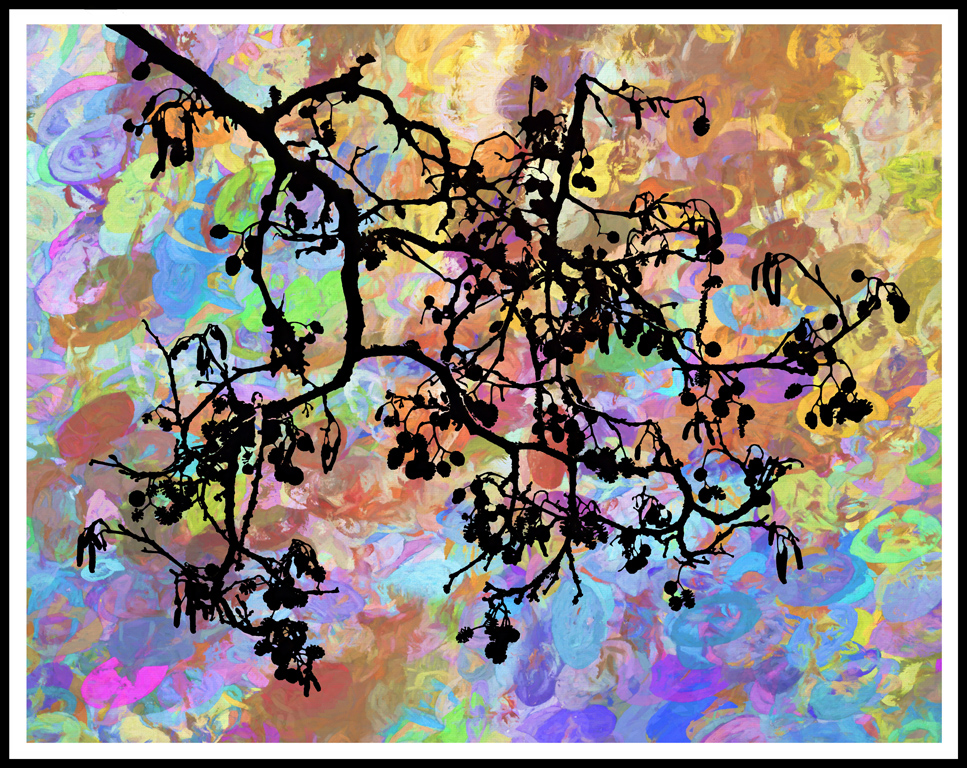 January 2020 - Branch 12
About the Image(s)
Branch 12 started as tree branch in the local park, taken against the sky. I altered the background
to white, and set the branch to black. The background is a frost pattern that I treated to Topaz
Impression 2 Abstraction filter, and added in layers at 60 % Opaque. I then placed a cut out of the
branch and pasted at 100% on top of the previous image, and lastly added a frame. I numbered it
12 because this was the 12 image in a series of attempts.
---
This round's discussion is now closed!
7 comments posted
I love all the colours that were abstracted from the frost pattern, Mike. Cool idea to overlay the branches. It works well together. I like the tree branches when the loop around to combine with another and the colour is captured inside.
Curious, did you try it with the branches at a lower opacity to see what effect it would have on the image. Or a few layers like one at darken, & the other at lighten. &nbsp Posted: 01/13/2020 09:42:09
Mike Cowdrey
Thanks for your comments Jennifer. Yes, I started off with the branches at a lower opacity, and for me it didn't work since they were more difficult to see properly!
&nbsp Posted: 01/13/2020 10:19:19
I get that. I find the dark lines work, cause you find that you are tracing around the branches with your eyes. &nbsp Posted: 01/13/2020 10:39:12
---
Ian Ledgard
Twelve attempts to get it right! but you were rewarded for your persistence. Love the whacky colour produced from you frost pic. The branch {with it's alder cones?) does really need to be stark and dark to be an effective foil to the colours so I feel you have it just right. &nbsp Posted: 01/14/2020 10:23:43
---
Mark Southard
Lovely creation of the background and it fits perfectly with the high contrast tree pattern. &nbsp Posted: 01/20/2020 14:55:03
---
Andrew Hersom
I would never have thought of putting these two together. Well done. &nbsp Posted: 01/21/2020 06:00:12
---
Jim Hagan
I like the image but wonder what it would look like if the background was less vibrant. &nbsp Posted: 01/29/2020 15:37:37
---