Andrew Hersom, PPSA
---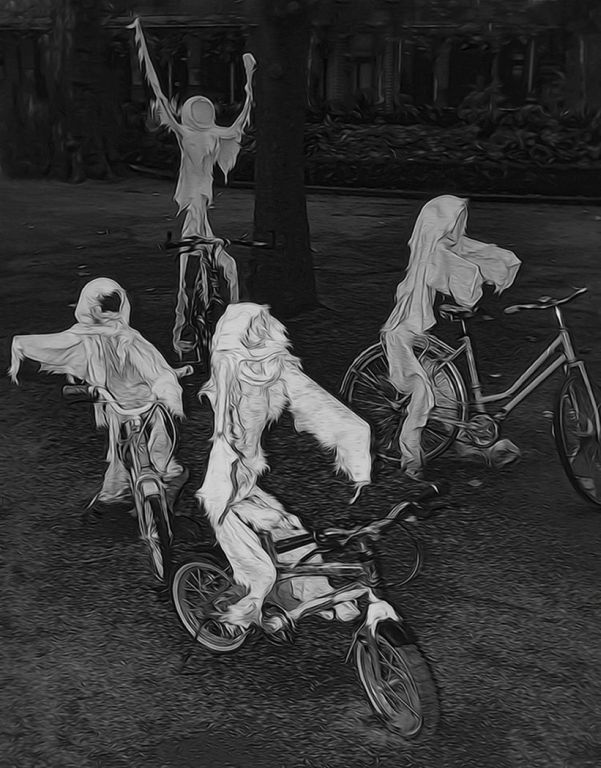 August 2019 - Halloween Ghouls at play
About the Image(s)
This is one of a series I took a few years ago around Halloween of a bike
display in a public park with "ghouls" riding on them. I simplified the
background, cropped, dehazed and then used a filter in Topaz which I can't
remember (sorry). I showed you another version last year (colour) which has
been reasonably successful but this version gets nul points. Any suggestions
for improvement?
---
4 comments posted
Alison McMahan

(Group 40)
Dear Andrew,
Ha! I didn't know you were in another group as well as our group 40! It's like I discovered your double life!
As for this picture, I think black and white is a good medium for the topic. Right now it has a lot of realism, to me it suggests a newspaper photograph of Halloween decorations.
To me the image invites a more painterly treatment. I would suggest keeping it B&W but playing around with filters and also extreme contrast sliders, making the dark areas darker and the whites whiter. The tree in the middle bifurcates the frame, you could experiment with removing it. The architecture in the background has a pleasing Gothic feel that you could emphasize. You could also experiment with adding some spooky lights to the windows. There is a lot of fun to be had with this image. I hope you post any changes you make, I'll come back and see.
&nbsp Posted: 08/04/2019 20:23:21
---
Mike Cowdrey
I think that this actually works better than the colour version, because of the outlines and increased definition which sometimes happens with a mono conversion.I guess the reason that the colour version might impress exhibition judges more is because they only have 3 - 4 seconds to make a decision, and in those circumstances colour can rule. &nbsp Posted: 08/06/2019 04:36:35
---
Ian Ledgard
I have just looked at your previous version Andrew. It contained just flashes of colour and a very busy background.
I post it below for those who may not have seen it.
I feel that this mono version works much better because of the background is less intrusive despite the tree Alison mentions. Perhaps it needs a tweak or two and I would suggest brightening the two upper ghouls as the appear rather muddy. &nbsp
Posted: 08/11/2019 13:21:20
---
Jennifer Empey
Andrew, this image works well in black & white.
I wonder if it has to do with the color is 3 subjects whereas the black & white is 4. I see that in the black and white, if it was 3 would make a triangle.
I like the idea about some spooky lights in the trees.
&nbsp Posted: 08/15/2019 00:03:52
---
Please log in to post a comment