Dick Perkins
---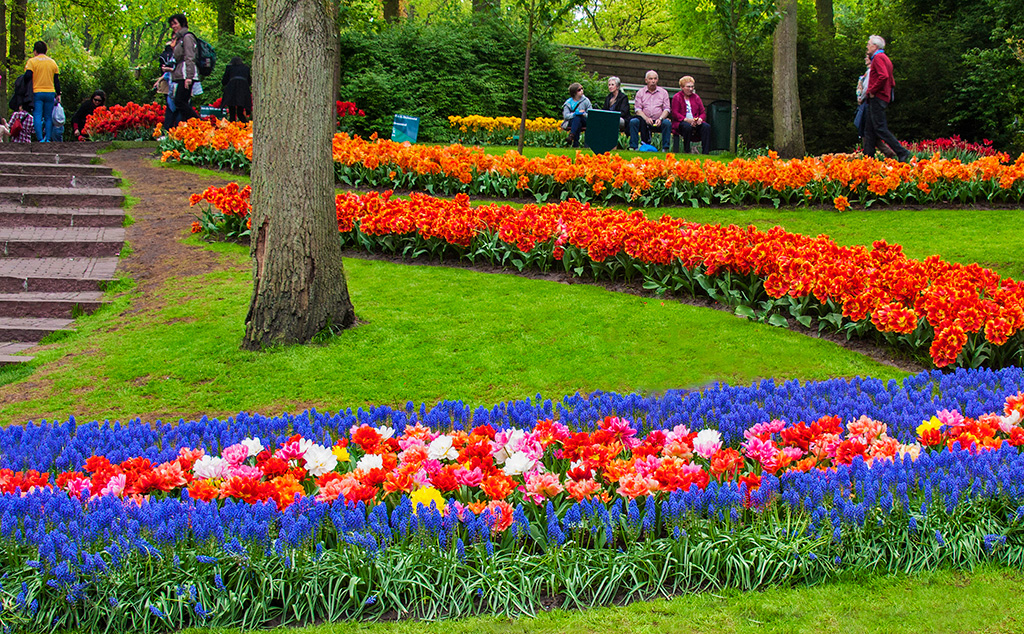 May 2020 - Keukenhof Gardens
About the Image(s)
Every year, growers donate bulbs from their creative efforts to Keukenhof Gardens for display. The show is beyond imagination. About 30 workers plant about 7 million bulbs, and then, by agreement, the bulbs are ultimately dug up and destroyed (to protect the growers' businesses). New ones are planted every year, and reach full display just about now. Over 32 acres of extravagant beauty. If any of you have Windows 7 (not 10) you can play the whole show on my web site.
---
9 comments posted
Peter Elliston
A great display of flowers with some interesting lead-in lines. For me, I'd take out the left side of the image to just beyond what looks like a green sign with writing on to make a feature of the group sitting on the seat at the top. I think you could also crop out the right hand side to remove the approaching couple and then the focus would really be on that group enjoying the flowers and garden. &nbsp Posted: 05/06/2020 11:53:41
---
Dick Perkins
Thanks, Peter. This is your share-cropping month, it seems. I agree that the objective would be changed by so doing and perhaps for the better. &nbsp Posted: 05/06/2020 20:07:12
---
Sheldon Wecker
The flowers are beautiful, and the diagonals and stairs make for a pleasing composition. Unfortunately, the diagonal leading line takes me up to the people at the top of the picture - taking focus away from the flowers. I wonder whether darkening the top of the image - especially the people, and decreasing the saturation and contrast in their clothing, would help keep attention on the flowers without needing to do heavy cropping. &nbsp Posted: 05/07/2020 13:06:28
Dick Perkins
Thanks for your response. I confess that sometimes we let our left brain shout down our right. I relapse into being a documentary rather than a creative photographer. &nbsp Posted: 05/07/2020 13:25:14
---
Joe Kennedy
Dick, this brought back pleasant memories of a visit to the Keukenof several years ago - of course, the crowds were unbelievable! A most colorful leading line that unfortunately left me at the bench of weary floral seekers. I did a little bit of cropping and cloning to take them out - not my best effort but you get the idea. I'm guessing you weren't there this year, right?
&nbsp
Posted: 05/07/2020 13:42:51
Dick Perkins
No, Joe. 2014. &nbsp Posted: 05/07/2020 13:59:57
Joe Kennedy
We were there the following year. Such a spectacular event. Certainly a must-see for anyone with a camera! &nbsp Posted: 05/08/2020 08:46:24
---
John Hackett
I agree with Peter about a crop of the steps. The blooms will let the eye meander up to the group on the bench. I would include the people as they are as much a part of the location as the colourful flowers. &nbsp Posted: 05/14/2020 07:39:37
---
Glenn Rudd
A gorgeous display of brilliant colors. I think Joe's approach to cropping and cloning greatly improves the image. &nbsp Posted: 05/16/2020 08:47:46
---
Please log in to post a comment