Sheldon Wecker
---
August 2019 - Grand Canyon
About the Image(s)
I spent last weekend at the Grand Canyon South Rim. Its less than a 4 hr drive from home. This image was taken at sunrise, south rim, I believe it was the Grandview Overlook.
The image is a 2 shot HDR composite, using the base exposure primarily, and the underexposed image just for the sun and clouds nearest the sun.
I look forward to going back later in the year, when you don't have to get up as early to photograph sunrise.

Sony A7R3, f13, iso 100, 28mm.
---
13 comments posted
Joe Kennedy
Dang, Sheldon! Only a four hour drive the the south Rim! I need that much time to get to the airport and get checked in before heading that way. Your choice of a composite HDR shot was the right one. There is no loss in color, detail, or impact with this shot. Make room on the wall for it! &nbsp Posted: 08/04/2019 10:24:00
---
Sheldon Wecker
Thanks Joe. A little while after this shot was taken, these guys showed up. They actually got a lot closer to the edge than this, taking selfies, and ruined the shot for everyone who was staying behind the barriers. I saw a lot of this type of behavior during the weekend. Surprised we don't hear more about people falling in. &nbsp
Posted: 08/04/2019 15:38:42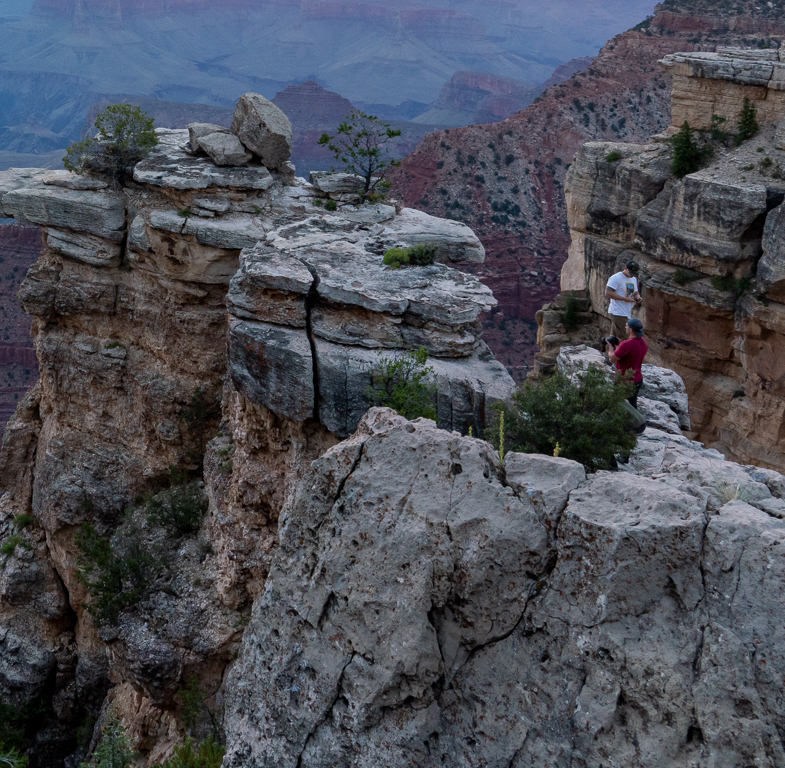 Joe Kennedy
I was at the North Rim a few years ago and watched a guy climbing over the "Do Not Go Beyond" signs to take selfies with his iPad. Fortunately he arrived just after sunrise so he was a non-factor in my shots. &nbsp Posted: 08/05/2019 21:29:08
---
Dave Edwards

(Groups 23 & 51)
As a Grand Canyon Hiker, this image caught my eye. Really interesting composition that captures the depth of the canyon, both vertical and horizontally. Nicely done. Visit us at DD51. &nbsp Posted: 08/04/2019 20:39:27
---
Peter Elliston
A wonderful image, expertly captured. Well done. This is a great landscape in the first place and you have done it justice. And yes, this would make a magnificent canvas. &nbsp Posted: 08/05/2019 06:16:09
---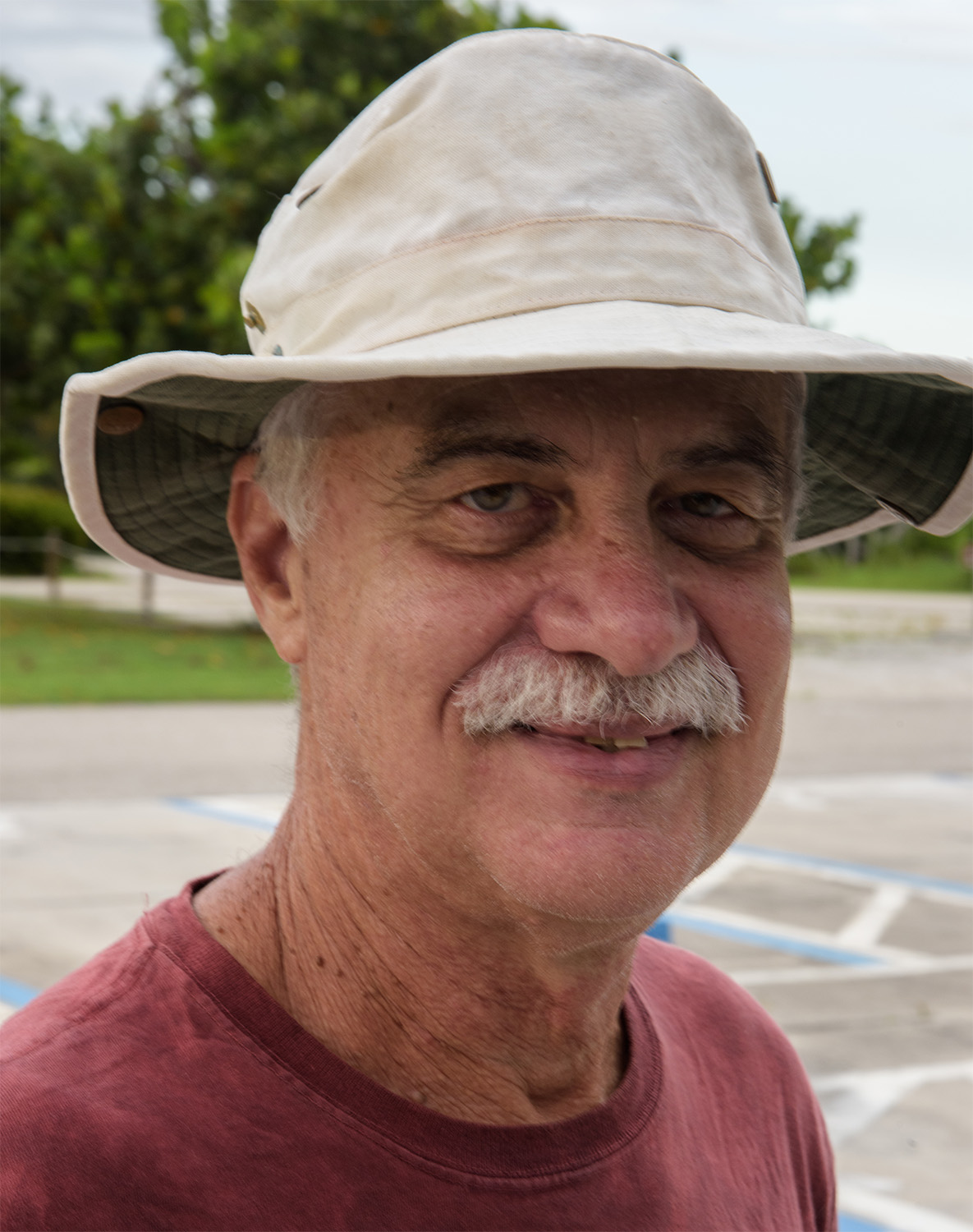 Larry Treadwell

(Group 67)
This is a fine dramatic image of the rim of the canyon. Getting up at dawn was certainly worth it. I feel your composition creating a strong diagonal line from the light spot in the upper left, to the sun, then the rays and finishing with the slot in the canyon rocks in the lower right corner is extremely powerful. The enhanced yellow flowers in the lower right compliment the sun in the upper left. Putting these elements on the fixation points contributes to the strength of the image. All the other elements work well.

If I would do anything to the image it might be to bring up the brightness of the yellow flowers to help anchor that powerful diagonal line.

This is really well done. &nbsp Posted: 08/05/2019 12:01:25
Sheldon Wecker
Thanks Larry, please see separate comment &nbsp Posted: 08/07/2019 09:45:24
---
Dick Perkins
Others have said it all. The sun flare is especially well caught. I would clone out the little splash ending up around 4 o'clock on the rock face, but otherwise it is superb. And I agree about the flowers. &nbsp Posted: 08/05/2019 17:24:37
Sheldon Wecker
Thanks Dick, please see my separate comment &nbsp Posted: 08/07/2019 09:44:23
---
Sheldon Wecker
Thanks for your comments. Larry and Dick, thanks especially for suggesting putting more emphasis on the flowers in the lower right corner. I really like how the small rock surface it is on is lit by the sun ray, and didn't pay enough attention to it before. I've re-edited the image and its attached (also removed flare and cropped a little). I'm trying to remember if I saw this at the time. I think not - I was more focused on catching the sun star as the sun peeked through the clouds for seconds at a time. If I had, and was quick enough, I think I would have included more on the right side of the image. &nbsp
Posted: 08/07/2019 09:43:29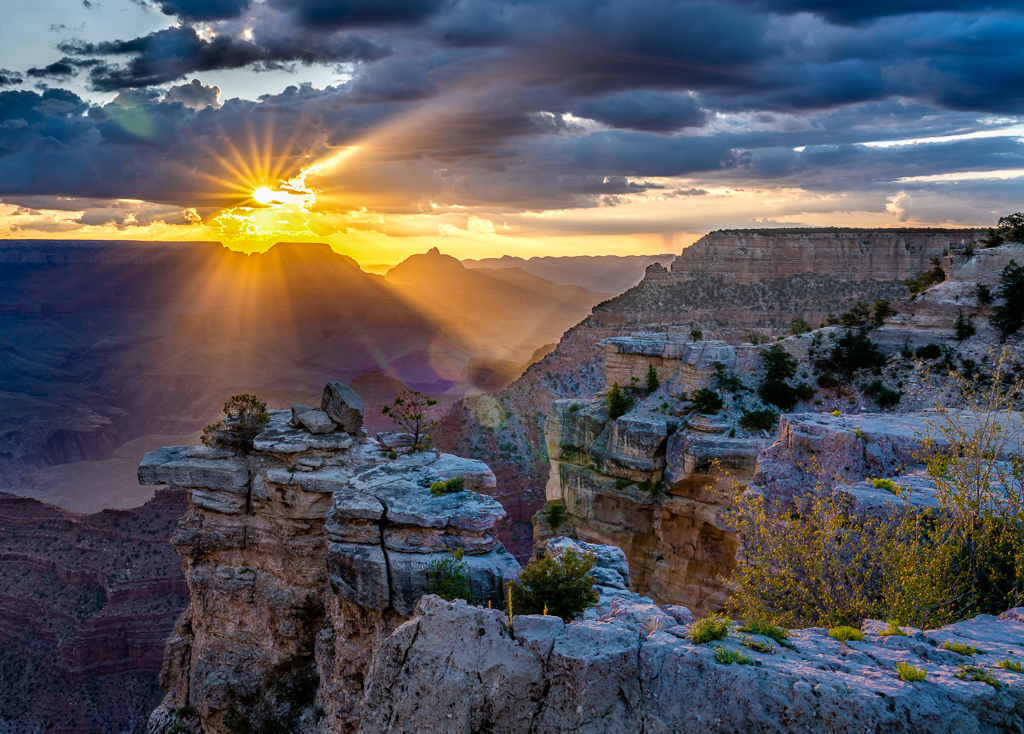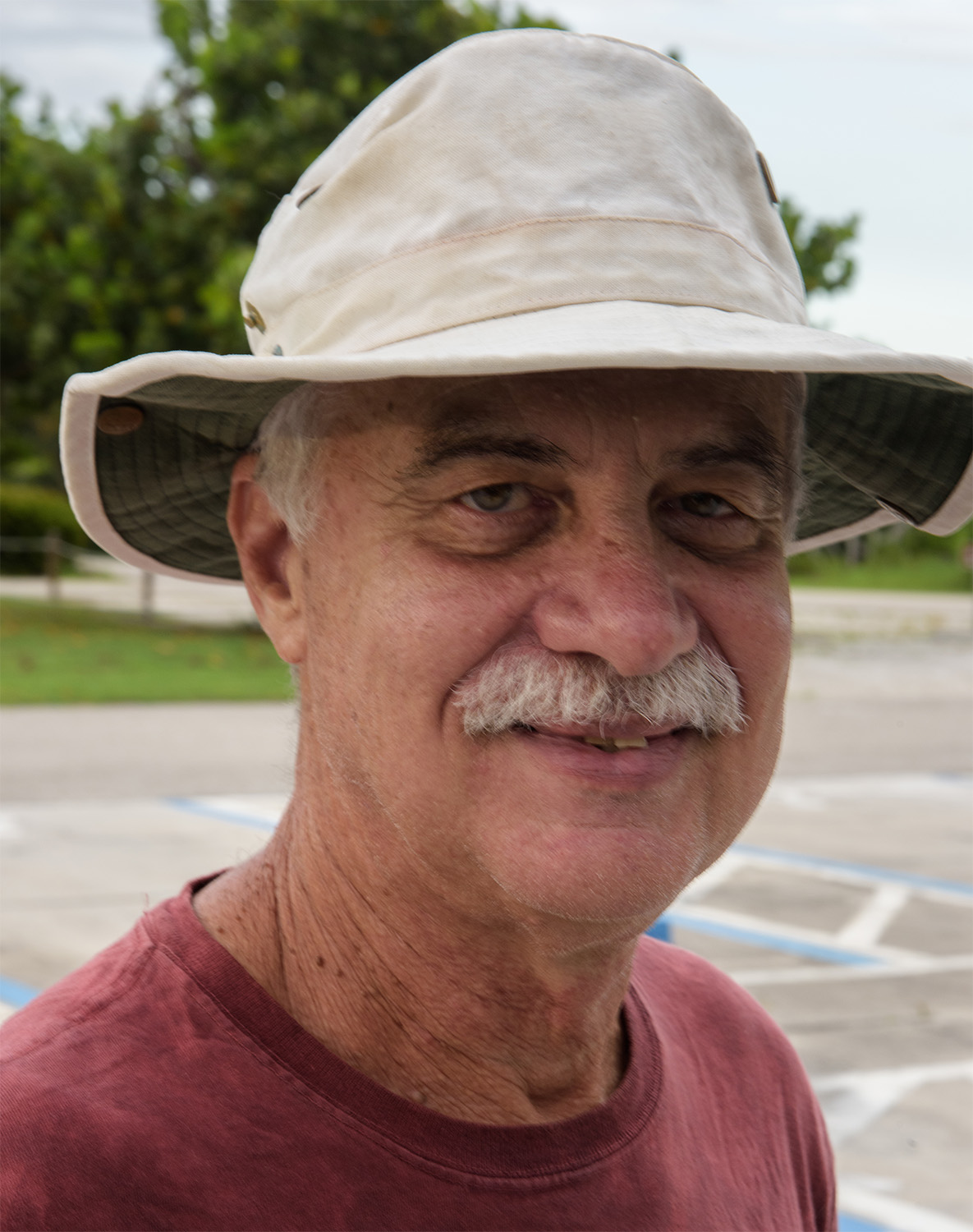 Larry Treadwell

(Group 67)
Sheldon
I think your enhancement of the flowers on the right make quite a dramatic statement. Now I'll give this a 10. :-) Well done. &nbsp Posted: 08/09/2019 10:54:15
---
John Hackett
You may have had an early rise to catch the su, but it was worth the effort.I think you have captured the drama of the event well. &nbsp Posted: 08/11/2019 08:05:27
---
Glenn Rudd
I think the re-worked image is perfect. Even though you did not like the early hour, your timing of the sunrise and clouds just right. This would look very good printed and metal and hanging on a wall to show your friends. &nbsp Posted: 08/11/2019 12:57:29
---
Please log in to post a comment