Terry Campanella
---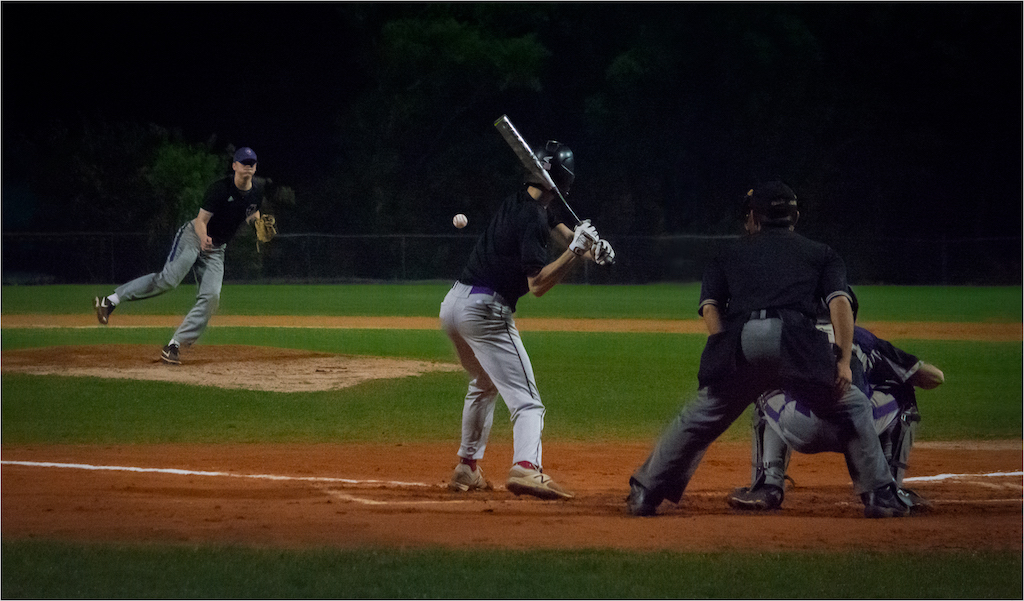 January 2021 - Under the Lights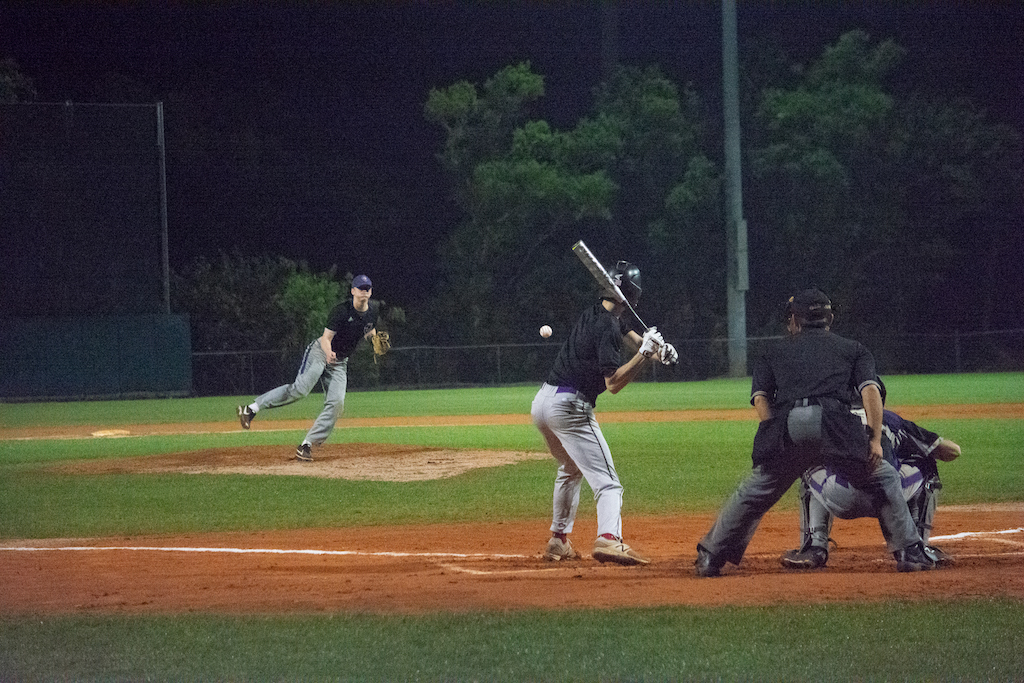 Original
About the Image(s)
This is a high school baseball team playing at the Historic Dodgertown Stadium in Vero Beach Florida.

Although this image had a lot of noise, I was excited about capturing the ball just before the batter swung. Post editing was done in Photoshop and Nic. Editing Process: Global adjustments (highlights, noise reduction, dehazing); I used Nic to darken the background and then removed some of the distractions from the background) I worked on reducing the noise however thought that including some adds to the character of the image; green of field was toned down a bit; finally cropped and added strokes to define border.

Taken with my Nikon D 5200 on Manual Mode, Lens 55-300; Focal Length 102 mm, Speed 1/1600 sec., F/4.8, ISO 25600.

My questions: 1. Does the use of some noise help to tell the story? 2. Should the green have been toned down further?
---
10 comments posted
---
---
---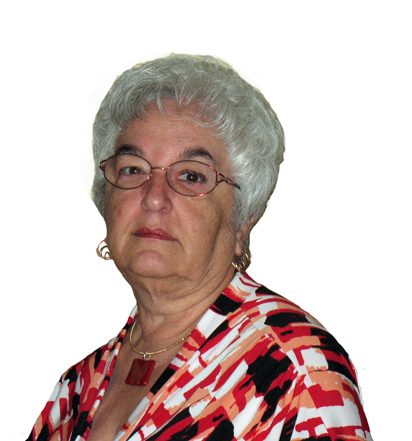 Beverly Caine

(Groups 48 & 80)
Terry this is a great capture. My personal preference would be to brighten it up just a tad. I think the green is fine, but I guess that's just personal taste. I just shot some baseball at the local high school here in Boynton Beach and to put it mildly, "it ain't easy". (See Group 80) Overall I think this is a very well done image and the ball in mid-air is the real bonus. &nbsp Posted: 01/02/2021 11:51:48
---
---
---
Joan Funk
Great action shot with the ball in mid-air and the batter ready to swing. I'd like to see the shadows lightened enough so the players' heads and shoulders don't blend so much into the black background. &nbsp Posted: 01/03/2021 13:02:38
Terry Campanella
Thanks Joan! I agree about lightening the shadow but not sure of how that can be done. Do you have any suggestions? &nbsp Posted: 01/04/2021 12:31:29
---
---
---
Joan Funk
I think you can use the brush tool (I use Lightroom). Reduce the exposure, and brush the helmets and shirts until you like the effect. I actually prefer the original, with the green trees and ballpark in the background. The players stand out well and they are the important part of the photo. &nbsp Posted: 01/04/2021 13:42:48
Terry Campanella
Joan, I think you are absolutely right about leaving the green trees in the background. They definitely would have added a separation between the helmets and the background. I will need to try editing this again... Thanks! &nbsp Posted: 01/09/2021 12:46:08
---
---
---
Bud Ralston
Terry, I agree with the above comments. Nice capture but trying to shoot a D5200 at ISO 25600 is pushing the camera well beyond its capabilities. If you had a flash attached it may have helped a bit with the noise. As another aid, Topaz Denoise Ai is probably the best program available right now to reduce noise in post-processing and it's relatively cheap (and, no I don't work for Topaz). All that aside, it's a great composition of difficult photo capture. &nbsp Posted: 01/06/2021 16:34:01
---
---
---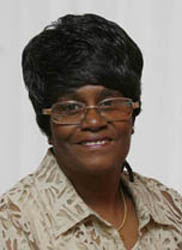 Kathleen Sims
Great PJ action shot. The exposure and detail is better in the original. &nbsp Posted: 01/10/2021 10:34:12
---
---
---
Walter Naumann
A great capture with the pitcher follow-through and the ball. It looks like a called strike. I prefer the original brightness. Good to remove the posts. Great removal of noise. Thanks for the tip. &nbsp Posted: 01/11/2021 10:01:05
---
---
---
Dr V G Mohanan Nair
Interesting action shot. The noice reduction has helped. I liked the original colors and brightness. I think background is a little dark. Keep the original colors and brightness. Only correction needed the horizon correction, removal of the posts and denoice. &nbsp Posted: 01/16/2021 13:05:23
---
---
---
Bogdan Bricelj
1. I think, that noise doesn't tell the story.
2. Green is properly toned down.

You didn't need to darken background due to distractions. Dark shirts, dark helmets, everything is lost in so dark background. You can make it brighter with Shadows from original. &nbsp Posted: 01/22/2021 15:51:01
---
---
---
Please log in to post a comment