Terry Campanella
---
May 2020 - Magnolia
Original
About the Image(s)
I moved into my current South Florida community year and a half ago and although I always thought it was lovely, it was not until our shelter in place mandate did I really look closely at all that surrounds me. Each day on my walks, I have discovered all kinds of wonderful things to photograph. This magnolia tree is just down the street from me and is in its peak for blooms. Hope all of you are safe and well.


Taken with my Nikon D 5200 on Manual Mode, Lens 55-300; Focal Length 221.00 mm, Speed 1/1600 sec., F/6.3, ISO 100. Post editing was done in Photoshop. First, brought down the highlights just a bit and darkened the shadows. Next I used healing brush and clone tool to eliminate the large brown branch behind the flower. Then, I selected the flower with the elliptical tool, inverted my selection, and blurred the inverted selection. Finally I vignetted and cropped before adding the off white border.

My questions: Does the blurring look natural? Does the choice of crop work?
---
This round's discussion is now closed!
13 comments posted
Bunny Laden
Terry, What a wonderful image! To me, the crop looks good. Cloning out the branch helps me to focus on the flower. The other adjustments make the color of the flower more warm, which is quite attractive. I find that the way you blurred the background has edges that, to my eye, doesn't seen natural.

You might try making a duplicate layer in Photoshop and blurring that entire layer. Then in the layer above, use Select Subject to isolate only the flower so you can delete all the greenery. As an alternative, you could use the erase brush to remove the greenery from the top layer, thereby exposing only the blurred leaves. (For my image this month, I ended up using a combination of the two approaches to get the subject clearly separated from the blurred background.) Other people might know of a more efficient technique. &nbsp Posted: 05/02/2020 22:16:22
Terry Campanella
Bunny Laden
Terry, I like the image a lot. The blur on the border is much more attractive to my eye. &nbsp Posted: 05/08/2020 17:50:02
Terry Campanella
Yes, the blurred border was a total surprise to me. It is great to learn new things... &nbsp Posted: 05/12/2020 15:09:27
Terry Campanella
Bunny, please forgive me for calling you Joan.... The brain is not in gear these days. &nbsp Posted: 05/19/2020 15:52:19
Bunny Laden
No problem Terry. I answer to anything! My grandmother trained me when I was young as she used to run through all her grandkids names before figuring out the correct one!
&nbsp Posted: 05/19/2020 15:54:32
Terry Campanella
Thanks, you provided my laugh for the day.... I always confused the names of my four sons and now that I have nine grandchildren, it is hopeless... &nbsp Posted: 05/19/2020 15:57:50
---
Joan Funk
Terry, your image of the flower is beautiful, and I love the sharp green leaves that cradle it.

I would, however, clone out all the blurred leaves and then crop off the left side, so the flower isn't in the center with nothing to the left. I think the blurred leaves distract from the most important element, the flower and the leaves cradling it.

And just to give credit where it's due, you wrote "Joan" to the comment from Bunny. &nbsp Posted: 05/18/2020 14:56:08
Terry Campanella
Joan, brain is not in gear these days. Thanks for letting me know that I called Bunny, Joan. I think so highly of both of you and appreciate all your critiques. &nbsp Posted: 05/19/2020 15:54:20
---
Dr V G Mohanan Nair
Beautiful flower image. I liked your post processing. The flower stands out well. You can blur the top portion of the leaf above the left petal, so that the blurring looks more natural. Your second blurred image looks more artificial to me. The flower is sharp with nice lighting. Good work. &nbsp Posted: 05/19/2020 14:45:26
---
Bogdan Bricelj
Terry, your flower is beautiful. I don't see very much blurring, because vignette is so dark.
The photo after Bunny's comments has another problem. The whole blurred background has blurred also the edges of the flower, looking like an optical error. With respect to that I like the first possibility more.
Border is good, but this flower I would crop in the center. Central composition means statics and this flower is that. &nbsp Posted: 05/19/2020 15:02:53
---
Walter Naumann
Good subject and composition. The dead leaves to the top right are a distraction. Perhaps they could be plucked before photographing. It is good to blub the background but some is too abrupt. Distant objects should be blurred more that middle distance ones. Over all I like it. &nbsp Posted: 05/19/2020 16:21:49
---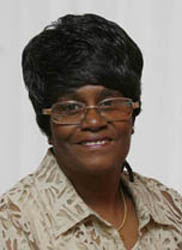 Kathleen Sims
Beautiful flower. I think you did too much post processing which dulled the light/white on the blossom. Your original cop is best. &nbsp Posted: 05/20/2020 07:30:41
---