Bob Legg
---
January 2020 - Groundfog Sunset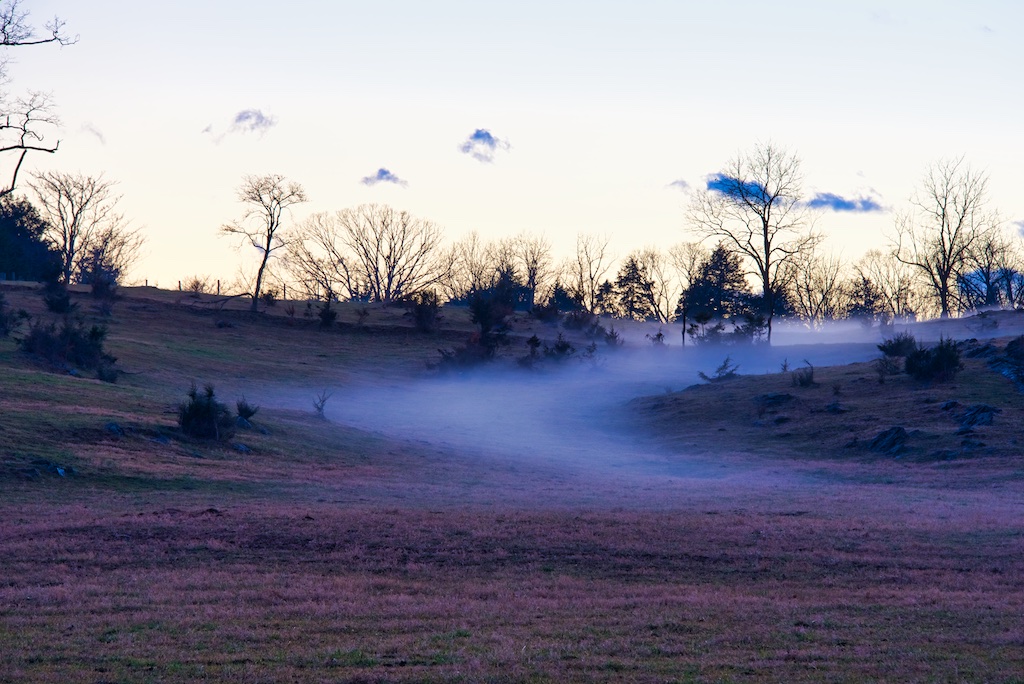 Original
About the Image(s)
Groundfog Sunset 845, taken at a local farm where a quick shower created this leading line of ground fog. Unfortunately the sky in the direct of sunset was bare. I helped it out by adding some clouds, using Luminar 4.
---
This round's discussion is now closed!
7 comments posted
I like what Luminar did to the sky. IMHO I would crop off 1/3 of the bottom, I don't see what it adds to the effect.
I would also add a small bit of brightness to the land to balance against the sky. &nbsp Posted: 01/12/2020 13:11:15
Bob Legg
Thanks Phil. Good suggestions. I hadn't cropped that foreground thinking that if I printed it, the standard 2:3 ratio would cut off part of the fog line. &nbsp Posted: 01/12/2020 13:19:27
---
Joan Field
Bob,
I do find this a bit dark for me. I agree that there may be too much foreground. The concept is lovely. I wonder if your club and council has any rules against adding a sky that you did not create? We do at the Northern CA Council of Camera Clubs. I guess PSA does not care. You went to a lot of work to shows something unusual and you have succeeded. Just cut off a bit of the foreground.
&nbsp Posted: 01/25/2020 13:20:45
---
Bob Legg
Thanks Joan for your comments. My current club has very few rules. The sky is mine, I have been saving sky images that would not work well in competition since 2006. I have only used my skies on the theory that it will rear it's head some day. My old NECCC Camera Club Council does have a rule about only using the makers own work for montages, textures and skies.
That sky was pretty dark and I therefore needed to darken the foreground to make the image realistic. Attached is a new sky that is lighter and I've shortened the foreground and added some fog. Please give me some feedback on whether this works. Thanks &nbsp
Posted: 01/25/2020 16:57:26
---
Rick Finney
Bob: The image is way too dark for my taste. Your second attempt is much better. I still would crop a bit off the bottom of the picture. &nbsp Posted: 01/27/2020 16:49:22
---
Bob Legg
Thanks Rick. I appreciate the feedback. &nbsp Posted: 01/27/2020 20:44:33
---
Bob, second image better with cropped foreground. The land should have some tones from the sky, I see a bit in the mist, I would add a bit more. I also like the second sky better, but I think I would crop down below the central dark cloud and crop the bottom about 1 inch. A partial panorama looks good to me. &nbsp Posted: 01/28/2020 09:13:35
---