Syed Shakhawat Kamal, QPSA
---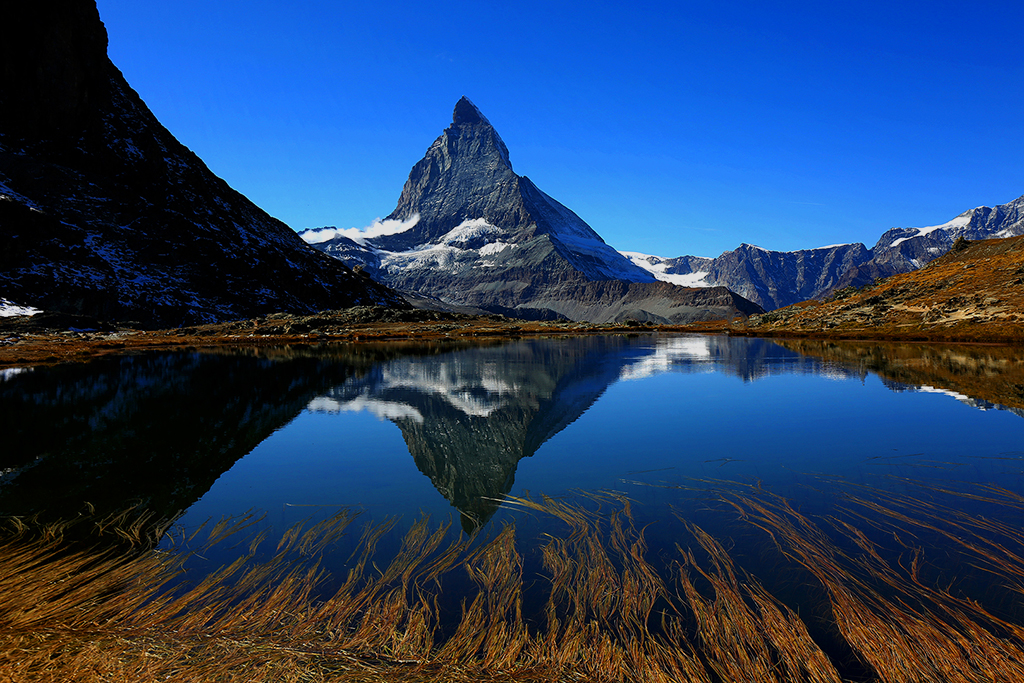 November 2020 - Mirror of Matterhorn
About the Image(s)
This is a unique capture I created from Zermatt, Switzerland, during my last visit. I had training in Valencia, Spain. After completion of the training,
I extended the test of the course to be in Zermatt, Switzerland. As usual when I go to a place, I do some ground work as to what to shoot or capture there by camera. This beautiful site is one in my bucket list. This also has many obstacles, weather, clouds in the sky or wind over the water surface to get the mirror image.

Finally when I get there, it was an awesome experience for me, to see the mountain tops with snow. I loved the landscape, the people and of course the local food there. When I was on that track, it was a long, long, long walk with uphill and downhill. We used the highest cable car to reach the midpoint, from where we started walking the trail to reach the spot to make this image. There is also heaven for the skiers from all across the globe. Zermatt offers year-round skiing, with ski terrain at altitudes between 2,500 and 3,900 meters and Switzerland's highest vertical drop, more than 2,133 meters.

When I reached there everything was okay to shoot except the wind on the water surface.The wind creates ripple on the water so we cannot have our mirror there. I waited there about 3 hours 30 minutes to have the perfect conditions to shoot the mirror of matterhorn. I am very happy with the outcome. This is the best I could do. The long grass or algaes made the image little dramatic in my view.

Just fixated on the frame, I make different long exposures and multiple bursts to shoot the "Mirror of Matterhorn". I must say I was very lucky weather wise, they said in 5-6 weeks time, that was the best day for photographers. I only have a few hours to stop there. I loved the image I made. I hope you also have enjoyed the same. Any constructive idea would be more than welcome for this image.
---
This round's discussion is now closed!
7 comments posted
---
---
---
Darcy Johnson
This is a beautiful image made all the better by the story of what it took to take the shot. The grasses add to the shot as leading right to your focal point and the image is tack sharp. Some might have issue with the sky having no interest, but I think it works for this photograph. The only nit I have is that it appears your photo is cut through middle. For reflection shots, not sure that's a big concern. I will be interested to see how others comment in this regard. I would say your trek was well worth the effort. Also, check out Group 93, there is a different take on the Matterhorn that might be of interest. &nbsp Posted: 11/11/2020 11:53:41
Syed Shakhawat Kamal
Hello Darcy,
Thank you for your comment and suggestions. I did see the Matterhorn image in Group 93. That is a very interesting image and display a different perception. Cutting through the middle; is done to keep the balance of both part, reflection and the real subject. I appreciate your observations.
Thanks again.
Cheers.
Syed Kamal. &nbsp Posted: 11/13/2020 05:38:19
---
---
---
John W Whitt
This is a unique view of the Matterhorn. I have seen it from the hotel in Zermatt, but you appear to have gone the extra mile to give us a truly unique image and one that I have not experienced. The composition is, to my eye, exceptional with the grasses leading to the water and then to the Matterhorn. WELL DONE!! This already exceptional image is a bit problematic for me from a technical standpoint. There appears to be a lot of noise and banding in the sky. This could be remedied with some noise reduction and adding a bit of blur to the sky so as to decrease the banding. The other issue is with the mountain to the camera left. It is very underexposed and there is a complete crushing to the blacks that cannot be recovered in Lightroom. When faced with these situations, you might consider an HDR approach or do exposure blending (with camera on tripod, take one image properly exposed of the Matterhorn and another image properly exposed for the mountain and combine the two images in Photoshop). Thanks for sharing this REALLY NICE image. &nbsp Posted: 11/11/2020 13:28:59
Syed Shakhawat Kamal
Dear John,
Greetings my friend.
Thank you for your nice and encouraging comment. I take your suggestion very seriously as there are many things to learn from there. I will surely try as you suggested in this type of shooting or at least same type of subject with multiple exposure. These are very creative suggestions. Thanks again. I appreciate your support.
Best.
Syed Kamal. &nbsp Posted: 11/13/2020 06:33:53
---
---
---
Gregory Waldron
Syed,
A very nice capture and a great story regarding the adventure to make this image. I like the symmetry of triangles created by the Matterhorn, its reflection and the triangle created by the reflection created by the mountain on the left side of the frame. I also believe that a little detail in the mountain on the left side would help improve this image.
Best regards,
Greg &nbsp Posted: 11/12/2020 10:59:53
Syed Shakhawat Kamal
Dear Gregory,
Greetings again.
I hope all are going fine with you and your loved ones.
Thank you for your nice comment. Like others you are absolutely correct. I learned this creative observations now. I will surely take care next time, in a situation like this again. Encouraged and Inspired.
Cheers.
Syed Kamal. &nbsp Posted: 11/13/2020 06:36:33
---
---
---
Quang Phan
Hi Syed,
This a very serene image. I could field the depth of picture, and the height of objects. I like the leading lines of grass from foreground, it creates the soft motion naturally. I would try to increase brightness on shadow of the left mountain a little bit using brush in ACR, it may help the light balance. Thanks, you help me a place to next visit to Europe. &nbsp
Posted: 11/18/2020 11:18:08
---
---
---