Syed Shakhawat Kamal, QPSA
---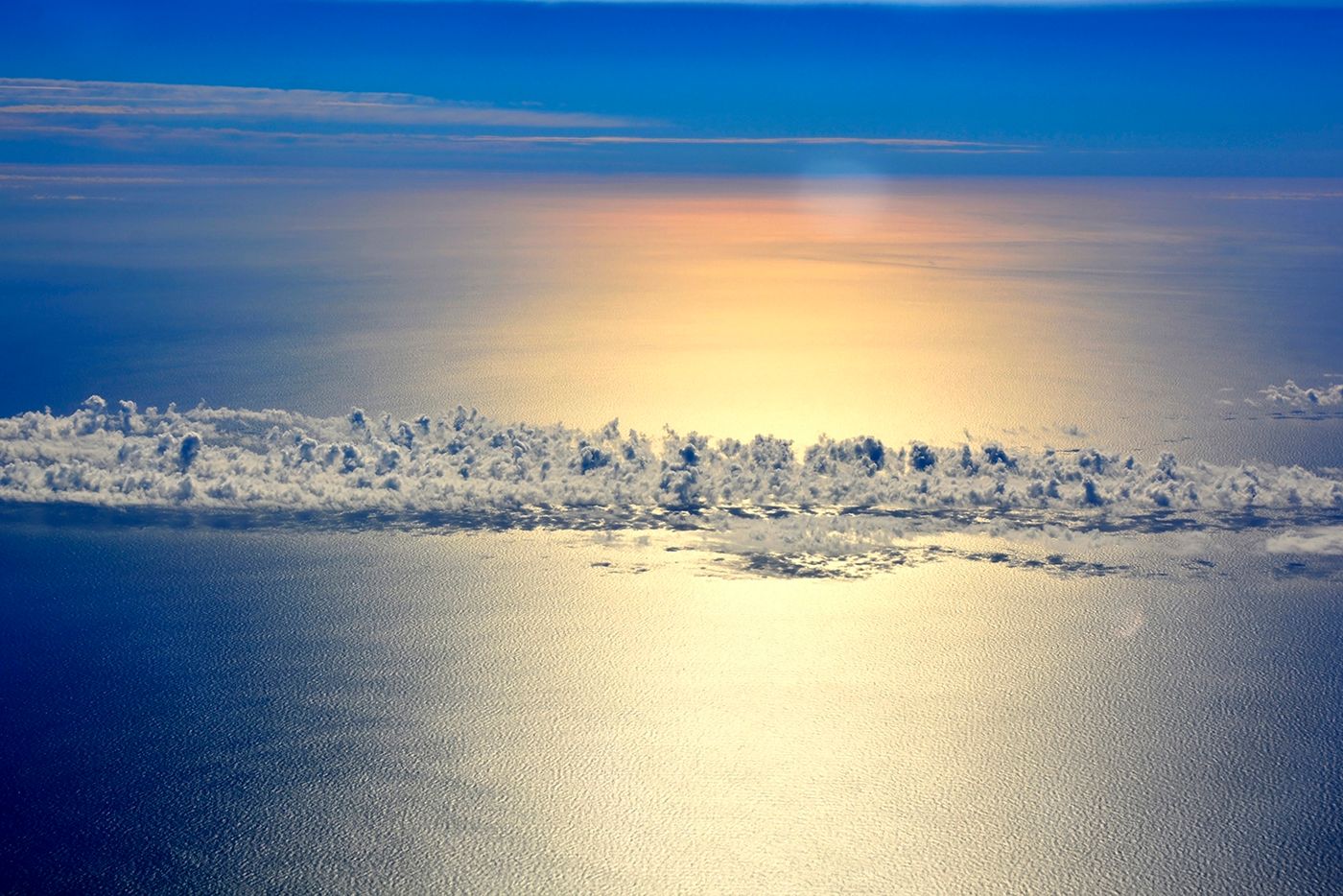 June 2020 - White & Blue Atlantic1.
About the Image(s)
This image is from my archive of a few years back. I was travelling to the US for my helicopter pilot training. On the way back by "Emirates" Boeing 787, I always prefer to sit by the window with a camera available within my reach. While crossing the Atlantic ocean, just before late afternoon above 35000 feet; I saw this amazing heavenly scene on the ocean surface.

It was made hand held with no gimbals. It was an opportunity based shot, while I was crossing that big waterbody. I was very lucky to have this capture. I did some simple editing with the CS6 for cropping and light adjustment.

Any new idea or suggestions as to composition or other areas, would be more than welcome for my image.

---
This round's discussion is now closed!
7 comments posted
Darcy Johnson
This is a quiet, tranquil photograph that has an abstract quality to it. I can almost feel the warm from the sun's reflection in the water. There are a couple of light reflections or spots on the lens coming across in the photograph, but otherwise a nice presentation.

&nbsp Posted: 06/15/2020 17:19:28
Syed Shakhawat Kamal
Dear Darcy,
Thank you so much for your comments. I appreciate that you liked my entry of this edition. Capturing an image from 35000 feet with a lot of limitations like the moisture & reflection on the windshield or glasses is a challenging subject. I just loved the idea of capturing those moments while sitting next to the window. Thanks again my friend.
Cheers. &nbsp Posted: 06/17/2020 23:51:58
---
Gregory Waldron
Syed,
I agree with Darcy's comment. My only suggestion maybe a little crop from both the top and bottom to give the image a more panorama look, but I like it just the way it is presented.
Best regards,
Greg &nbsp Posted: 06/17/2020 18:28:00
Syed Shakhawat Kamal
Dear Gregory,
Greetings my friend. Thank you, for your wise comment and suggestions. Yes cropping a bit on the top and bottom line would give a different perception and also reduce the reflection. I love that suggestion. As I told before, capturing an image in that congested and restricted space; by the window is a challenge but I sure did enjoy that experience.
Thanks again.
Cheers. &nbsp Posted: 06/17/2020 23:57:17
---
Arun Bagga
Hi Syed,
From your description I gather the image has quite a personal significance for you. I think given the circumstances the image was shot in, it is a nice capture of the serene ocean and clouds one sees from high above.
Personally I find the image a bit too plain lacking in contrast and saturation. I did some tweaking in levels and high-pass filter before adding a little vignette. I agree to Darcy's comments about the reflection spots and the suggestion by Greg that the image will be better presented in panoramic format. Hope you like it. &nbsp
Posted: 06/19/2020 14:30:10
Syed Shakhawat Kamal
Hi Arun,
Thank you for the comment and suggestions. I loved the way you edited the image. Now it has a nice presentation, better than the original one. I appreciate your taking time and editing the image. A lovely work and I simply Loved it.
That's how we learn here.
Have a safe stay in this global crisis my friend.
Cheers.
Kamal &nbsp Posted: 06/20/2020 01:17:30
---
Tom Brassil
Hi Syed, I, like you, enjoy sitting at the window seat when flying and have seen many beautiful scenes, particularly cloud scappes. This image to my eye interesting with the split screen provided by the cloud base, however I think it needs something more to make the image. I like what Arun has done with the colour and contrast, I also agree with Darcy and Greg. Regards &nbsp Posted: 06/29/2020 04:36:10
---