Tom Brassil
---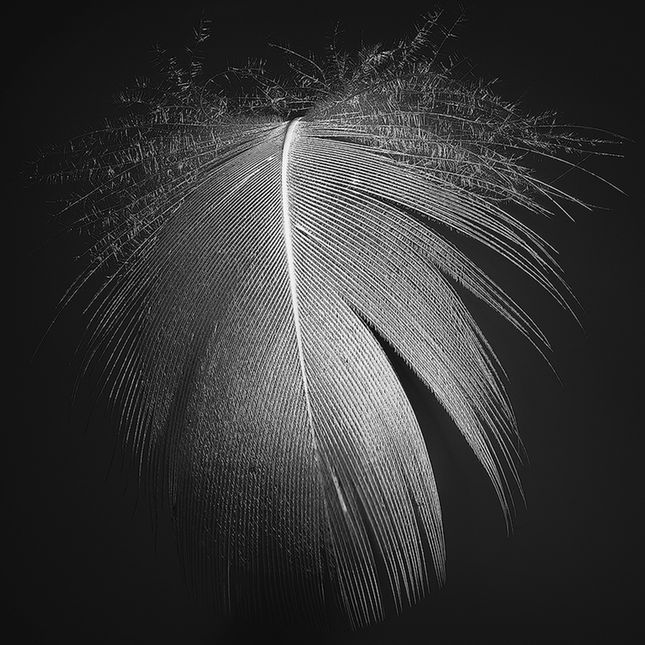 June 2020 - Feather
About the Image(s)
Image detail F/3.5, 1/100s 64 ISO Nikon D850 with Nikon 105 lens
First off let me say that I am looking forward to being a member of Group 14 and anticipating enjoying your images in the future. From browsing your previous images I have seen some great images in the group.

For this image, I carried out a stepped stacking of approximately 40 images with a black cloth as the background, given the shallow DOF, I was not too concerned with any light hitting the background. Constant lighting from the top right hand with a second light adjacent to the camera right-hand side. I use Helicon Focus as my stacking software then transferred to Photoshop for final editing. This was more of a technical exercise, as I enjoyed working out the lighting and obtaining the sharpness for this macro shot. I believe it took me 4 or 5 attempts before I achieved this image. One problem I faced was the airflow in the area needed to be eliminated It is a small feather from a young fledgling (sulphur-crested cockatoo) any air movements caused the down to flutter giving a bit of blur which in the macro setting was a bit of a problem. I hope you enjoy the image.




---
This round's discussion is now closed!
8 comments posted
Arun Bagga
Tom, I think with the time and effort taken by you and your patience, you have achieved a very beautiful and interesting image. With good directional lighting you have captured good sharpness and details all over. The black background is a perfect choice here. Well done indeed.
My only suggestion would be to add a thin white border (1 or two pixels) to separate the image when viewed on a dark screen. &nbsp Posted: 06/01/2020 08:32:03
Tom Brassil
Thank you Arun I'll have a look at that and try it out, thanks for for that the comment &nbsp Posted: 06/01/2020 18:41:57
---
Xiao Cai
Very interesting! A very different, a unique style... &nbsp Posted: 06/01/2020 10:22:59
Tom Brassil
thank you Xiao &nbsp Posted: 06/01/2020 18:42:36
---
Darcy Johnson
Wow! A technical exercise is right! I love the results in this close-up monochrome, in particular the unique vantage point and the texture toward the back of the feather. The feather kind of fades to dark on the front left - some that may bother; I think that adds a bit of an artsy feel to the composition. Nicely done and points for persistence! &nbsp Posted: 06/01/2020 20:12:52
Tom Brassil
Thank you Darcy, the light does seem a bit uneven, although I like The results it is something to be aware of next time I try a shot like this, Regards tom &nbsp Posted: 06/02/2020 16:42:52
---
Gregory Waldron
Tom,
Welcome to Group 14. You have presented a very artistic image and thanks for sharing the process you applied to achieve it. It's good to get ideas about different things we can try with our photography.
Best regards,
Greg &nbsp Posted: 06/02/2020 17:50:06
Tom Brassil
Thank you Gregory &nbsp Posted: 06/02/2020 23:48:33
---