Yvonne Moule
---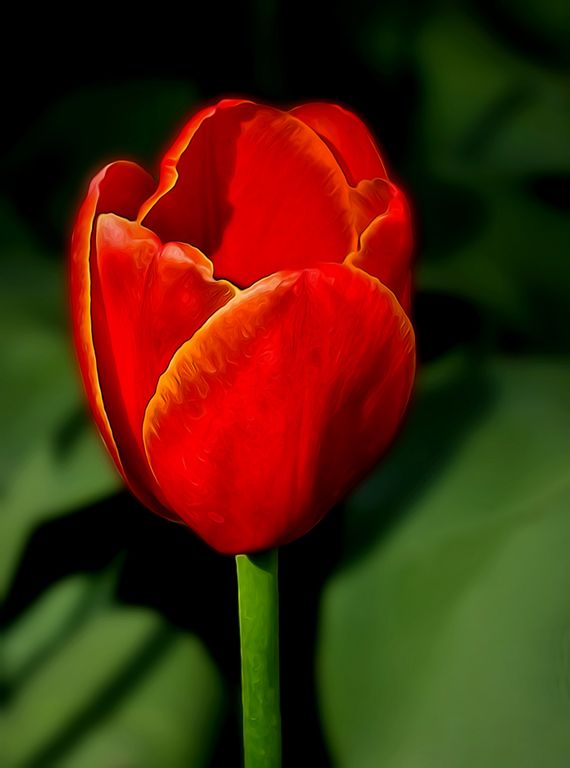 November 2019 - Just One
About the Image(s)
This image was taken at a tulip garden exhibition. I found it a little difficult trying to isolate just one bloom and I chose this one because the great colour appealed to me. The image was cropped slightly, lighting adjusted using levels and a Topaz filter in Adjust was added.
---
This round's discussion is now closed!
6 comments posted
Gregory Waldron
Just a nice simple image. Very nicely done &nbsp Posted: 11/05/2019 20:46:02
---
Arun Bagga
Indeed a very simple nice image in bright colors with an off-focus background. I think while retaining the softness of the tulip you have captured beautiful details in the petals.
I find the direct light on the tulip has cast an unwelcoming shadow on the leaves in the background. I darkened the background a little more and added a thin border to separate the image from the dark screen. Hope you like it. &nbsp
Posted: 11/07/2019 14:39:14
---
Many thanks Arun. I do like it very much. It has improved the image greatly. &nbsp Posted: 11/07/2019 21:29:23
---
Bill Provost

(Group 6)
Yvonne, What a lovely image! I really like the colors. I think you did well in highlighting the flower by blurring the leaves etc. behind it. I guess beauty is in the eye of the beholder. I don't intend to disagree but only offer another opinion. It would be interesting to raise the height of the camera if there were stamen in the center. I like the focus and the vivid color of the flower. For me it looks as if this were taken in the garden. Thanks for an enjoyable image. &nbsp Posted: 11/10/2019 17:17:26
---
Thanks for your comments Bill - very much appreciated. &nbsp Posted: 11/10/2019 18:06:04
---
Darcy Johnson
A wonderful close-up brought to full attention by blurring the background. You are right - the color is beautiful. &nbsp Posted: 11/11/2019 22:16:31
---