Syed Shakhawat Kamal
---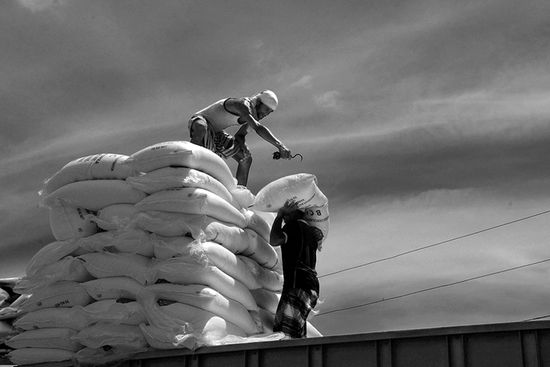 October 2019 - Captain Hook of Bangladesh BW
About the Image(s)
I have taken this image, while I was away on a mission with my helicopter flight in a country side. It was 25 August 2017 and I landed on a helipad beside a river. While I noticed these unloading of fertilizer was going on from the big boats and were being loaded on the truck for onward destinations.

Using my Nikon D7100 camera, when I make this capture it was being loaded on the truck, physically by worker carrying on their head. These bags of fertilizer were weighing about 50 to 60 kg each.

I got the angle from below to have "Captain Hook" with the sky back ground to give it a special composition. Any special idea would be more than welcome for my image.


---
5 comments posted
Bill Provost
Nice black and white image. Interesting to see the wires on the right leading into the image of the men at work. The dark clouds help with this B & W image. If I were to add a suggestion it would be to crop the image to enlarge the men, maybe taking some area out at the top to try to get some of the expression on their faces. Nice placement of the image with area on the right again with the overhead lines leading the eye to men working. Thanks, enjoyable B & W &nbsp Posted: 10/09/2019 17:32:38
Syed Shakhawat Kamal
Dear Bill,
Thank you very much for your thoughtful suggestions. Your comments really gave me a different perceptions over this image. I appreciate the suggestions. Thanks again. &nbsp Posted: 10/11/2019 21:39:35
---
Gregory Waldron
Syed,
A very nice capture. I think the low angle adds to the story and the black and white conversion works well. I agree with Bill that a tighter crop may work well with this image. &nbsp Posted: 10/11/2019 10:09:47
Syed Shakhawat Kamal
Hi Gregory,
Thanks for your kind appreciation and suggestions. Will exercise on the suggestion that you gave. Thanks a lot. &nbsp Posted: 10/11/2019 21:41:29
---
Arun Bagga
Syed, you have captured this interesting story telling image quite nicely and monochrome is a right choice here. I like the dark clouds in the background that make the main subject stand out and find the image in good composition.
I agree with Bill a slight cropping at the top will give more prominence to the workers. In my personal opinion by adjusting contrast the tonal range can be enhanced that may improve the presentation. &nbsp
Posted: 10/15/2019 10:24:12
---
Please log in to post a comment