Darcy Johnson
---
September 2019 - Getting Out Ahead Of The Sandhill Cranes
About the Image(s)
Approximately 27,000 Greater Sandhill Cranes make a stop at the Fruitgrower's Reservoir aka Hart's Basin between mid-March and late April each year. The reservoir is just east of Eckert, Colorado and is part of the Monte Vista Wildlife Refuge. The cranes stop to rest and feed in the marshes and grasslands before continuing on their journey to nesting grounds in the northern Rocky Mountains.

This was one of the first outings where I wished I had a 600 mm lens to get the close up shots that most wildlife shots demand. Sandhill cranes typically land in the evenings and take off between 9 to 10 a.m. in the morning. This shot was taken in the hour before the cranes began their migration. ISO 250, 300 mm, f5.6, 1/2000
---
This round's discussion is now closed!
10 comments posted
Larry Beller
This is well-captured action! Your technique is right on. It is true that being a bit closer or using a longer focal length lens would have made the bird taking off more prominent, but there is a good nature story there nevertheless. The major problem that I see is that the entire top half of the picture, above the light brown on the far bank, doesn't have anything to do with your subject. Cropping at that point and at the bottom to leave a little bit of the foreground brass would emphasize the action. If it were mine, I would probably crop crop out the bottom half of the foreground grass as well.

. &nbsp Posted: 09/09/2019 16:17:48
Syed Shakhawat Kamal
Thanks Darcy Johnson, It's a fun image. But I would agree with Larry here. The grass on the bottom of the frame is a distraction with a lot of negative space. But altogether a nice story telling. An adjustment with cropping is going to create a lovely composition I guess. Good work. &nbsp Posted: 09/09/2019 20:59:20
Darcy Johnson
I'll work on the cropping Syed. I agree - the grass on the bottom should go. Thanks for your input. &nbsp Posted: 09/11/2019 23:10:26
Syed Shakhawat Kamal
You are always welcome Darcy.... &nbsp Posted: 09/12/2019 00:26:25
Darcy Johnson
Larry - You make good arguments for how best to enhance this photo through further cropping. I struggle with just where to crop in the brush above the far waterline though - I'll play with it a bit. I appreciate your insight - spot on as usual. &nbsp Posted: 09/11/2019 23:08:29
---
Gregory Waldron
Hi Darcy, I agree with both Larry and Syed that cropping may help focus on the story. Having said that, I really like the color palette. The blue and yellow combination really works well together. I also like the splashes in the water. They create a sense of movement. All in all a very nice image. &nbsp Posted: 09/10/2019 12:30:59
Darcy Johnson
I love the colors in this photograph as well. I enjoy the landscape but understand the thinking about focusing on the center of interest by cropping much of it out - it's good feedback. Thanks! &nbsp Posted: 09/11/2019 23:17:37
---
Arun Bagga
Indeed a very well captured action shot with a story. I like the setting of the natural habitat and the alertness seen in the cranes even though at rest before the next flight. I think the crane taking off in the foreground and the splashes in the water make this image. I agree the foreground grass is a distraction from the main subject.
I also suggest to clone out the crane at the bottom right corner that is going out of the frame and the two at the left bottom.
I am posting two versions, one cropped as per Larry's suggestion and another with only crop at the bottom since in my very personnel opinion the blue sky at the top somehow (in my view) provides a balance with the water at the bottom. I like both the versions.
Appreciate Darcy and other members comments on this.
&nbsp
Posted: 09/11/2019 09:05:29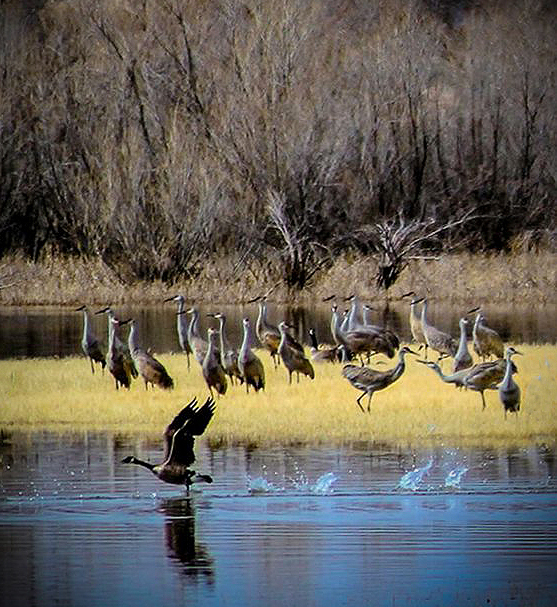 ---
Darcy Johnson
Arun - You did a good job of capturing everyone's suggestions. Both photographs work for me as well and you make a good case for both. That said, I believe the first one provides a better photograph overall. As much as I like the feel with the full landscape, the focus really isn't there and as mentioned above, I struggle with where to cut off the brush - you provided a good solution. I do think cloning out the cranes was necessary - great catch. Working up the two examples for comparison is helpful! &nbsp Posted: 09/11/2019 23:40:11
---