Lyndall Lazar
---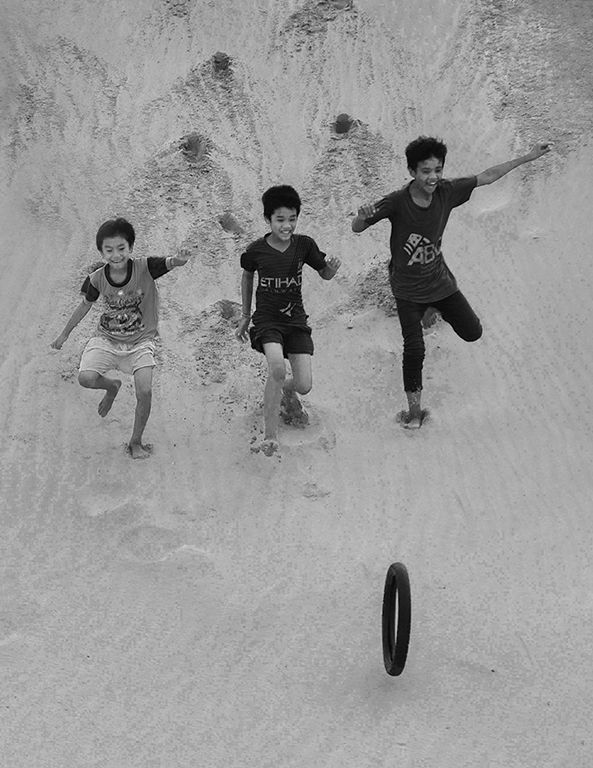 August 2019 - Boys on a Dune 1
About the Image(s)
My image "Boys on a Dune" was taken of kids playing on sand dunes near Phan Rang in Vietnam. As I'm currently traveling, it's been edited on a small laptop and converted to B&W in Photoshop. It's a big crop, so I hope the quality is okay. I love the expression on the boys' faces, who are having so much fun chasing the tire.
The photo was taken early in the morning so the boys appeared quite dark against the lighter sand color. I have had to lighten the boys extensively to bring out the detail.
---
This round's discussion is now closed!
9 comments posted
Arun Bagga
An excellent action shot. I find every element in the image well placed in the frame. My eyes keep wandering all over the image absorbing the details, the expression on the boys' faces, the position of their hands and legs, the imprints on the sand and the rolling tire. I like your choice of B&W and the tonal range in the image. Well done indeed.
I think being a big crop the image lacks somewhat in resolution. &nbsp Posted: 08/05/2019 14:17:10
Thank you Arun. &nbsp Posted: 08/17/2019 06:27:25
---
Gregory Waldron
Lyndall,

What a fun image. It has a lot of energy, and the composition works very well. &nbsp Posted: 08/06/2019 19:13:18
Thank you Gregory! &nbsp Posted: 08/17/2019 06:27:51
---
Darcy Johnson
This photograph made me smile - I can feel the emotion you captured - What joy! Your cropping led to a good composition and there is nice contrast and texture given the change to black/white. I think Arun is right about the resolution. Good job of contributing while on the road! &nbsp Posted: 08/10/2019 15:13:40
Thank you Darcy! &nbsp Posted: 08/17/2019 06:28:16
---
Larry Beller
Great composition and really fine subjects are what make this image. I don't disagree (much) with what my colleagues above above said, but the problem was that the scene had a very narrow range of tones from black to white, which your camera placed in the middle of your available 256 tones. Less than full range of tones in the middle of the scale means that everything is GRAY, and that is a non-standard situation that is hard to handle.
Here's what I suggest. It's what I did to your image. Open the image in Photoshop, and select Levels. In Levels set the white point (higher end of the histogram) lower and the black point (low end) lower than it is. Then tinker with these adjustments and the center slider as needed. This procedure will stretch the range of pixels like magic to fill the whole 0 - 256 scale and give you something that is easier to work with. &nbsp
Posted: 08/17/2019 19:20:53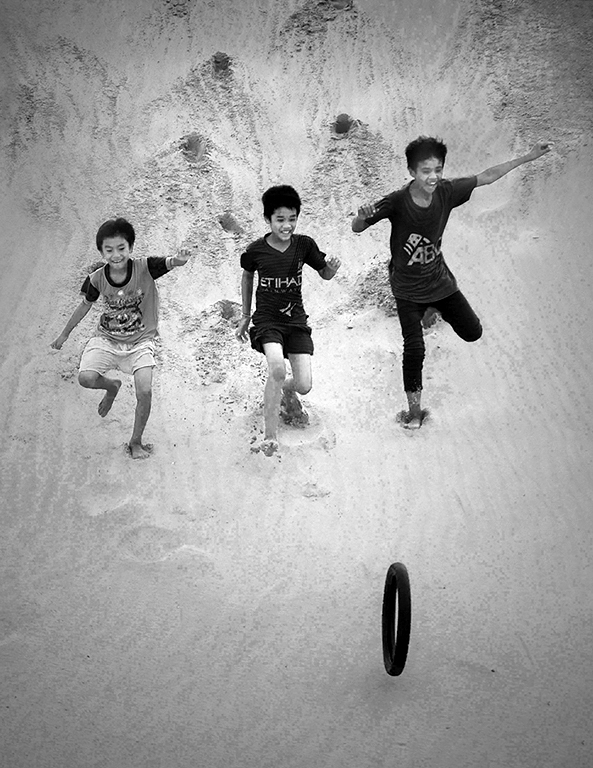 Thank you so much for your comments, Larry. I agree that it needs more white, and I thank you for the advice you have given and adjustments made. &nbsp Posted: 08/17/2019 20:56:29
---
Syed Shakhawat Kamal
An amazing composition with so much energy in there. It's a perfect action image and look at the details of those kids expression while chasing the tire. Make me go back to my childhood. Thanks for sharing the image dear Lyndall. Great work... &nbsp Posted: 08/31/2019 04:36:56
---