Timothy Morton, APSA
---
April 2021 - on JAMES STREET SOUTH
About the Image(s)
While snowing I went out for a walkabout on James Street South and saw the Hamilton Street Railway Bus the # 6 the Aberdeen which features the Princess Point Loop.

Once home I opened in Adobe Photoshop Elements where I re-sized to 750 x 1000 px and saved with a new name for sharing with everyone in our STUDY GROUP and beyond.


---
6 comments posted
---
---
---
Judith Ponti-Sgargi
Timothy
What snowbanks. No wonder people think of Canada as the land of snow.
I feel you have captured a strong snow image and portrayed the mood of a cold miserable day. I noted that with your angle, the pole is crooked. I think your composition could be strengthened by removing the tree on the left and you could bring more detail into the snow. Why do they put mailboxes on corners to block views?
I have provided some editing suggestions for you to consider.
1. Cropped off the tree on the left and cropped down from the top so the building does not look crooked. A more complex edit would be to use the transform warp tool in PS but I am not sure if you have this in elements.
2. Straightened the image using the transform vertical in LR.
3.Increased
the texture in the snow moving dehaze and texture to the right.
&nbsp
Posted: 04/08/2021 13:30:23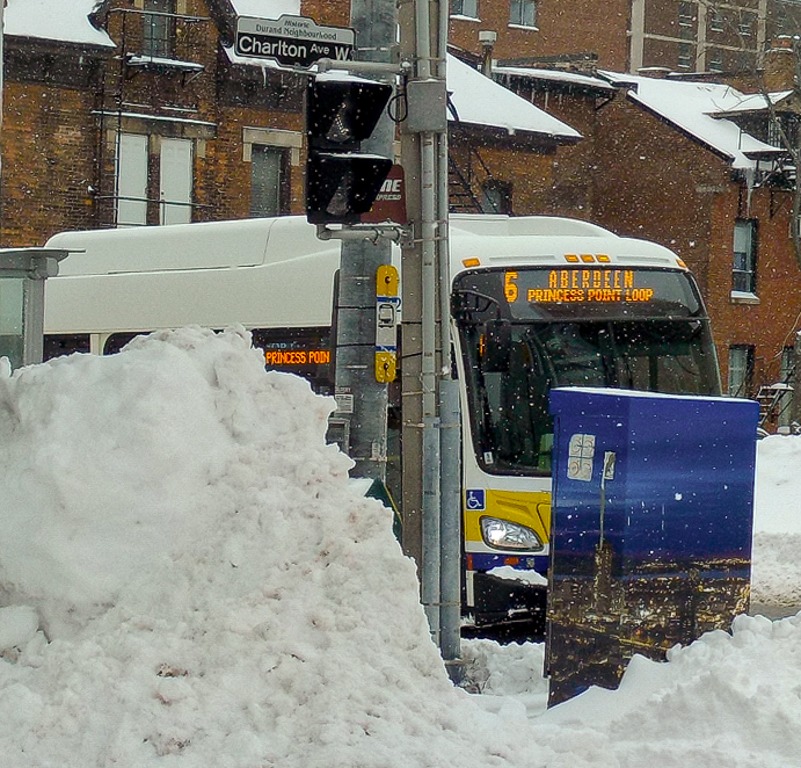 ---
---
---
Timothy Morton
Thank you for you ideas, it probably is crooked as it's going up the HILL in Hamilton and in Hamilton called a MOUNTAIN. &nbsp Posted: 04/08/2021 17:20:25
---
---
---
Barbara Dunn
Wow! You have some serious winters in Canada! Shows the challenges of getting around during the winter, as evidenced by the large snow mound.
&nbsp Posted: 04/14/2021 15:04:00
Timothy Morton
When we get snow we get snow, and this year I used my snow shoes a few times on walks around where I live so that I could see stuff besides what's on my monitor 24-7. &nbsp Posted: 04/14/2021 20:15:05
---
---
---
Paul Swepston
the bus and the snow pile are great frames of reference to understand the size. Glad I don't live where it is that cold. &nbsp Posted: 04/15/2021 14:43:14
Timothy Morton
Thank you.

And me hopes with global warming I don't have experience this many more winters. &nbsp Posted: 04/15/2021 15:50:23
---
---
---
Please log in to post a comment