Barbara Friedman
---
March 2023 - Close-up - Little Crab in a Big World
About the Image(s)
I took this photo in Costa Rica during a late afternoon high tide, with my phone camera. The difficult part about getting the shot was that I had to chase this little crab around the rocks, trying to get a shot which showed his eyes and legs without my casting a shadow on him. And the difficult part about processing was trying to get him to stand out from all of the rocks, since he was pretty well camouflaged. Thank goodness for the new Lightroom masks.
---
This round's discussion is now closed!
11 comments posted
---
---
---
Fran Yates

(Groups 39 & 65)
---
---
---
Lee Ann Stamm
Hi Barbara: You did a great job of capturing this little guy without a shadow. Getting images can sometimes be tricky, and you have to do, what you have to do! It is nice to see him in his own environment. The rocks nicely camouflage him for safety but that makes it difficult to see him clearly.
I agree with Fran that you need some cropping to draw attention to the crab. I actually cropped on the right and left and top to have him stand out. Then I added some vignette. What do you think?
I don't know why my corrected images don't show up with all the corrections. Whenever I post it, it doesn't show the crop on the right. I'll try again. &nbsp
Posted: 03/11/2023 15:42:45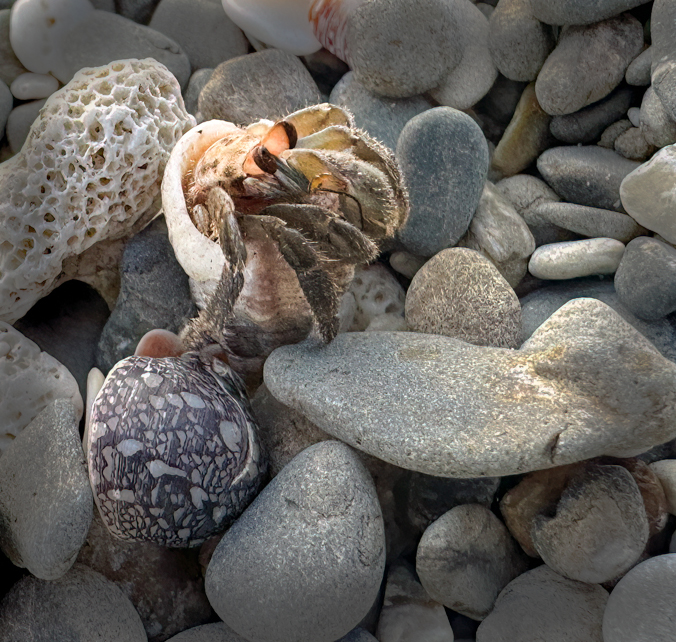 Lee Ann Stamm
Finally! &nbsp Posted: 03/11/2023 15:48:21
---
---
---
Ally Green
This is a great capture of the crab as they are difficult to photograph before they retreat into their shell! I also love the detail in the rocks which are all so varied blending in with the crab. I like Lee Ann's crop as showcases more of the crab. Would be nice to shoot an image at eye level of the crab for the next time...easier said than done! &nbsp Posted: 03/13/2023 16:17:15
---
---
---
Chane Cullens
It must of been a little fun working to around this crab getting the right spot at the right time :-). I agree with the cropping, and maybe more cropping. Since you have the mask, crank several sliders up to see if more of natural camouflage disappears. &nbsp Posted: 03/13/2023 20:14:30
---
---
---
Carole Kropscot
I like seeing the crab in its busy environment and lit so evenly to be able to see the details. I'd consider this more of a record shot. It is how we would see it in person. Phone cameras are great for accomplishing that. Here's what I did in the photo below. In Photoshop Camera Raw filter, I used the Selective brush tool to brighten the shadows of the crab and darken the highlights of everything else. Then added a vignette. Actually, I added the vignette first, and that alone made the crab stand out! &nbsp
Posted: 03/28/2023 13:31:41
---
---
---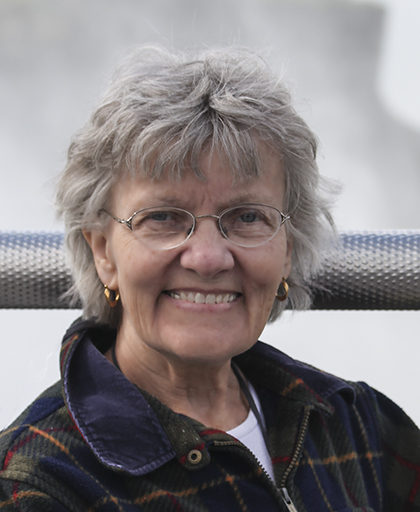 Connie Reinhart
Yes, the cropping and vignette really do help the crab stand out from his camoflage. It is amazing that you found him, let alone chased him around to get a picture. Many people would just 'click' and move on to the next subject. Kudos to you for working the subject. &nbsp Posted: 03/28/2023 20:02:50
---
---
---
Chane Cullens
With these various edits making the crab more visible, consider a square crop to make this more of a portrait of a crab. &nbsp Posted: 03/29/2023 09:04:51
Carole Kropscot
Yes, a square crop with the crab right smack dab in the middle of the image would definitely make us see the crab immediately. I like that idea. We're going to look at those interesting rocks anyway. &nbsp Posted: 03/30/2023 11:15:23
---
---
---
Barbara Friedman
Thank you everyone for the thoughtful suggestions! I will try a few and see how it goes. My apologies for not participating sooner... I was traveling most of the month and have been down with Covid since I got home. Things are looking up though. :) &nbsp Posted: 03/30/2023 12:41:01
Carole Kropscot
We hope you are feeling better each day. Best wishes for a complete recovery soon. &nbsp Posted: 03/31/2023 09:55:50
---
---
---