Carole Kropscot, FPSA
---
April 2021 - Symmetry - The Lincoln Memorial
About the Image(s)
These 2 columns on the front of the Lincoln Memorial in Washington, DC, strikes me as symmetry. This image is a scanned slide from umpteen years ago! I sharpened it in Photoshop and slid the Shadows slider a little bit because Lincoln's statue was in dark darkness on the slide. This assigned subject made me realize that I rarely take such pictures with anything "equal" in them! I think I'm usually looking for something unique and different. This assigned subject has helped expand the kinds of "look" I go looking for! "Equal" can be good!
---
4 comments posted
---
---
---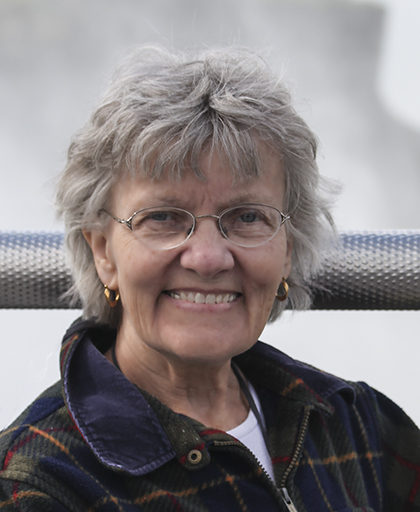 Connie Reinhart
Indeed, there is symmetry here. A good picture of Amercana. Lightening Lincoln's statue made it look etherial, like a benevolent ghost looking over the people. The grouping of the people is quite pleasing, even though you didn't actually pose them. There is a nice selection of people also - busniness people, young, old, even a fellow photographer. &nbsp Posted: 04/10/2021 17:05:41
---
---
---
Ally Green
This is a great example of symmetry and like you i looked up a few images that portrays this as i don't normally photograph this way. But now i am intrigued and seeing new symmetry subjects through my lens so a great exercise. This image tells a story and i like how the people have gathered randomly in groups with the columns adding a strong background and ties in nicely with the horizontal steps. &nbsp Posted: 04/13/2021 17:08:41
---
---
---
Gavin Tow
Well, this is definitely symmetry ! I felt having the columns centered (lucky !) for the subject really helped. I thought that all the people would be distracting, but it really helped tell the story of the image. For fun, I cropped the image to zoom in on some of the people. There are people looking back, and one person looks like they're taking a picture of you !
&nbsp
Posted: 04/18/2021 05:41:26
---
---
---
Barbara Kuebler
Great shot and a perfect example of symmetry. The natural lighting is soft and pleasing. Lighening Lincoln gave him more prominence. The placement of the people is somewhat symmetrical too. Great job Carole. I also like Gavins' version. &nbsp Posted: 04/21/2021 11:33:54
---
---
---
Please log in to post a comment