Connie Reinhart
---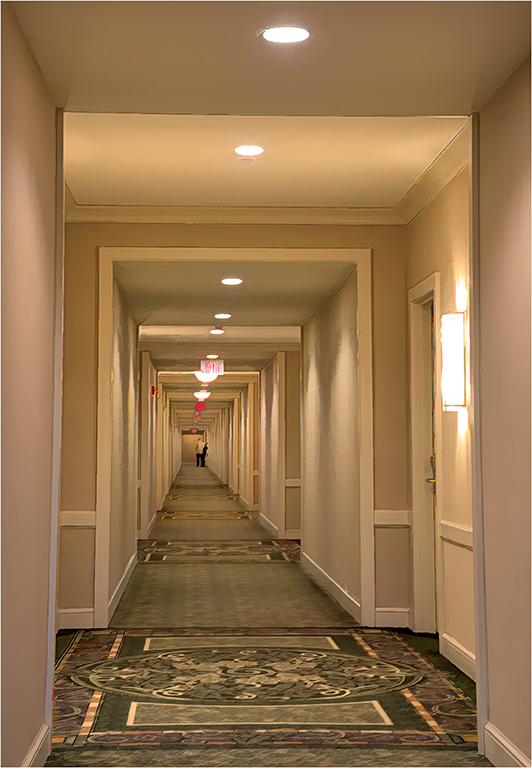 April 2021 - Symmetry - Balance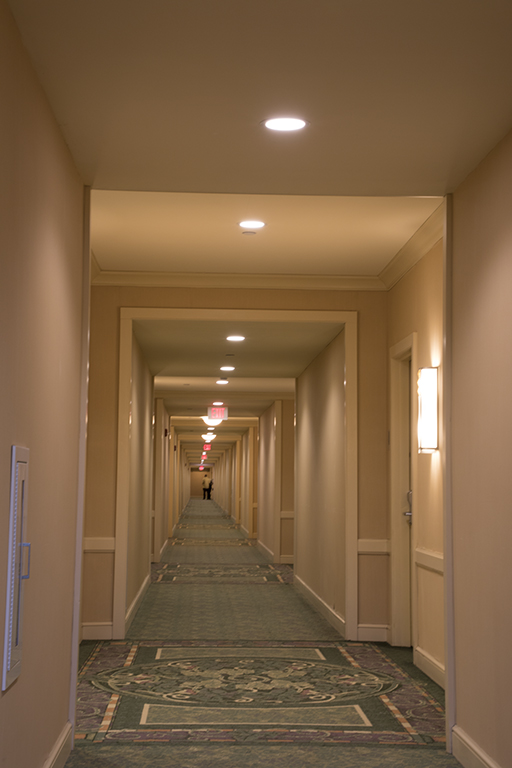 Original
About the Image(s)
Spring visited a few days, but winter is back. Sigh…

Here's my story and I'm stickin' to it.

We were at a photo conference in a lovely hotel. This long hallway intrigued me; we've all seen many lovely pictures of arched walkways, charming streets, etc. I have never been successful with this subject. My images all show a big blob of sidewalk instead of a nice pathway. I leaned against the left wall to minimize the big expanse of floor and shot at f/16. Luckily a person came off the elevator, and I waited until he reached the end of the hallway. In PS I straightened the floor and adjusted perspective. Then applied Topaz AI Clear. With each adjustment on a separate layer, I used precision contrast. Then applied Topaz Impression just enough to minimize the vertical hot spots on the door frames. This was masked off of the carpet in order to preserve the lovely pattern. But I didn't like the color/contrast of the carpet. So I used Remask to separate it from the walls. After much experimentation with Hue/Saturation, I found that a levels adjustment did the trick.
---
6 comments posted
---
---
---
Ally Green
This is a great example to me of symmetry and well balanced too. The linear form of the photograph takes my eye on and on till i get to the person at the end. Even the repeating patterns in the carpet add to the dimension. Nice job of cropping tighter in to give it more focus. I might have removed the red spot in the ceiling half way down but otherwise a pleasing image. &nbsp Posted: 04/12/2021 16:18:30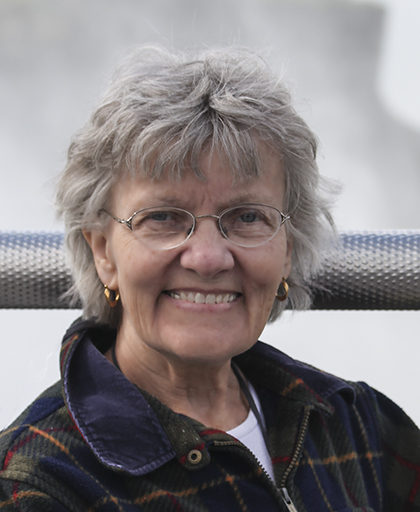 Connie Reinhart
You're right about the red spot; it should go. &nbsp Posted: 04/16/2021 15:54:51
Carole Kropscot
I like it there because it draws my eye down into the end of the hallway! &nbsp Posted: 04/19/2021 21:21:32
---
---
---
Gavin Tow
That made for a great subject on symmetry. You went thru quite a few steps to improve the image, and it definitely shows. The person at the end really helped give perspective. I'll have to look as I believe I took a similar picture and forgot ! &nbsp Posted: 04/18/2021 05:52:34
---
---
---
Carole Kropscot
The symmetry of the hallway and its details are interesting to look at. I think part of the fascination is the slightly off-centered look down the hall. Totally centered would have been mundane and less interesting to me. I do like the way the man helps me feel the scale of the long, long hallway. The carpet and doors and everything look so normal to me that I was surprised to read how much you had to do to make it look that way. Nice job! If I ever get into a hotel again, you have made me want to take one of these long hallway pics! &nbsp Posted: 04/19/2021 21:32:42
---
---
---
Barbara Kuebler
I love this image! Perfect for our topic. I agree the red spot should go. Now if the person had a red shirt on instead of a white one I would like the red as it would be in a better spot in the frame. Good job! &nbsp Posted: 04/21/2021 11:47:07
---
---
---
Please log in to post a comment