Carole Kropscot, FPSA
---
October 2020 - Members Choice - Bird
Original
About the Image(s)
I chose this image to get advice. I tend to center my subjects. Any ideas on how to compose more creatively? I found this bird on a bush about eye level when walking through a park. I find most of my compositions to be rather static. Looking for ideas...Thanks.
---
5 comments posted
---
---
---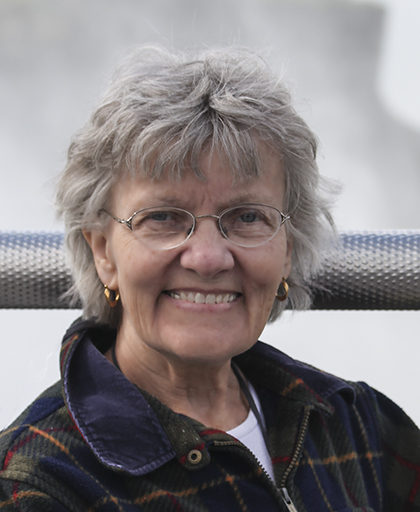 Connie Reinhart
In this case the composition depends on the bird itself. If he had been considerate of you, he would have positioned himself so that the branch was not growing out of his head. All kidding aside, this is quite good. The bird is on a diagonal, the branches nicely framing and supporting him. There is a catch light in his eye and good feather detail. If this were a pictorial photograph you could remove the offending branch. If this were a nature entry you would have to leave it there. If you cropped from either left or right, the bird would be too crowded. Leaving room at the left for him to look into (like the original) is an option, but I like the cropped composition better. Rule of thirds is actually the 'suggestion' of thirds. &nbsp Posted: 10/05/2020 12:05:23
---
---
---
Barbara Kuebler
You did a great job with this little bird. Usually you don't have much time to shoot before they fly away. If your camera has Auto Focus points you could set your focus off center for a different effect. &nbsp Posted: 10/07/2020 15:50:36
---
---
---
Kerstin Köneke
Hello Carole,
like Connie said - it depends a bit, if this pictures is a nature entry. Then you only can have some serious word with your model about it's choice of background and action (but these wildlife buggers are seldom good listeners ;-)).
On the other hand, I would follow the suggestion of thirds like Connie and diminish the color noise a bit and eliminate the white background spots.
You caught this little guy so nice in this triangle twigs - you only should center him more. A little vignette can help here too. I tried this on your picture - take a look. What do you say?
&nbsp
Posted: 10/11/2020 01:41:52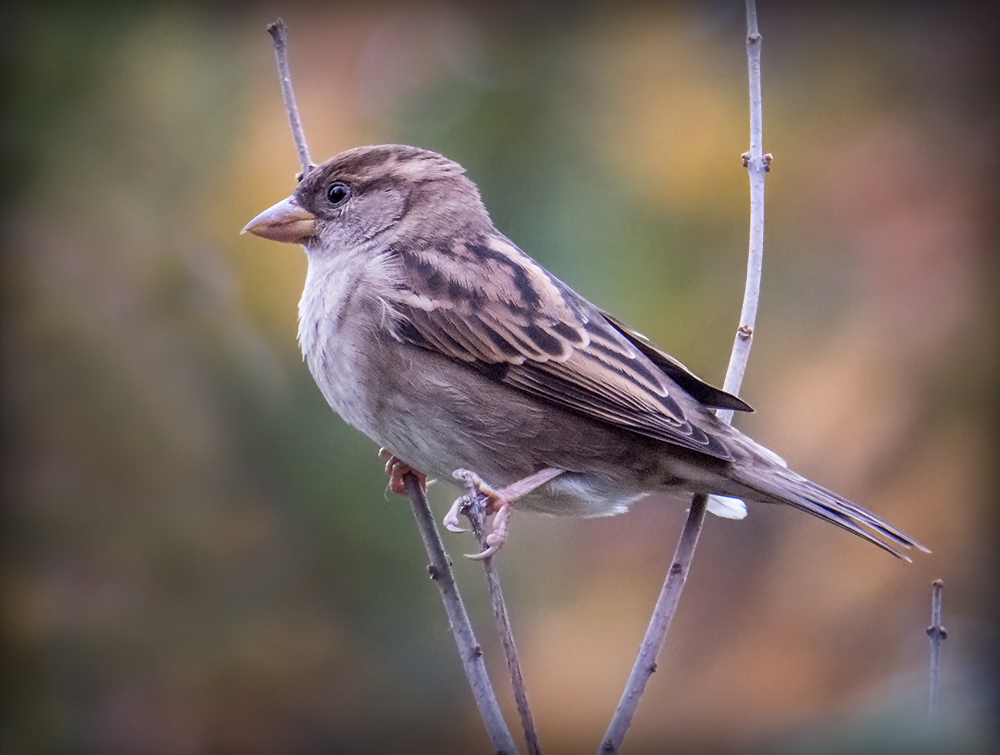 ---
---
---
Ally Green
Hi Carole

Love the way you have composed this at eye level giving a sense of perspective and nice that the bird waited for you to do so!
Good detail and sharpness in the feathers and the eye and glad you toned down the red bit in the background on the left. Would have perhaps cut out the top end of the branch that he is clinging to as it looks to me as if it is coming out of his head. Little vignette around the bird would be good to draw attention to it. Compositionally i think it looks fine the way you have centered it. &nbsp Posted: 10/12/2020 16:01:44
---
---
---
Gavin Tow
I have the same trouble with wildlife. I have found volume (# of pictures) is the key. I usually have to set my camera on auto. I've taken deer before and most are not going to wait around to pose, and I have to do adjustments post processing. I thought the background adjustments were good and like the picture overall. &nbsp Posted: 10/15/2020 07:54:24
---
---
---
Please log in to post a comment