Connie Reinhart
---
October 2020 - Members Choice - Hosta Bud
About the Image(s)
After listening to a webinar by Lisa Cuchera, I told Bob that we have to go on a photo shoot. So he said, "Grab your camera! We'll walk around the backyard." Not quite what I had in mind, but OK. Well, this is one of several shots worth working on; it was a very good photo shoot after all. A hostas bud shot at f/6.3, 1/50 sec at ISO 1200. No tripod, but elbows braced on knees. Processed in Photo Shop with all adjustments on their own layer. Started with Topaz Studio basic adjustment for exposure, AI Clear. Used Precision Contrast masking out the background. Used the same mask for Precision Detail and another Basic to set the black point. Then I made a snapshot (you all call it something else) and adjusted the levels in PS. A narrow border was added by proportionately enlarging the canvas size and filling with a color from the image. This border is simply to make the image stand out on our black background.

Remember that old song,

"You'll find those castles in Spain 'neath your window pane, back in your own back yard." ?
---
7 comments posted
---
---
---
Carole Kropscot
This looks like a successful photo shoot! You have made it look easy to find a flower and photograph it without distractions. I like the way my eye goes straight to your desired center of interest but still shows the environment. Thanks for sharing your homemade tripod of elbows-on-knees. &nbsp Posted: 10/05/2020 11:26:47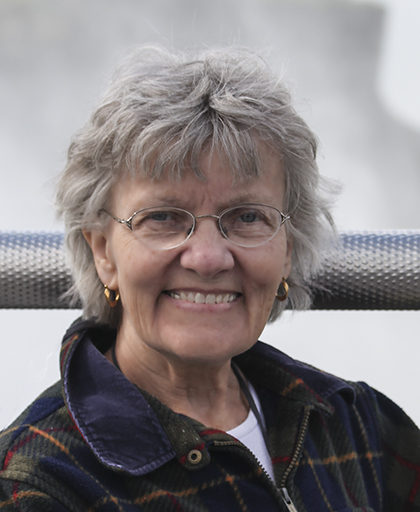 Connie Reinhart
I wondered if the bud itself was too small within the frame. But cropping it didn't really help. In addition to bracing the camera I used multi-shot in the hopes that one of the shots would be in good enough focus. &nbsp Posted: 10/05/2020 12:14:30
---
---
---
Barbara Kuebler
I like your image. The bud is sharp and well exposed. I don't think it is too small because the stem is the leading line that draws my eye into the main subject. I saw Lisa's webinar too. Your stroke matches the tone of the bud. Sometimes when I use a stroke I will then go to Edi>Fade Stroke to soften the color. &nbsp Posted: 10/07/2020 16:25:35
Carole Kropscot
I have never thought of fading a stoke (although I use that feature for other things). I bet changing the blending mode would also alter its looks. I'll play with it and see what happens. Thanks! &nbsp Posted: 10/12/2020 11:14:24
---
---
---
Kerstin Köneke
This photo has a good minimalistic touch, Connie. The flower bud got great light on it. To enhance the minimalistic touch, you could take the color brilliance down. &nbsp Posted: 10/11/2020 02:06:03
---
---
---
Ally Green
It is very appealing to look at...a softness and simplicity about the Hosta Bud. I like the diagnol lines of the bud and how it interacts with the leaf in the background. To me the blackness on the bottom left is a bit distracting but think if you cropped it slightly it might lose the lovely effect you have with the diagnol stem. &nbsp Posted: 10/15/2020 14:17:04
---
---
---
Gavin Tow
The knees as a tripod sort of shot can be difficult, especially on close up show such as this. It's easy to get out of focus even with a tripod, so hats off to you. There is a few hostas in our yard that had buds this year and I never considered using it. I like the background of the hosta used as part of thee photo. I felt the border was also a nice touch. &nbsp Posted: 10/18/2020 13:56:56
---
---
---
Please log in to post a comment