Carole Kropscot, FPSA
---
May 2020 - Signs of Spring - The Fountain is Turned On
About the Image(s)
When the weather warms up enough that water pipes won't freeze (and burst), then fountains are turned on for spring and summer. And when the magnolias bloom at the same time, I get to see two signs of spring here at my apartment complex. I can see this from my patio in a suburb of Kansas City, KS! Kansas City's nickname is The City of Fountains, and that is why so many apt, home subdivisions, and office buildings have fountains at their entrances! Google it!

I used Lightroom's Radial filter to blur out the background with the most minus setting of the Clarity slider. That's why those magnolia blossoms look "dreamy." They were too sharp, and the fountain didn't stand out from them good enough for me.

I set the camera for 1/500 sec and let the camera choose the f/stop and ISO. I wanted to freeze the water droplets, not have satin water.
---
This round's discussion is now closed!
6 comments posted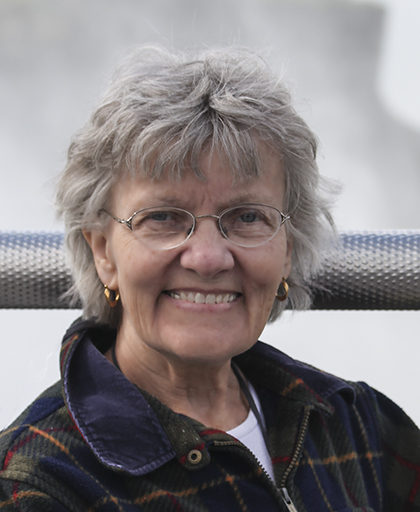 Connie Reinhart
The magnolia blossoms nicely compliment the pagoda shape of the fountain. Even the colors - which would normally clash - work nicely together. I would like to see the background in even softer focus, perhaps by changing f/stop. Those dancing water droplets would make masking was too difficult. This image certainly does say "Spring". That said, the rain puddles in our driveway were ice yesterday morning. This fountain would be a good subject for images in all 4 seasons. &nbsp Posted: 05/10/2020 12:43:37
---
Gavin Tow
That's a very interesting photo for the subject. The background of the blossoms was a nice touch for the background. I felt the colors of the fountain fit nicely as part of the overall photo. &nbsp Posted: 05/11/2020 03:06:36
---
Ally Green
I love magnolias and what a gorgeous colour pink! Good to know that the fountain is now flowing to celebrate the signs of spring! Certainly an impressive fountain and i like how you have captured the water movement of it trickling down...good water droplets. Only distraction for me is the car in the background and might have been better with a more obscure/blurred background to make the fountain stand out even more. &nbsp Posted: 05/12/2020 13:21:34
---
Barbara Kuebler
Very pretty image for spring. The colors compliment each other. To make the fountain the main subject I would crop off the left side of the image to center it. Also clone out the car in the background as Ally suggested. You were lucky to have an overcast even-light day so there are not "hot" spots. &nbsp Posted: 05/19/2020 10:34:19
---
Walter Ross
Love the colors here. Definitely shouts Spring. I would have cloned out the car in the background and as mentioned above recentered the image to make the fountain the centerpoint. would probably help reduce the distraction of the stone pillar as well. Would have liked to see the base of the fountain as well. Thanks for sharing. &nbsp Posted: 05/30/2020 13:31:41
Carole Kropscot
The background behind the lower part of the fountain (which I didn't show) has a curb and a street, so I can't ever capture the entire fountain in the ideal way! &nbsp Posted: 05/30/2020 15:55:53
---