Jim Bodkin, APSA, PPSA
---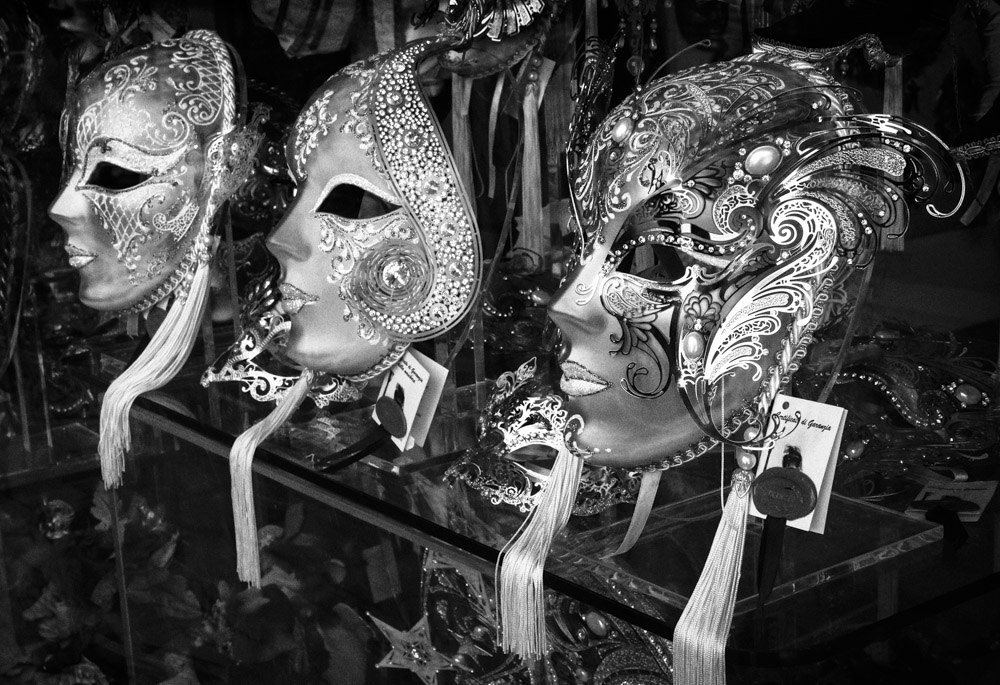 January 2021 - Venice Shop Window
Original
About the Image(s)
While walking the streets of Venice in the evening we passed a costume shop selling the famous masks for the caravelle season. I wanted to capture the spirit of the city, but the reflections, shadows and clutter made a clean shot very difficult. This was my best attempt, but even then the colors and highlights made it more challenging. I thought that maybe monochrome would make it a cleaner image.

Shot handheld with a Canon 7D and Tamron 18-270mm lens at 27mm, 1/200 sec, f/11 and ISO 1000. Processed in Photoshop for cropping, then burn and dodge to emphases the masks and diminish the background and finally processed in Silver Efex Pro style 025 to provide the desired tone and sharpness.

How can I improve the monochrome version?
---
7 comments posted
---
---
---
Henry Heerschap
Very nicely done, Jim. I think I have some old Venice mask images lurking somewhere that I might try a similar technique with. As to improvements, the only thing I might try would be to darken the bit of mask at the top center to better separate it from the top part of the middle mask and then darken the cards a bit more.
I don't know if you print your images, but this would look terrific on metallic finish paper like Red River's Polar Pearl Metallic. &nbsp Posted: 01/14/2021 16:31:59
Jim Bodkin
Thanks, Henry. Good suggestions. I do print, but not since COVID as all competitions are now digital. I agree that metallic paper would make it glorious.

&nbsp Posted: 01/14/2021 18:58:56
Henry Heerschap
Yeah, I hear you. These days, I just print for my own benefit and to keep the print heads unclogged. I try to do at least one print a week. &nbsp Posted: 01/14/2021 19:08:08
---
---
---
Jim Hagan
Jim Bodkin
Thanks, Jim. Your version does eliminate a lot of the visual distractions in the image. Good call.

&nbsp Posted: 01/15/2021 22:48:40
Jim Hagan
Jim, I wish that photo was in my collection. Kudos! &nbsp Posted: 01/16/2021 06:12:38
---
---
---
Allen Tucker
"WOW!", my stepdaughter's reaction when I switched from the color shot to your BW image. I concur. &nbsp Posted: 01/18/2021 22:31:18
---
---
---
Please log in to post a comment