Allen Tucker
---
September 2020 - Dhalia
About the Image(s)
Despite my neglect, this large dahlia in one of our flower beds has put on a good performance this summer. Got this shot early on a windless morning with thin clouds softening the sunlight: Canon 90D, Tamron 90mm macro lens, 1/100, f/4.5, iso 500.

Dark, saturated colors for Original 1, with a crop and minor tone adjustments in Lightroom. The strong tonal contrasts and unfurling petal structure motivated exploring monochrome treatments. Original 2 is from applying LR's set of B&W profiles to a copy of the color file, choosing #6 as giving the closest contrast match to the color version. Next I tried all the NIK Silver Efex presets on the color original, selecting as Original 3 Fine Art High Key for its bright, sunlit feel. Back to LR to finish the Main Image with a little warm tone applied to Original 3. Suggestions?
---
8 comments posted
---
---
---
Henry Heerschap
I love photographing dahlias. The textures and shapes of these flowers really lend themselves to exploration, both with the camera and with post-processing. Monochrome was a great choice with this particular flower. I think of the three treatments you've shown here, I like Original 2 the best. There's just something about the flower and leaves that I want to see darker and a bit moodier. As far as your main choice goes, the only thing I would add is a vignette to darken the corners and draw the eye back to the center. &nbsp Posted: 09/07/2020 14:55:24
Allen Tucker
Thanks for your constructive suggestions. I shall plant some more of these bulbs for next year. &nbsp Posted: 09/19/2020 14:33:27
---
---
---
Peter Hornbostel
The dominant green overlays the beauty of the flower; the white cannot neutralize that. In sepia the green loses its power and the white comes into its own. Add to that the sharpness - beautiful picture, Allen! &nbsp Posted: 09/07/2020 17:55:52
Allen Tucker
This flower has been an interesting subject, thank you for the compliment. &nbsp Posted: 09/19/2020 14:45:22
---
---
---
Sharron Leppien
Such a beautiful flower! I placed my perspective on your image by loading into LR and then cropped and adjusted the perspectives in vertical, horizontal, rotate, scale and placed a slight vignette on the image.
I kept thinking that I would have liked to view the myriad of petals from closer from above than from the side. Such a beautiful tactile image with so much depth to it. &nbsp
Posted: 09/07/2020 23:58:35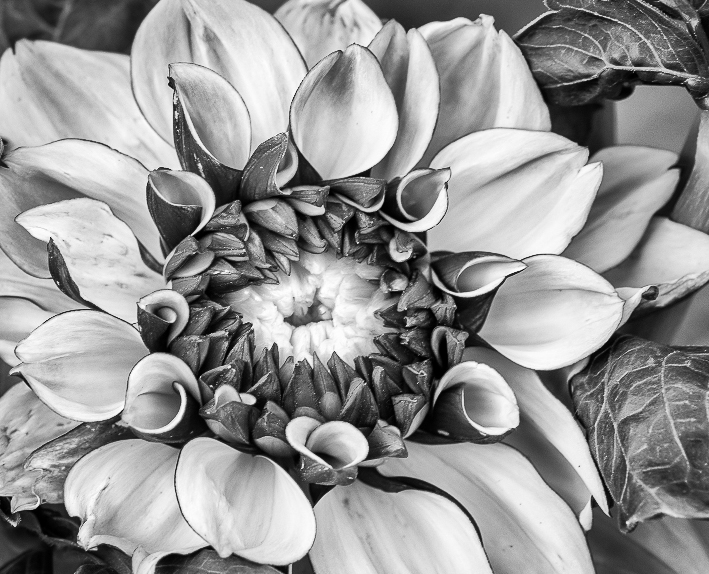 Allen Tucker
I like your tighter crop. &nbsp Posted: 09/11/2020 01:49:28
---
---
---
Jim Hagan
Allen Tucker
The stalk in the upper right does lead the viewer out of the picture, your version eliminates that distraction. &nbsp Posted: 09/11/2020 01:56:11
---
---
---
Please log in to post a comment