Jim Hagan
---
June 2020 - The Hayloft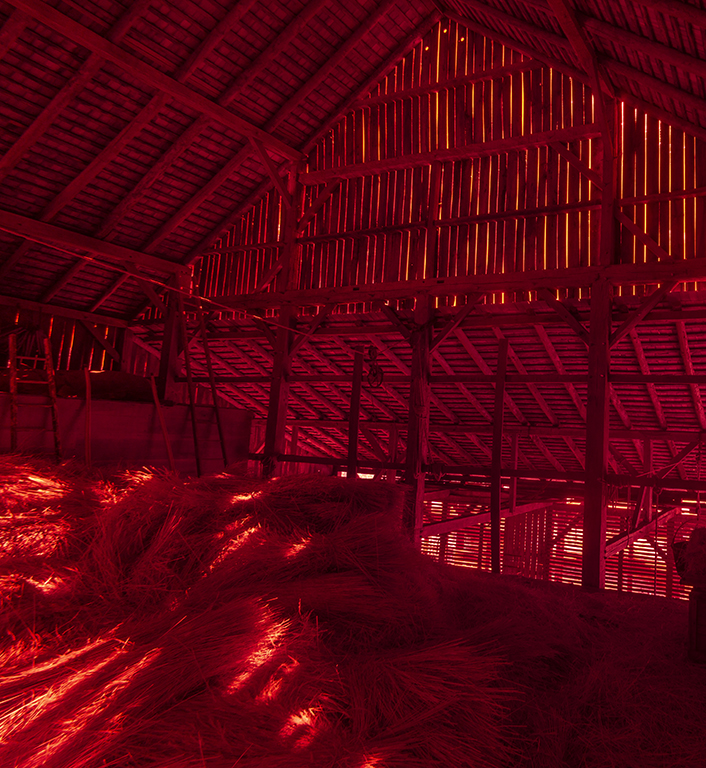 Original
About the Image(s)
Greenfield Village, located near Detroit, was created by Henry Ford and
includes many historic buildings one of which is the actual childhood home
and barn of his friend Harvey Firestone. I photographed inside the barn's
hayloft, using an infrared converted camera, at 1/30, f 7.1, 16mm and ISO at
200. I straightened many of the distorted angles (caused by the very wide
angle lens) and converted the image to mono using a Nik Silver Efex filter.
---
This round's discussion is now closed!
5 comments posted
Allen Tucker
Our local camera club assignment for June is CURVES, this eye-holding photo has me adding ANGLES to next year's list. &nbsp Posted: 06/07/2020 00:52:10
---
Henry Heerschap
You had me at infrared, Jim. <g>
This is a terrific image. The geometry and tones are spot on. Love the splashes of light across the hay. &nbsp Posted: 06/07/2020 12:39:14
---
Jim Bodkin
Excellent capture, Jim.

You did a great job correcting the 16mm lens distortion with parallel lines in both the wood slats and the overall composition. I also like your final tonal presentation with the mid contrast level. Great image!

&nbsp Posted: 06/07/2020 13:32:19
---
Sharron Leppien
I am certain that I would love to spend my day laying in this hay and watching the light dance its way through the slats. A truly lovely image Jim :) &nbsp Posted: 06/08/2020 01:13:11
---
Victor Wasilov
To me the lighting and tones are right on the money. Perfect exposure. I agree with Henry, the geometry is perfect. Nice job on straightening the wide angle distortion. The red in the original had me puzzled until I read your write up then I was amazed. &nbsp Posted: 06/20/2020 11:00:15
---