Jim Bodkin
---
June 2020 - Nurturing Mother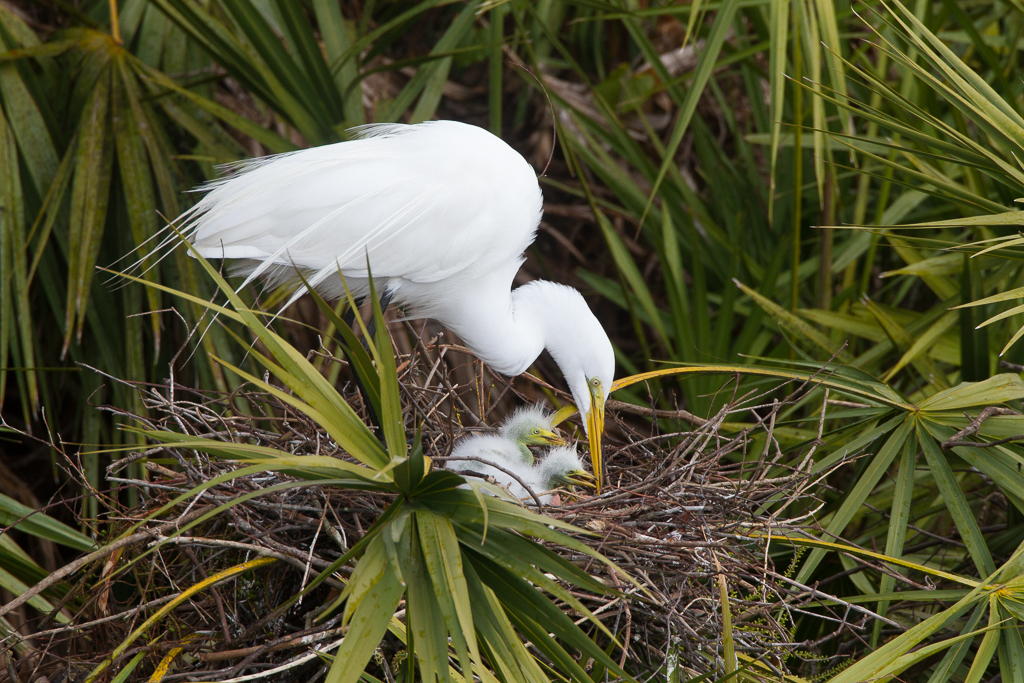 Original
About the Image(s)
One of the joys of nature photography is having many willing subjects, like large, active nesting birds. We try to take a 2 week adventure driving the whole Florida peninsula every other spring - - - which was canceled this year due to the Covid-19 pandemic. That required that I search through previous year's images to find a substitute.

We typically visit around 25 different favorite locations to photograph and try to find more each trip. This was photographed in Orlando near the end of February when the white egret chicks were about 2 weeks old and very dependent upon the parents for all of their needs. It doesn't mean that they are not demanding though! We have witnessed the parents being bullied by the chicks for continuous food and dominant chicks pecking at the less dominant. We find great satisfaction photographing them and enjoy just watching the interaction.

Taken with a Canon 7D Mk2, with 500mm, f/4 lens plus 1.4x teleconverter (700mm effective) at 1/800 sec and f/9.0 ISO 640. Original image processed in Lightroom for cropping, some sharpening, and conversion to B&W with a standard preset. Performed some burning and dodging with the adjustment to balance luminosity and sharpness and graduated filter to produce a pseudo vignetting effect.
---
This round's discussion is now closed!
13 comments posted
Allen Tucker
Open eyes and mouths and your aggressive crop really succeed in showing us the interaction, separating this photo from the more common emphasis on the graceful form of the adult bird. &nbsp Posted: 06/04/2020 01:17:23
Jim Bodkin
Thanks Allen. That biannual trip is one our joys in nature photography where you get to capture the images and have time to observe the interaction too.

&nbsp Posted: 06/04/2020 20:43:16
---
Sharron Leppien
Beautiful image Jim. I love the connection between the Mum and her babies. A great environmental portrait which includes perfectly caught and lit eyes of all three birds. Your 500mm prime must be a beast of a lens! Nicely caught and I have nothing to add. &nbsp Posted: 06/04/2020 19:30:16
Jim Bodkin
Thanks, Sharron. Its nice when they all cooperate! Then you just overlook the 20 images where they didn't.

Yes, the lens is quite the bear to move around. When using it, I tend to think of myself of less a photographer and more a full-fledged body workout participant. The whole rig with tripod, ball head, sidekick gimbal adapter, camera, 2x teleconverter and 500mm lens is about 18.5 lbs (around 8.4Kg) - - - as you said, a beast!

&nbsp Posted: 06/04/2020 21:19:05
Sharron Leppien
Effort = Reward. :) &nbsp Posted: 06/08/2020 01:16:11
---
Henry Heerschap
Love this image, Jim. Great subject and excellent crop choice. Processing is perfect for this image. &nbsp Posted: 06/07/2020 12:43:54
Jim Bodkin
Thanks, Henry. It was actually selected as the "Best Nature Photograph for 2019-2020" by the Chicago Area Camera Clubs Association (32 member clubs) over 100's of other images.

I was quite surprised as I considered it OK, but not outstanding. (That is why I am in this group to 'better' my eye!)

&nbsp Posted: 06/07/2020 13:05:36
---
Allen Tucker
Congratulations on your award! And I am not surprised &nbsp Posted: 06/07/2020 23:08:29
Jim Bodkin
Thanks, Allen.

&nbsp Posted: 06/08/2020 01:06:23
---
Jim Hagan
Wonderful image. Great composition. No suggestions. &nbsp Posted: 06/18/2020 19:44:12
Jim Bodkin
Thanks, Jim.

&nbsp Posted: 06/19/2020 00:45:03
---
Victor Wasilov
Perfect image. You captured a lovely moment. Congratulations on the award. It was well deserved. Truly a National Geographic moment. &nbsp Posted: 06/20/2020 11:03:49
---
Jim Bodkin
Thanks, Victor. &nbsp Posted: 06/21/2020 03:02:37
---