Lisa Hlavinka
---
January 2020 - Rose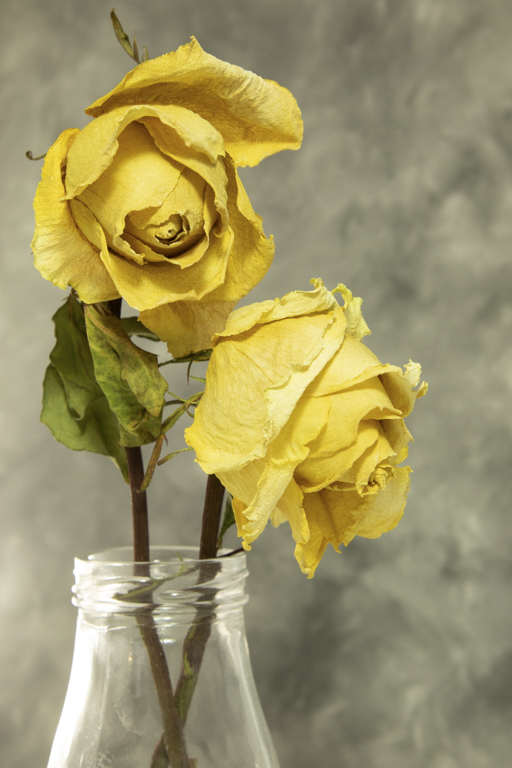 Original
About the Image(s)
This rose was taken while doing some still life photography for a PSA class. I used Lightroom to edit.

This was shot with my Canon 7D Mark II, 100 - 400 lens at ISO 200 / 55 mm / f/5.6 / 1/5 sec.

---
This round's discussion is now closed!
10 comments posted
Henry Heerschap
Nice composition. I like the placement of the bottle and roses to the left side of the frame, giving the rose on the right room to "look" into the right side. Great overall balance. The monochrome conversion really brings out the texture of the roses, so good choice there.
I wondered if the rose on the right wasn't a bit too bright in relation to the left rose and the leaf, so I took it into Photoshop and burned it a bit. I also dodged the leaf. What do you think? &nbsp
Posted: 01/08/2020 12:31:41
Lisa Hlavinka
I like the corrections and will definitely keep this in mind for future editing. &nbsp Posted: 01/18/2020 17:39:11
---
Jim Hagan
I like the mono version much more than the color image. And, I like the composition and Henry's revision. &nbsp Posted: 01/08/2020 19:33:27
---
Tom Pickering

(Groups 53 & 86 & 95)
I'm a sucker for roses and do agree that mono really brings out the texture that color conceals. I also agree with Henry's balancing of the right rose to match the tone of the left one. My only other suggestion would be to clone out the 2 sepals - the one at the left side and top of the left-hand rose. I feel they interrupt the curve of the flower. &nbsp Posted: 01/13/2020 00:16:22
---
Tom Pickering

(Groups 53 & 86 & 95)
Sharron Leppien
Fantastic edit Tom! The roses look so tactile and paper like. Impressive. &nbsp Posted: 01/15/2020 16:29:50
Lisa Hlavinka
Great suggestion. It is funny how we miss small things like those leaves. Thank you for sharing you edits. &nbsp Posted: 01/18/2020 17:39:57
---
Allen Tucker
I really like your choice of subject, less-than-perfect roses in a simple bottle - this image has the feeling of a Cezanne painting. And each of our colleague's suggestions improved the monochrome shading. &nbsp Posted: 01/14/2020 23:32:42
Lisa Hlavinka
Thanks Allen! &nbsp Posted: 01/18/2020 17:40:11
---
Victor Wasilov
I like the overall composition and the use of thirds both in the placement of the subject and the three elements within the subject. I feel that the background is an excellent choice and compliments the tonal structure of the main subject. I agree with Tom's recommendation to remove the 2 sepals and Henry's suggestion to slightly burn-in the rose on the right. To me it is a very soothing image with the background giving it a very good sense of depth. &nbsp Posted: 01/27/2020 08:59:26
---