Victor Wasilov
---
January 2020 - After the Rain
Original
About the Image(s)
I purchased a Sony a600 in July and this was the first image I shot with it. The day was overcast, and it rained on and off all morning. I liked the plant and butterfly combination with both wet and dry wood texture in the background. The image was cropped and converted in Photoshop followed by post processing in Lightroom. Adjusted the contrast, reduced the highlights, increased the white, slightly decreased the black. Sharpening modification was done after resizing.

Sony a6000 with 16-50mm f3.5-5.6 OSS lens.
ISO: 640
Lens set at 33mm
f5.0 at 1/160

---
This round's discussion is now closed!
8 comments posted
Tom Pickering

(Groups 53 & 86 & 95)
Your image has great exposure and detail, and your crop establishes a good composition. I do find this a bit flat tonally. Monochrome is all about lights and darks and the contrast between the two. Sometimes, when planning for a mono conversion from color, it's best to boost the saturation of certain colors in advance so that there's more control of the shading when you convert.
This is your original with the greens and red over-saturated: &nbsp
Posted: 01/05/2020 14:31:54
Tom Pickering

(Groups 53 & 86 & 95)
Victor Wasilov
Tom, thank you. I see what you mean by boosting the color saturation prior to the conversion. One lives and learns. &nbsp Posted: 01/06/2020 17:06:38
Allen Tucker
Great classroom demonstration, Professor. Part of monochrome's appeal is freedom from our brains' prejudice for "natural" colors. &nbsp Posted: 01/07/2020 14:41:48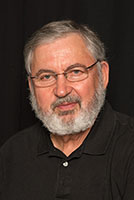 Isaac Vaisman M.D.

(Groups 4 & 58 & 72)
Thank you Tom, I learned something new here. &nbsp Posted: 01/14/2020 06:57:19
---
Henry Heerschap
Nicely done. As Tom says, your crop worked really well here, particularly creating two sets of three (plants and butterflies). Monochrome is also a great choice with this image. I like the direction Tom took it, but I'd tone down the leaves a bit. They seem a bit too bright to my eye. &nbsp Posted: 01/08/2020 12:38:40
---
Jim Hagan
Very clever and great crop. I agree with the previous suggestions that a little more contrast was needed. &nbsp Posted: 01/08/2020 19:35:49
---
Lisa Hlavinka
I like Tom's edits on this fun shot. My only other suggestion is to clone out some of the twigs on the ground in front of the pots. They are a little distracting. &nbsp Posted: 01/18/2020 17:45:08
---