Sharron Leppien, QPSA
---
December 2019 - Kookaburra
Original
About the Image(s)
This is a Native Australian Kookaburra. Kookaburra's are a member of the Kingfisher family. These guys are quite a large bird ( 30-40cm) that stay out of the water and prefer to hunt snakes, lizards, mice, frogs and the occasional sausage from your barbecue plate :)

I adore kookaburras as they are very friendly birds. I don't like them however when they start their very very very noisey dawn chorus. It is very very loud and seemingly never ending, sometimes they start pre dawn and sometimes there could be up to six of them trying to outdo each other. They are not on my nice list then.

Image taken on my farm late in the afternoon. I intentionally cropped his body in composition as he was sitting on a post and rail fence and I didn't want the fence rail in my image.

Nikon D850, Nikkon 200-500mm @500mm, 1/160sec, f8.0, iso 125 handheld.

Cropped and converted to mono in LR using an orange filter. In PS I dodged his eye and the background to try to minimise the impact of the trees in the background.
---
This round's discussion is now closed!
13 comments posted
Henry Heerschap
Lovely photo of what is to us North Americans a very exotic bird. Very nice job of getting the bird's eye and feathers tack sharp while blurring the background. Your black and white processing of the bird is very nice and you brightened his eye just right.
Two things you might consider: 1. crop the image with more space to the right, giving him some space to look into. 2. I don't think your background processing was as successful as your main subject's processing. I find the background looks too artificial. The original background works pretty well to my eye.
I've taken your original and tried processing the bird as close to what you've done as possible. I mainly wanted to illustrate a different crop and what it looks like with the original background preserved. &nbsp
Posted: 12/11/2019 18:33:01
Sharron Leppien
I thank you so very much for taking the time to re edit my image. Yes, you are spot on with your critic. He certainly did need the space to look into too. Also leaving the background in also gives the thought that he was in fact in the wild and not in an artificial situation and just the right amount of colour contrast. This is something that I was toying with and ultimately made the wrong decision. Again, thank you Henry :) &nbsp Posted: 12/11/2019 18:41:39
---
Tom Pickering

(Groups 53 & 86 & 95)
I love the detail you brought out in this bird. I think I prefer your background, with less distractions, but perhaps a tad bit darker. I agree with Henry about the extra space to the right for the bird to be looking into.
Here's my rendition with a bit more space, slightly darker background, and a wee bit of dodging and burning for some extra dimensionality: &nbsp
Posted: 12/14/2019 15:52:54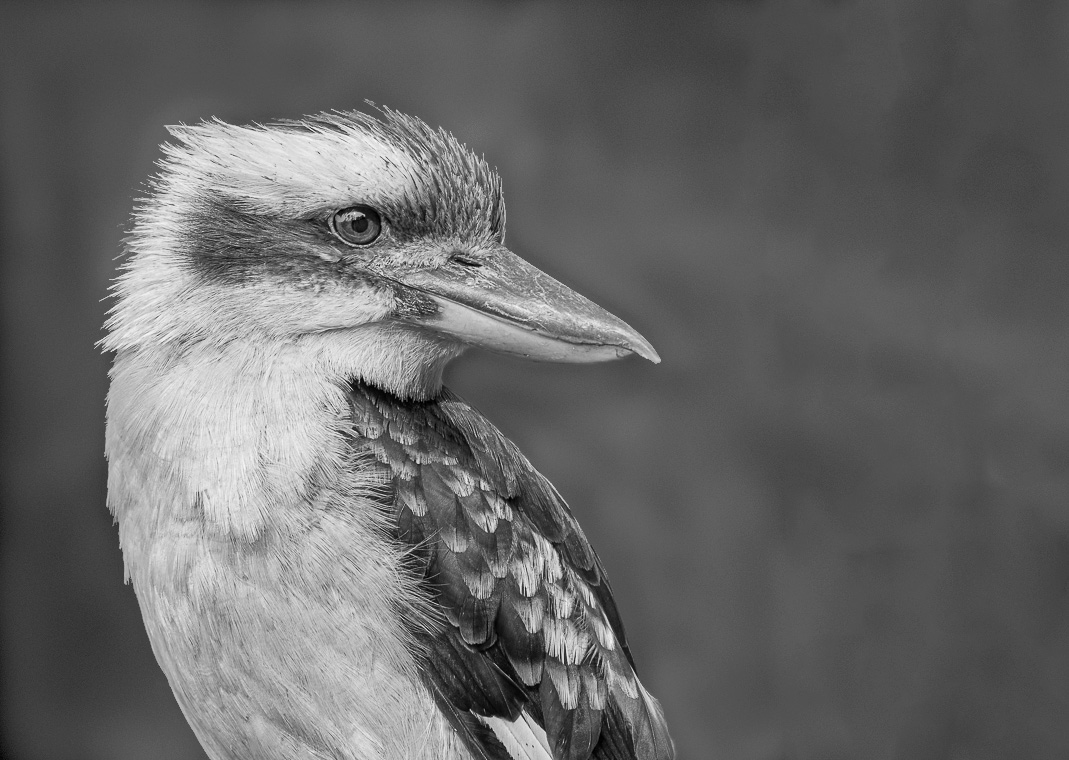 Sharron Leppien
Thanks Tom! I see no one is worried about the missing part of his body. I also like your darker background as he tends to seperate more from it than my lighter background. Cheers :) &nbsp Posted: 12/14/2019 21:19:15
---
Lisa Hlavinka
Great image Sharron, I love the details and sharpness. Monochrome was a great choice. &nbsp Posted: 12/15/2019 21:04:04
---
Allen Tucker
I'll be the contrarian: I wish we could see its feet. Like human hands, birds feet reveal much about how they live. And the fencepost would tell us this is a free creature. &nbsp Posted: 12/17/2019 15:59:23
Sharron Leppien
Always has to be one in every group :) hahaha &nbsp Posted: 12/17/2019 22:27:11
---
Jim Hagan
I like the photo a lot and its wonderful detail but also agree with the suggestion of more space on the right and a more natural background. &nbsp Posted: 12/17/2019 20:43:46
---
Jim Hagan
&nbsp Posted: 12/17/2019 20:43:48
---
Victor Wasilov
The mono has really brought out the detail in the feathers. The background compliments the tonal range of the chest feathers and helps the crown feathers detail to stand out. I agree with Henry's cropping. It added mystery to the image. What is he looking at so intently? Excellent capture. &nbsp Posted: 12/29/2019 17:25:59
Sharron Leppien
Welcome to our group Victor. Yes, it is an intent gaze isn't it? I suspect he is always on the look out for prey. With our ongoing dreadful drought, food is in short supply. So to be on constant lookout is a must.
I look forward to seeing your submissions in 2020.
Cheers


&nbsp Posted: 12/29/2019 19:48:50
---
Jim Bodkin
A most excellent image, Sharron. Like others, I prefer the wider crop and darker background as they increase the dramatic quality. Visually, I can live with either the tree background or the more even blended version. You captured wonderful detail in all of the feathers and eye, which translates well in a monochrome. Good work!

&nbsp Posted: 12/30/2019 00:49:41
Sharron Leppien
Thanks Jim. You will be able to photograph your own Kookaburra when you arrive in Australia soon. :) &nbsp Posted: 12/30/2019 03:41:56
---