Sharron Leppien, QPSA
---
August 2019 - Mt Bromo Horseman
Original
About the Image(s)

I have hung up my wannabe Landscaper boots and have gone back to my love of Travel Photography :)

I took this photo of one of the Mt Bromo Horseman in July 2017. My friend and I rode these types of ponies up the side of the Mt Bromo Volcano in Java, Indonesia. ( until it became too steep then we climbed the remaining 700 near vertical steps to the top)

The volcanic ash is thick in the air as the volcano is not only active but it had a major eruption 5 years prior to my visiting here. The entire valley was nothing but 7 inches of dry volcanic ash.

I always really liked this image but never did anything with it as it looked like there was a halo around around the horse that was caused by the angle of the early morning sun and the dust. Then, along came Adobe with their Dehaze Tool and I applied it today to this image.
Three cheers for Adobe!!

I then also discovered that if I blurred the background it actually changed the look of it from appearing noisy to just being dusty.

Nikon D810, Nikon 16-35mm @ 30MM 1/800 SEC, F 6.3 ISO 100

Imported into LR then adjusted Highlights, Shadows, Dehaze, and probably a few more random tweaks. I then applied the orange filter in the Monochrome Filters. Next, I opened it up in PS to dodge, burn, and blur the entire background.

If anyone has any tips for this image I would greatly appreciate it.
---
This round's discussion is now closed!
8 comments posted
Jim Hagan
I like the mono version a lot - well composed with a lot of interest. However, I feel the image is too flat, that is everything seems too bright. So in my revision, in Photo Shop, I first selected the horse, rider and the ground they are on. I then darkened the ground (burning tool) and then added more contrast to the horse and rider. Then I reversed my selection so that only the background was selected. I then greatly darkened the background which, in my opinion, makes the horse and rider much more prominent. &nbsp
Posted: 08/09/2019 15:37:34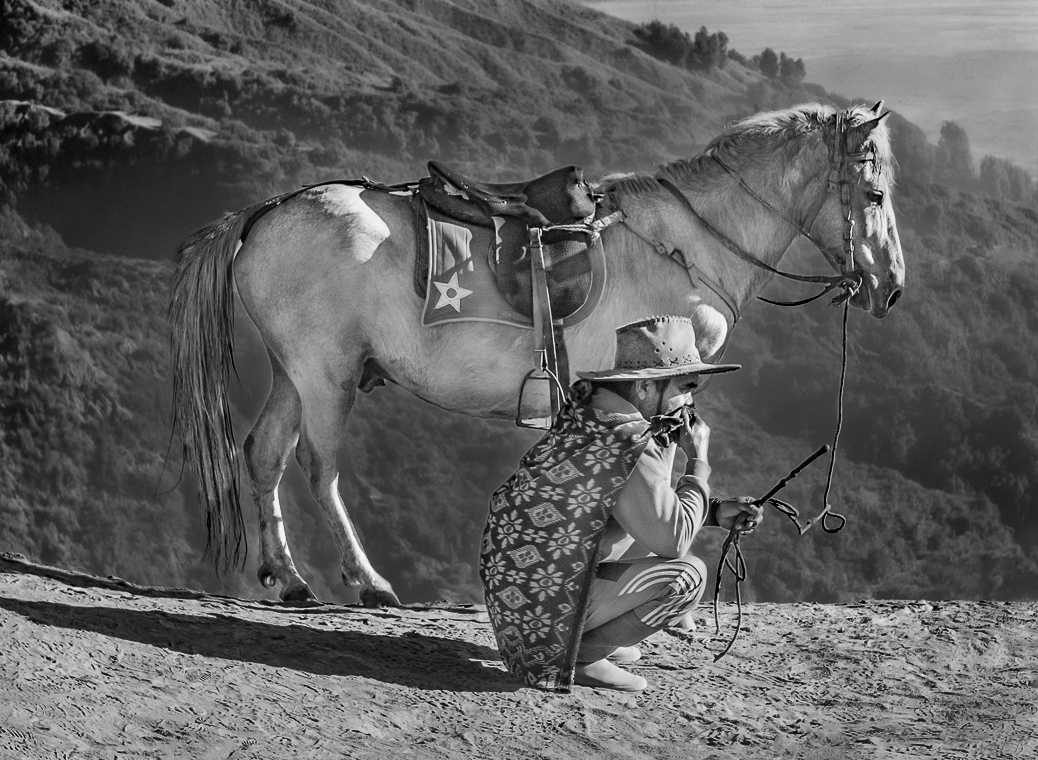 Sharron Leppien
I really like what you have done with your edits Jim! Yes, I agree with your comments on the brightness. Your edits really make this image standout. I thank you very much and will now have a play around with your suggestions. Oh, and thanks for including the detailed steps. Being a bit of a PS dunderhead I need all of the help I can get :) &nbsp Posted: 08/21/2019 00:55:23
---
Allen Tucker
For a viewer who has never been there, Jim H's contrast changes are a successful improvement to the photo. But they create a different atmosphere from your version. Art is subjective - your photo, your choice. &nbsp Posted: 08/16/2019 15:30:40
Sharron Leppien
Such two very different edits from Jim and Tom. I would have never thought to do either! Such a great group to share images and ideas :) &nbsp Posted: 08/21/2019 01:00:50
---
Tom Pickering

(Groups 6 & 53)
Certainly, Jim's version best depicts the horse and rider, but, as Allen so poignantly asserts, it does so at the expense of the important atmosphere of the blowing dust.
I suggest giving more definition to horse and rider, then introducing more dust into the image - I added some clouds at a low opacity then introduced some grain into them to try to approximate blowing dust. It's not quite right but a bit of a demonstration of the idea: &nbsp
Posted: 08/21/2019 00:44:02
Sharron Leppien
Well Tom, your edit certainly made me sit back in my seat! When I opened up the image I could see the direction that you took. It is a very clever and such a brilliant approach. Why fight the dust? Add more is a great idea! I like your thought process and thank you for finding the time to edit this :) &nbsp Posted: 08/21/2019 00:59:18
---
Allen Tucker
Your images always are interesting and give us issues to think about. &nbsp Posted: 08/22/2019 00:19:01
Sharron Leppien
I am not sure that is a good or a bad thing Allen :) I will think of them as a challenge hahaha :) &nbsp Posted: 08/22/2019 04:29:52
---