Rich Krebs
---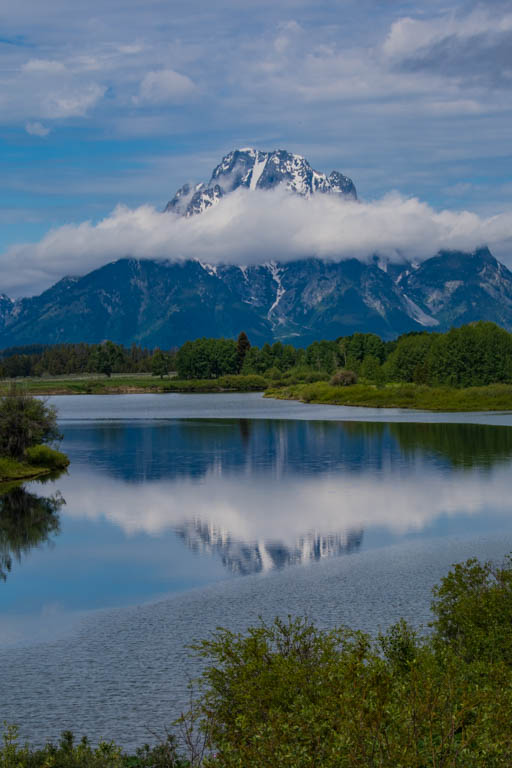 April 2021 - Tetons 2016
About the Image(s)
We stayed in the Tetons area in June 2016. This one was taken on 6/15, D7100, 1/640. f9, ISO400. It was adjusted in LR.
---
7 comments posted
---
---
---
Lori Azevedo
My husband and I had to cancel our trip to the Yellowstone for next month. Thank you for sharing this lovely photo of the Tetons. I can't wait to get there someday. I think I might have cropped more off the bottom. The bushes to the bottom right corner are pulling my eyes from the beautiful shot of the mountain. &nbsp Posted: 04/08/2021 09:22:48
---
---
---
Donna Sturla
I agree with Lori, do something to get rid of the bushes on both sides. If you know Photoshop, you can use some of the tools to clone them out, crop, whatever. Actually you could even crop off some of the sky. But other than that, it's lovely and a Great reflection.
Here's an edit I did, see if you like it. &nbsp
Posted: 04/08/2021 11:37:23
Rich Krebs
I like your crop. I did crop from the bottom and top but not enough. &nbsp Posted: 04/08/2021 11:50:39
Donna Sturla
I still had bushes on the lower Rt. and on left but I cloned them out pretty easily. One of the tips I got from a "pro" was to watch your borders -- never have anything jutting in from the sides of your image or bottom or top. So I called myself the border patrol agent. LOL &nbsp Posted: 04/08/2021 11:56:05
---
---
---
Mark Aksoy
A compelling shot of the Tetons ringed with clouds! Colors are vibrant and the reflection adds to the scene. I agree with Donna about cropping out the distracting bushes at lower right. You might also try shooting similar mountain scenes in a horizontal format, which would reveal more of the cloud and mountainside for this image. &nbsp Posted: 04/17/2021 14:25:09
---
---
---
Diana Duffey
Rich, great image of the Tetons. I really like the reflection in the water. Lori, Donna and Mark have given you some nice suggestions. This image brings back so many nice memories. We love that area. Thanks for sharing. &nbsp Posted: 04/17/2021 17:31:59
---
---
---
Doug Wolters
Love the image. If you had moved a bit, would it have been possible to get the reflection of the whole mountain? &nbsp Posted: 04/18/2021 19:27:17
---
---
---
Please log in to post a comment