Diana Duffey
---
January 2020 - Purple Finch
About the Image(s)
I took this picture through our bedroom window. I used my Sony A7R3 with a 600mm lens at 268 mm.
My settings were ISO 640, F5.6, SS1/260. I cloned out a few bright spots in the background and did some basic adjustments in LR.
Your comments are always appreciated. Wishing everyone a Happy New Year!
---
This round's discussion is now closed!
9 comments posted
---
---
---
Love this image-she/he appears to be gazing directly at you. I wonder whether cropping just a bit of the green leaves along the top of the photo would make this bird pop out a bit more? &nbsp Posted: 01/09/2020 17:02:19
---
---
---
Donna Sturla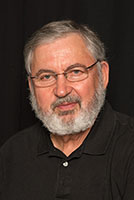 Isaac Vaisman M.D.

(Groups 4 & 58 & 72)
Donna, your crop was a little too tight. You amputated the tip of the toes.... &nbsp Posted: 01/14/2020 07:51:22
Donna Sturla
OOPS you're right -- I just used the crop size that was in my program and didn't pay attention ! My Bad ! &nbsp Posted: 01/14/2020 13:14:39
---
---
---
Diana Duffey
Thank you Jack and Donna for your suggestions. I will go back and crop and increase the saturation in the image a bit. I think my lighting and focusing are getting better. I have to work on composition. &nbsp Posted: 01/11/2020 07:42:05
---
---
---
Mark Aksoy
A Happy New Year to you, too (and to one and all for that matter)! Your purple finch is well-captured and its colors perfectly isolate it from the muted green background. I agree with Jack that cropping a bit from the top would strengthen the composition; you might also try a bit from the right. I also see that the bird's tack sharp plumage gets a tad fuzzy in head/neck region. Try sharpening, if you haven't already, plus an increase in contrast to make the subject really stand out. &nbsp Posted: 01/14/2020 18:20:45
Diana Duffey
Thanks Mark for your helpful suggestions. I am going back to my files and makes the changes that have been suggested to the bird image. I am getting a little better at my post-processing... I missed you image this month. Hope to see one next month. &nbsp Posted: 01/14/2020 19:47:00
---
---
---
Rich Krebs
Great image of the bird. Colors are great and looking at you. I like it just the way it is.
New subject for all. I upgraded my mac pro to Catalina and now I cannot upload images into LR. I think it has to do with 32 bit vs 64 bit OS. Anyone else have this problem? &nbsp Posted: 01/20/2020 17:22:49
---
---
---
Diana Duffey
Rich, I am glad you like my little backyard finch. I have Catalina installed on my iMac and I am not having any trouble with it. I installed Catalina on my husband's Mac Air and had some trouble with the installation so I called Apple Support. They were very helpful. Try giving them or Adobe a call and see what they say. I hope you are able to resolve the issue soon. &nbsp Posted: 01/20/2020 18:09:19
---
---
---