Priscilla Farrell
---
September 2020 - Sunset on the Trail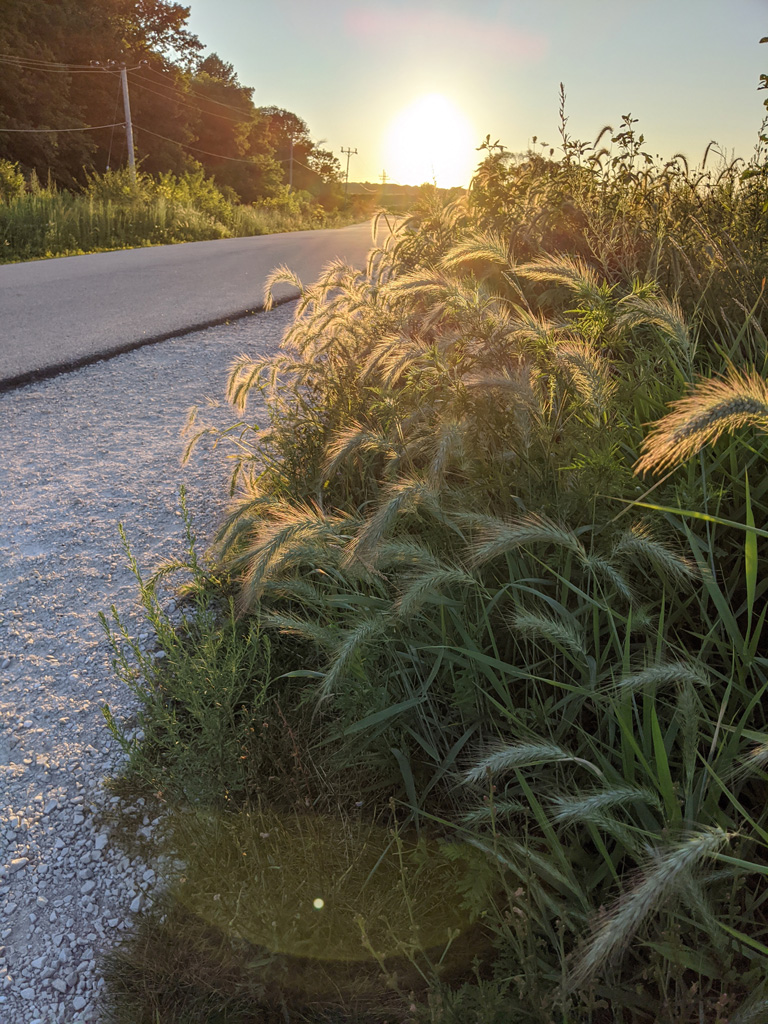 Original
About the Image(s)
This image could also be called Chromatic Aberration/Lens Flair. I am sending the original and the post processed images. The image was taken just before sunset. My idea was to capture a nicely backlit subject. Looked good to the eye but not good for the camera. I cropped along the bottom of the frame to remove the "lens flare" but had to then deal with the "sun spot". I filled in the spot by using the clone tool and spot healing brush. As you can see the faint pink/purple is still there. Probably should be removed.......Opinions?
The image was processed in my normal way of PSE, Nik's Detail Extractor.

Camera Settings: Google Pixel 3 Cell Phone, f 1.8, 1/1957sec., ISO 40.

---
5 comments posted
---
---
---
Allen Calopisis
I like the original as far as the sun flare. It seems that in your processing of the flare it kind of fell apart. I personally would use the original and do a crop of about a third of the left side and fill in any of the remaining road. &nbsp Posted: 09/21/2020 19:52:30
---
---
---
David Garrison
actually I like the original more. I can focus on the weeds better, the backgound in the changed seems diffused, blurry or something &nbsp Posted: 09/22/2020 11:21:27
---
---
---
Debbie Perez
Well, it's three for the original! I do like your crop on the "finished" piece but if you want to remove the blown out sun, I might suggest using a faint color (use you color picker to match). Set the brush to a very low opacity and larger than the are you want to cover. Apply once , make the brush smaller, hit the area again, keep repeating until you get the coverage you want. I would do this on its own layer just in case, you want to blend further. The backlighting makes for very pretty lighting on the subject. &nbsp Posted: 09/23/2020 14:53:23
Priscilla Farrell
Hi to anyone who reads this response......When I looked at the photo I submitted this month I was totally in disbelief. When post processing a photo the maker should improve the photo not destroy it. I honestly don't know what happened. Sad....
Thanks, Debbie for your suggestions on working with the blown out sun. &nbsp Posted: 09/23/2020 17:03:55
Debbie Perez
Don't be hard on yourself because you did NOT destroy the photo. You captured some beautiful light on those grass heads. Some people really like flares, some people don't. Any time you tackle a photo, you should make it something you like! I love trying different techniques to try to grow my skills. Might not be successful every time but I think I learn best by trying until I get something I do like. Most important thing is to have fun with doing, don't stress! &nbsp Posted: 09/23/2020 18:29:47
---
---
---
Please log in to post a comment