Alastair Cochrane
---
January 2020 - 2020 01
About the Image(s)
Taken several years ago on Orkney, I was attracted by the colour and texture of the rocks with a view through to the sea beyond. A pretty straightforward image and I cannot remember anything about editing it but I suppose it was only adjustments in brightness and contrast. I only found it hidden away in a folder last week.
---
This round's discussion is now closed!
7 comments posted
---
---
---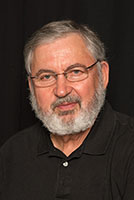 Isaac Vaisman M.D.

(Groups 4 & 58 & 72)
Alastair, interesting image. The pattern in the rocks is broken by the opening showing the water. I am not sure if this is a hole on the rocks or because your vantage point is an overlap of one rock over the other. It is sharp. I had an image last November in group 4 which shows the same idea.
(
http://psadigital.org/group04/image.php?iid=41702)
&nbsp
Posted: 01/14/2020 07:46:53
Alastair Cochrane
It's a hole in the rocks although it may well not be there any more due to the weather and the section to the left looked fragile at the time of the photograph. &nbsp Posted: 01/20/2020 15:19:58
---
---
---
Snehendu Kar
A very attractive image with sharp lines, crisp colors, textures and shapes come together very well. Touch of blue and green break the repetitions and add a punch. Well done A suitable title would be nice. &nbsp Posted: 01/20/2020 15:13:28
Alastair Cochrane
I couldn't think of any title for this - it's just what it is. Suggestions welcome. &nbsp Posted: 01/20/2020 15:21:22
---
---
---
Mark Southard
Title it " BLUE VIEW"
I like the simplistic design and contrast of subject matters. Might burn in the edges a bit....... &nbsp Posted: 01/20/2020 15:40:50
---
---
---
Marcus Miller
I like the sharpness and the contrast of the rocks and blue water. The crisp outline gives the impression the blue could be on either side of the rocks. Great view. &nbsp Posted: 01/21/2020 15:01:05
---
---
---
N. Sukumar
Interesting colours and texture. Since it is such a close crop, it works better as an abstract rather than as a landscape. Furthermore, the rock and the sea are almost equally in focus, lending this image a two-dimensional feel. I would like to see the image with a frame or mat. &nbsp Posted: 01/26/2020 02:30:20
---
---
---