Paul Bradley
---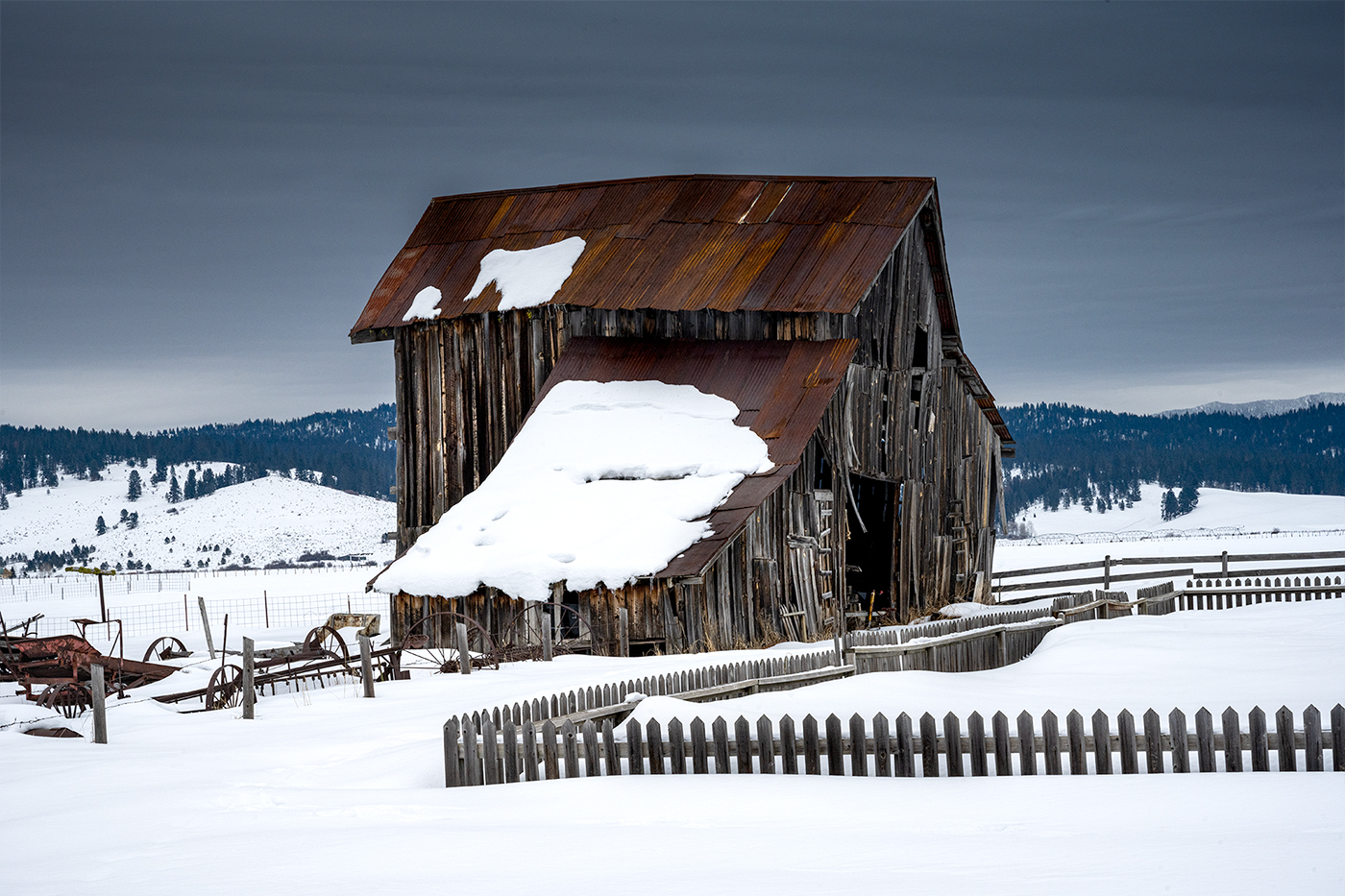 March 2023 - Hospice?
About the Image(s)
This was taken in central Idaho on a cattle ranch Feb 2023. It was -11 degrees and I named it Hospice? Camera settings were F18,EC -1.33,ISO 200,1/250

---
11 comments posted
---
---
---
Gaetan Manuel
This photo gives me the feeling of loneliness, wilderness, desolation, not a single living creature! What about if you had moved a bit backwards or use a wide-angle lens to have more of the surroundings and placing the building at the intersection of the lines of thirds? &nbsp Posted: 03/13/2023 10:52:07
Paul Bradley
Thanks for your comment Gaetan. I did try to include more of the surroundings,but both sides of subject were not positive adds. On the left was a schoolbus turnaround with an abandoned vehicle parked in it. On the right was road snow pushed up into a pile. &nbsp Posted: 03/15/2023 09:06:02
---
---
---
Tom McCreary
This is a great looking old barn in a good location. It does look like it is on life support. I hope that you had a warm car to get into. A suggestion would be to get rid the irrigation equipment on the right side of the barn, as it is drawing my eye from the barn. I wonder if you have thought of cloning out or cropping off the horizontal fence in front of the barn. A fence like that can be a stopping point to keep the eye from going into the image.
&nbsp Posted: 03/15/2023 13:53:45
Paul Bradley
I will play with those 2 changes.
Thanks &nbsp Posted: 03/15/2023 17:38:38
---
---
---
Rich Sears
I love structual decay Paul, as many times it seems to create some different feelings. Exposure was compensated correctly, the image is sharp and in focus throughout. Curious if you darken the sky a bit so it would not distract.
I would suggest giving consideration to cropping in from the left, eliminated some distracting implements, and cloning out some distracting railings.
&nbsp
Posted: 03/19/2023 14:17:02
---
---
---
Tony Tam
Paul Bradley
I will try the changes you mentioned and repost. &nbsp Posted: 03/22/2023 16:40:19
---
---
---
Barbara Mallon
Wow! I feel cold in California but this really captures COLD! The white on the roof is too centered for me. The snow could have more texture and the barn could have less shadow. Either light room or Adobe Camera Raw in photoshop can help youth this. I like the cropping that Rich and Paul did. Lots of good suggestions above. &nbsp Posted: 03/23/2023 18:15:20
Paul Bradley
Thanks Barbara &nbsp Posted: 03/23/2023 18:17:40
---
---
---
Please log in to post a comment