Rich Sears
---
November 2020 - Buckeye Falls
About the Image(s)
At a nearby county park I took an image this past weekend of Buckeye Falls. I believe I have captured not one, but two images and would ask your help in determining the favorable cropping. First, I would envision cropping to keep the upper and middle waterfalls. Or, instead, crop off the top down to just below the middle waterfalls and in from each side a ways to focus on the reflections.

Sony A6300 mirrorless APS-C, 16mm-55mm f2.8 lens at 36mm, 35 mm equivalent 54mm. 1/200, f5.6, ISO 400.

---
This round's discussion is now closed!
12 comments posted
---
---
---
Tom McCreary
You have a nice sharp image with lots of depth. You captured some fall colors, and I would add saturation to being out more of the colors. To me, the main subject is the center part of the image, and I would crop off both sides which do not add a lot to the image. I think that you found a really nice location. I hope that you go back more in different seasons to capture it. &nbsp
Posted: 11/12/2020 09:29:18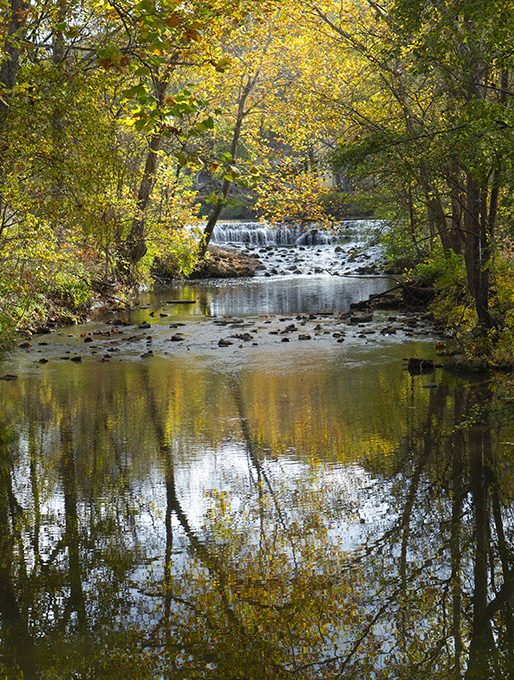 Rich Sears
Thanks Tom. I do need to get back to this spot throughout the year. This image was taken ten days after peak, according to the ranger. I tried adding luminoscity and saturation as possible. Just need to watch my timing fall. &nbsp Posted: 11/23/2020 17:16:07
---
---
---
Tony Tam
You have a beautiful scenery place.
I agree Tom's comment increase the saturation, made autumn color stronger. If the water fall is major object, I would crop off the down part.
Seems to me you focus on front area, the leaves on right side is sharper than in distant water fall. In this case aperture f/5.6 might not enough DOF, I would use f/11 to increase the DOF. &nbsp
Posted: 11/12/2020 15:56:30
Rich Sears
Thank you Tony. &nbsp Posted: 11/23/2020 17:16:46
---
---
---
Grace Lee
Rich Sears
Thank you Grace. &nbsp Posted: 11/23/2020 17:17:08
---
---
---
Paul McLaughlin
I love the tunnel effect in this picture. I would crop a bit from both sides as, I believe, that heightens the impact of the tunnel and enhances the waterfall.
I love foliage pictures, catching the leaves at just the right time can be as difficult as capturing the image. Very, very nice. &nbsp Posted: 11/27/2020 10:09:03
Rich Sears
Thank you Paul. &nbsp Posted: 11/29/2020 17:35:06
---
---
---
Les Tyler
Looks like you have a choice on how to portray this image. The vertical as Tom suggest that will give you a nice reflection image. Or the cropped horizontal that Tony said that will give you a nice waterfall photo. I like both ways, there both beautiful. &nbsp Posted: 11/28/2020 18:44:51
Rich Sears
Less, thank you. &nbsp Posted: 11/29/2020 17:35:39
---
---
---
Barbara Mallon
Lovely fall shot. I like Tony's crop and darkening. I makes the waterfall the true center of interest instead of my having to look for one. I find darkening an image adds the pop that makes it stand out from the rest of the competition. &nbsp Posted: 11/30/2020 18:03:18
---
---
---
Barbara Mallon
Lovely fall shot. I like Tony's crop and darkening. I makes the waterfall the true center of interest instead of my having to look for one. I find darkening an image adds the pop that makes it stand out from the rest of the competition. The colored leaves directly bhind the falls, I find confusing. Perhaps they should be darkened soas not to compete. &nbsp Posted: 11/30/2020 18:05:57
---
---
---