Dick States
---
February 2021 - Skunk Cabbage flowers
Original
About the Image(s)
I took this image several years ago on March 22, 2018 at Millcreek Park in Youngstown Ohio. As you can see Skunk Cabbage grows where its quite wet so its good to have your boots on to take pictures.
Skunk Cabbage has an interesting ability to produce heat that allows it to emerge and bloom even when the ground is quite cold even frozen. The flower buds can warm up to 70 degrees F. which melts the snow around the plant.
Skunk Cabbage emerges starting in late Feb. into March in our area depending on the severity of our winter. The flowers appear before the leaves and have a mottled maroon hood like leaf called a spathe, which surrounds a knob-like structure called a spadix.
Taken with my 200 mm macro lens with a polarizer attached. f-22, 1/5 sec., ISO 200, -.7 stop exp. time. Tripod and cable release.
---
This round's discussion is now closed!
15 comments posted
---
---
---
Georges Dormoy
Very interesting picture. Unfortunately I am not an expert in botanic but nevertheless can appreciate the beauty of this plant. The curves that form the flower contribute to attracting our eyes almost in a "spiral" manner. The texture is attracting and well in focus (thanks to the f/22).
I would have a couple of suggestions:
(a) It looks like there are dead leaves at the step of the flowers which, in my opinion, are not so esthetic. Either you could have taken them aside before taking the picture, or in post-processing with Lightroom, or Photoshop or Luminar AI, use an erase function (in Luminar) or spot healing brush (in Photoshop) to remove them. These software are more sophisticated than a couple of years ago with the AI addition (Artificial Intelligence) to replace what you remove by what the software would consider the best as a replacement. I tried to do it in your photo. It is not perfect but it might help a little bit (see the results).
(b) Regarding the foreground, at the lower right corner, there is something that could detract someone's attention, so I removed it with Luminar AI.
Anyway, it is a matter of personal opinion. If you leave it s it is, it is a nice and pleasant picture.
&nbsp
Posted: 02/03/2021 21:39:57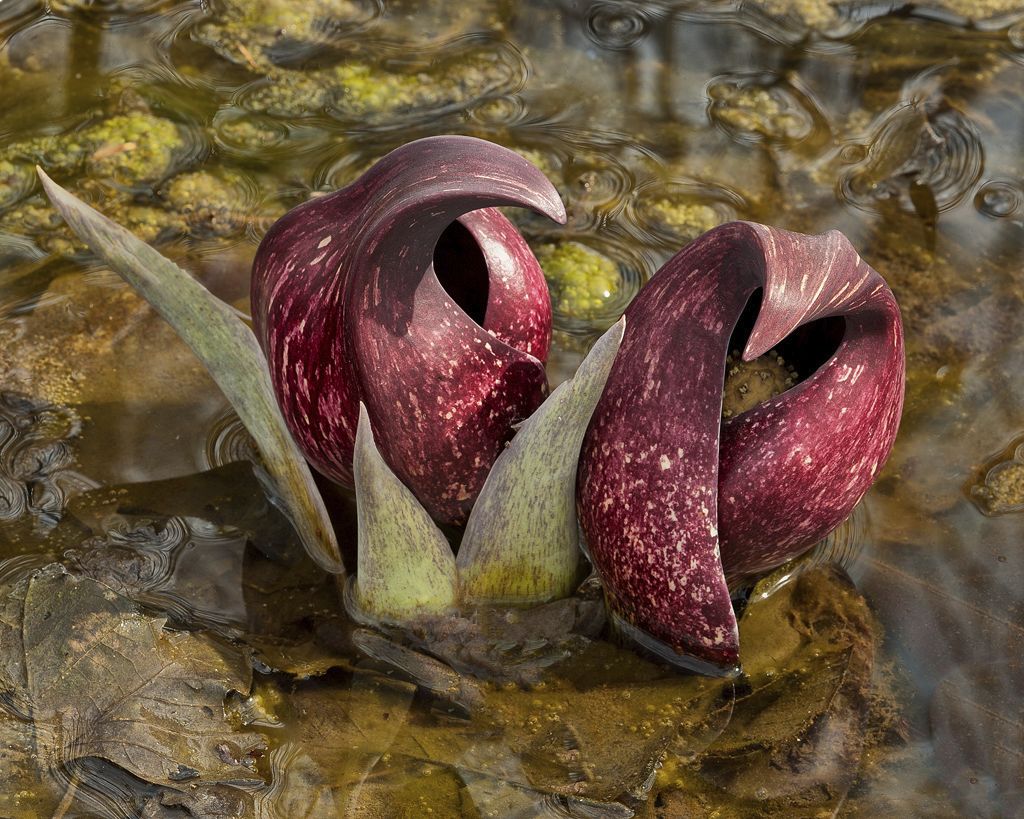 Dick States
I appreciate your comments. Not sure I understand what you referring to as dead leaves, and "at the step of the flowers". The skunk cabbage was growing in about an inch of clear water. I had to be careful where I stepped to prevent stirring up the mud. If I removed the leaves it would muddy the water. This is the environment in which skunk cabbage lives. I agree with the lower right corner distraction. I'm interested in what the other members feel about the image. &nbsp Posted: 02/04/2021 10:15:22
Janet DiMattia
Hi, Dick.
Great job capturing the Skunk Cabbage. You caught it at a good time in its growth pattern. I have tried it previous years but the leaves were always too large already and overpowered the plant. I like the swirly effect in the water - not sure how you achieved that but it is very effective. What I especially like is the emerging knob-like structure. It caught my eye right away. My only suggestion would be to darken the right hand corner a bit. &nbsp
Posted: 02/04/2021 16:42:47
Dick States
I like what you did, Janet. This is one of those plants that flower first, then the flowers die off, then the leaves emerge. Never together. There are no leaves in this image. These are fun to shoot and you want to keep a watch for them starting the end of this month. It's still early.
I have no idea where the swirly effect came from. I did very little to this image. I will guess the knob-like structures are where the leaves will emerge from. In this image due to the position of the sun my polarizer did not do much. That's why there is some glare coming off the water. &nbsp Posted: 02/04/2021 17:14:58
---
---
---
Charissa Lansing
Hi Dick,
Thank you for the background on these interesting and unusual plants. To my eye there are so many textures in this image that encourage exploration. Also, I find the hood like structures to be almost erotic. Their arrangement in this composition makes me imagine that the pair might be communicating!

I'm wondering if you possibly brought a tarp to lie down on the ground to capture them and if their smell is off putting?

The glare is understandable and Janet's treatment seems to minimize it for me.
&nbsp Posted: 02/10/2021 16:51:42
Dick States
A tarp would not work. There were several inches of water everywhere. It was a bit difficult shooting these. I could not sit anything down. I stayed around the edge of the location of the plants so not to stir up the water and mud. Had to be careful not to tramp on any flowers.
The smell happens after the leaves emerge and develop. The leaves get rather large. There's not a lot of smell until they are disturbed. &nbsp Posted: 02/10/2021 19:53:25
---
---
---
Sandra Irwin
I think this is gorgeous! I love the swirls in the water and the clarity and color of the flowers. The only think I don't understand and am curious about is what all you did to transform the original to the final. I don't seem to see any water in the original. Can you detail your post-processing, please? &nbsp Posted: 02/25/2021 18:43:41
Dick States
Thank you Sandra. They are two different images. I was just showing the one to show the snow around the flowers and how it is melted due to the heat they generate. &nbsp Posted: 02/25/2021 20:33:04
Sandra Irwin
Ok -- got it! Anyhow, great photo, as usual! &nbsp Posted: 02/26/2021 20:24:16
Sandra Irwin
Ok -- got it! Anyhow, great photo, as usual! &nbsp Posted: 02/26/2021 20:24:18
Sandra Irwin
Ok -- got it! Anyhow, great photo, as usual! &nbsp Posted: 02/26/2021 20:24:23
Sandra Irwin
Ok -- got it! Anyhow, great photo, as usual! &nbsp Posted: 02/26/2021 20:24:23
Sandra Irwin
Ok -- got it! Anyhow, great photo, as usual! &nbsp Posted: 02/26/2021 20:24:27
---
---
---
Jean Armstrong
This is a very interesting shoot. Not only the image itself but the description of going in with boots and depth of the water. I have never heard of this plant, So I found all the description and suggestion very interesting. I love the image and the water movement is very enticing to the imagination.
I love the image and as always impressed with Dicks knowledge and artistic bent. &nbsp Posted: 02/26/2021 17:55:24
Dick States
Thank you Jean. &nbsp Posted: 02/26/2021 18:14:08
---
---
---