Sandra Irwin
---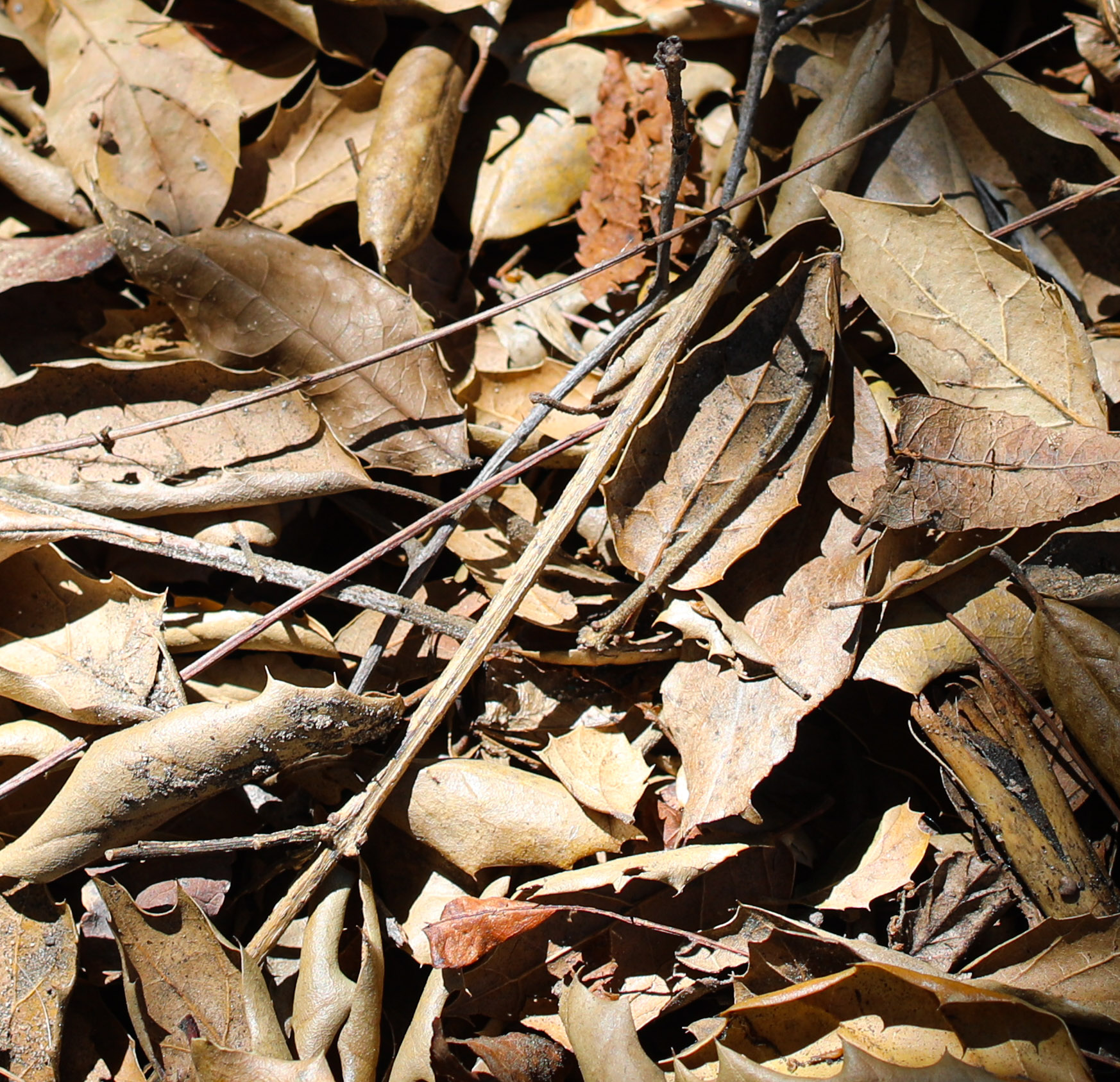 September 2020 - Leaves in the Park
Original
About the Image(s)
Here in L.A. County we are suffering an extreme heat wave. It's now 110 degrees outside! Thus I opted to search through my photo collections and try to find something I could doctor up in LR.

It was taken at ISO 100, 50mm, f/5.6, 1/160 sec. I'm not sure which camera I used to take it with.

In LR I cropped a lot to get better composition and focus. I also increased contrast, texture, and saturation.
---
4 comments posted
---
---
---
Janet DiMattia
Hi, Sandra.
I saw lots of interesting detail and opportunity in your image.
I tried a crop and made it into a vertical presentation to follow the diagonal small stems. Then darkened the whole area to emphasize the leaves etc. and separate them more from the background. Then selectively used the burn tool to darken and remove the glare from some of the leaves. Finally darkened the edges and added a slight border. Did not sharpen it at all.
It is certainly worth experimenting.
Janet
&nbsp
Posted: 09/07/2020 12:31:34
Sandra Irwin
Great work! I'm working on improving my post-processing skills. &nbsp Posted: 09/19/2020 13:28:02
---
---
---
Charissa Lansing
Hi Sandra,

I'm always pleased when I discover a still life that nature has created and your capture represents that to me. The diagonal placement of the stems and branches draw my eye and lead it to the leaf with an orange-brown color. Your image revealed an abundance of interesting textures for me and I found it to be well focused. I could imagine the crunch of the leaves underfoot and how a blast of wind might launch them.

Janet's example of post-processing to make the stems and branches in the diagonal more prominent helped to simplify the image for me. I agree with her that it would be fun and worthwhile to experiment with this image to explore the opportunities it offers. &nbsp Posted: 09/08/2020 11:27:24
---
---
---
Dick States
Hi Sandra,
I agree with all the comments that have been made. I was surprised with what Janet did with this. She posted this on Monday and I made changes to this image on Sunday but did not post the changes. What I did with the image was almost the exact same things as what Janet did, very little difference. There's no point in posting my changes. I very much like the resulting image. A polarizer would have probably removed the glare on the leaves. Great shapes and textures in this image.
Just amazing all the shots near to where we live if we just get creative and look for them. &nbsp Posted: 09/09/2020 21:17:41
---
---
---
Please log in to post a comment