Jean Armstrong
---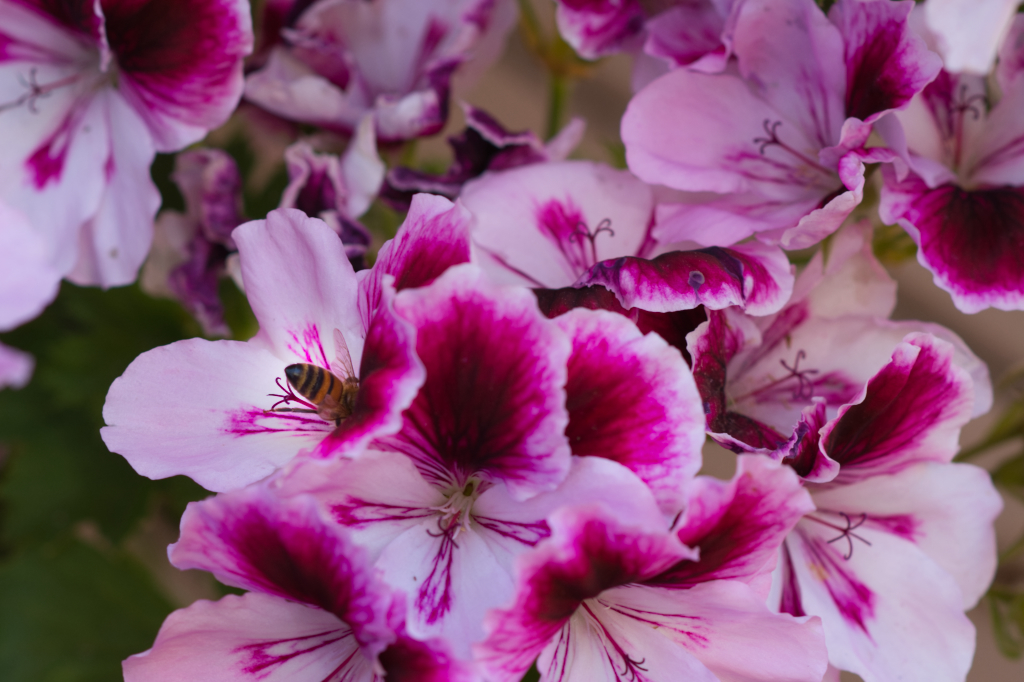 May 2020 - Honey Bee On Flower
About the Image(s)
The flower is a Multi colored pink Geranium, It is in a flower pot on my deck. I was on my deck relaxing and saw that the bee's were going for the pollen. I grabbed my camera. I hand held the Camera.
Lens is a AF-S Nikkor 85 mm , ISO 200 1/200sec. f/5.6 Nikon 7100
---
This round's discussion is now closed!
6 comments posted
Janet DiMattia
Hi, Jean.
Great try.
My suggestion is to crop tighter to center the attention on the bee. And you will still be able to show the blossoms as they are a pretty color also. Maybe try to sharpen the area just below the bee. I like the way the bee does show up against the white area of the flower.
Janet &nbsp
Posted: 05/10/2020 08:41:56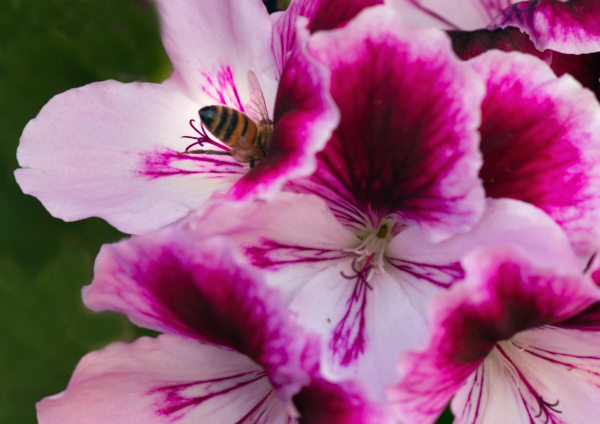 ---
Dick States
I like what Janet has done with her crop. I had almost the same crop ready with my comments but she beat me to the punch. Great subject and color. The flowers are not sharp, this is something you may need to work on. If you can set your camera for a burst of shots try that. Go through the shots and look for the sharp one. Sometimes you need to go back and take more shots till you get the one you want. Move in and out, throw out the ones you don't want. That's the beauty now that we are not using film, we can dump bad images with no cost. When doing close-ups there's a saying, if you think you are close enough get closer. Usually the close shot will be the best with more impact. &nbsp Posted: 05/10/2020 09:46:31
---
Jean Armstrong
thank You for your helpful suggestions. As a newbie I love constructive Help. I want to do great images and feel very inadequate in my attempts. Thank You both with your kind words. And helpful instruction. &nbsp Posted: 05/11/2020 16:25:14
---
Zolt Levay

(Group 96)
Love the color of those flowers! And the diving bee is fun. I agree that it would be cool to zoom in more on the bee, and maybe see its head instead of its backside -- but they don't seem to take direction well. I like Janet's crop. I think it could stand to use some brightening too. &nbsp Posted: 05/12/2020 14:02:09
---
Salvador Atance
Hi Jean, it has been a good idea to wait till some insect visit your flowers. Better if you provide with a tripod to not trepidating the
shot.In
case you have to act as a journalist because the bee moves between flowers you can use more closed diafragm and flash, and better if you use central point automatic focus. I like colors you got.
&nbsp
Posted: 05/19/2020 19:08:54
---
Sandra Irwin
I like Janet's crop. And I agree that the focus isn't sharp. I also agree that since you were relaxing and the bees were frequenting, it might have been possible to put your camera on a tripod and let the bees come into view. A glass of wine and a book would be good company! &nbsp Posted: 05/20/2020 16:33:55
---